2006 Holiday Pre-Preview
Article Comments 36
Sep 22, 2006, 2:17 AM by Rich Brome @rbrome
Hands-On with the new Samsung M500, D900, C417, Trace, Sony Ericsson W710, Jitterbug, Wherify Wherifone, and LG LX-150.
Advertisements article continues below...
Samsung
This week in New York City, the tech press was given a sneak peek at the new gadgets coming out this holiday season. Phone Scoop was there, and we spotted some neat new phones from Samsung, Sprint Nextel, Sony Ericsson, GreatCall, and Wherify.
The sleeper hit of the show for me was the Samsung M500 for Sprint. It's a phone that's been rumored for a while, but this week was my first chance to try it in person and see official specs.
At first glance, it looks a little like the new C417 for Cingular, and almost exactly like the T619 for T-Mobile. The T619 and M500 are clearly based on the same design, which is also the same as the E380 for Europe. Looks are where the similarities end, however, since the M500 is significantly more feature-laden then its GSM cousins.
Features in common between the T619 and M500 include the same thin, light design, a megapixel camera, and stereo Bluetooth 2.0. Both also have a 176 x 220 main display, capable of 262,000 colors.
Where the M500 starts to look better is the EVDO high-speed data for streaming video and downloading music, and support for location-based services using GPS, both of which are increasingly common on CDMA phones. Where it stands out even further is with its all-important microSD memory card slot and music player. *
Really, the M500 is a more affordable replacement for the popular A900 model, that adds the memory card slot the A900 was so sorely missing. It's almost as thin, and smaller in the other dimensions:
The only downgrades are the lack of external media controls, and a step down in display resolution. But given that it should sell for about half the price of the A900, it seems like a fair trade-off.
The one advantage of the T619 is that you can buy it now. The M500 won't hit shelves until early November.
The M500 will come in both silver and a festive red color for the holidays.
Samsung is taking the same color approach with the somewhat similar - but decidedly lower-end - C417 for Cingular:
Red seems to be the color this season, or at least Samsung thinks so. It's not just a holiday color, though. I can see these red phones being appropriate for Valentine's Day as well.
A stripped-down phone like the C417 is a good example of the kind of phone that Samsung's carrier customers are asking for, even though Samsung would much prefer to show off its technical prowess by bringing us more advanced phones.
Which is exactly why Samsung has decided to take a page from Nokia's playbook and bring a true flagship phone directly to tech-savvy U.S. consumers, bypassing the usual carrier channels. Although they aren't opening up their own stores just yet, Samsung will start selling their impressive D900 flagship phone to US consumers via samsung.com by the end of the year.
The D900 was recently released in Europe, and is unquestionably their flagship GSM phone for this year. While Nokia and Sony Ericsson currently have flagship phones with 3 megapixel auto-focus cameras, only Samsung's D900 has that feature while also being about the size of a Motorola RAZR. The N73 and K790 don't even come close in size.
The D900 also has just about every other feature you can possibly imagine, and it has a remarkably light, yet high-quality feel to it.
The version specifically for the U.S. will carry the moniker "Black Carbon". Samsung suggested that Black Carbon might have a few tweaks compared to the stock D900 for Europe, although we got the impression it would mostly be the same phone.
Another remarkable engineering feat from Samsung is the T519 Trace, just launched by T-Mobile.
Despite being much, much thinner, it actually feels far more solid than its predecessor, the T509. The T509 had a distinct plastic-y feel.
Like the X820 for Europe upon which it is based, the Trace is just impossibly thin. It's the world's thinnest phone available today, although anyone who holds it in their hand doesn't have to be told that; it's so impossibly thin that it doesn't seem a phone could be any thinner.
While phones for the U.S. based on European models often lose a few features in translation, the Trace actually gained a memory card slot that the X820 lacks. The camera does step down to 1 megapixel from 2, but I imagine most users would rather have the memory card slot. EDGE data and Bluetooth round out the key features.
The Trace feels surprisingly solid for something so thin. Although the keys aren't the best, they are perfectly usable, providing adequate tactile feedback. The display is impressively large, bright, and colorful.
Last but not least, Samsung also has a stylish and unique pair of new stereo Bluetooth headphones to go with its lineup of stereo Bluetooth phones:
The SBH-170 has a wire loop that fits snugly behind the head when worn, and coils up neatly for tucking away when not in use.
* Corrected Sept. 24 in regard to external display type.
Sony Ericsson
While Samsung is betting on red this season, Sony Ericsson's new favorite color is purple. The company was showing off a "Hatha Violet" version of the W710 this week, in addition to the orange-trimmed "Performance Graphite" version shown off previously. Sony Ericsson reps mentioned that they have more purple phones in the pipeline. This jives with the new purple-ish Motorola i880 that Sprint Nextel is prepping for launch. Purple seems to be a trend this season.
Before we delve into the W710 too much, we need to clear up something we published a few weeks ago. We revealed the HAC (hearing-aid compatible) version - called the W712a - with an external antenna. Everything we said is accurate, but we've now confirmed that the W712a is a limited-run product only, and will not replace the W710 in Sony Ericcson's U.S. lineup. The W712a is strictly a special-order device, made available in a limited quantity to satisfy the FCC's HAC rules. If you need a W712a, you can actually order one now by calling Sony Ericsson USA. The rest of us can look forward the regular W710 with its internal antenna.
At first glance, the W710 may not look much different than the W300 just launched by Cingular: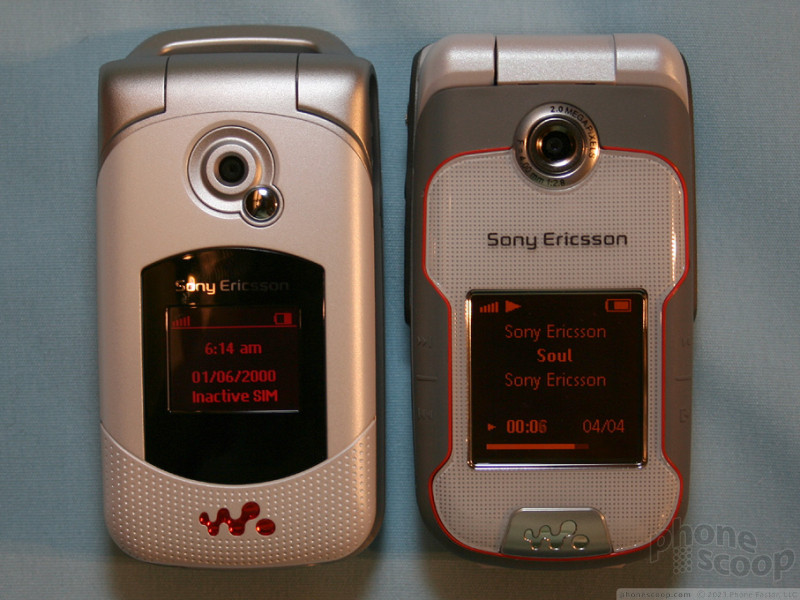 W300 / W710
But while the W300 makes a few compromises to hit a certain price point, the W710 is a more full-featured phone. It's not quite a flagship model, (the display isn't QVGA and the camera isn't auto-focus,) but it does sport a 2 megapixel camera, for example, and higher-resolution displays than the W300.
The W710 also uses Sony Ericsson's very latest hardware and software platforms. On the hardware side, that means it has stereo Bluetooth (A2DP,) something curiously absent from current Walkman phones like the W810. On the software side, it means the latest UI improvements, enhanced Java performance, and extra Java capabilities, such as the ability for Java apps to interact with Bluetooth and advanced camera functionality. It also means the W710 has the newest Walkman music player software, with support for the AAC+ and eAAC+ music file formats, and OMA DRM 2.0.
Speaking of music, the W710 also has a really neat music-recognition feature built-in. If you hear a song you like - on the radio, in a bar, or at a friend's house - you can simply activate music recognition. The phone will "listen" to the song, and communicate with a special music service to figure out what song it is. It will tell you the song and artist, and even give you the option of buying and downloading the song right then and there. This feature will be on all new Walkman phones going forward.
The W710 also has some other neat features. It has a built-in motion sensor, which doubles as a pedometer. Together with some built-in fitness software, it can track your jogging. The extra-large outer display, external controls, and music player also help make the W710 a good jogging companion, and Sony Ericsson has an armband accessory for just that purpose.
SunCom will start offering the W710 as early as next week. Other, larger carriers are evaluating it. Cingular would be a logical possibility, although they did just launch the W300, and the W810 will launch very, very soon. The W710 is just close enough to the W300 that if Cingular does choose to offer it, they might want to wait a few months to avoid overlap in their lineup.
Cingular customers don't necessarily have to wait for Cingular, though. The W710 will be available direct from Sony Style stores in the U.S. in the very near future, for use with either Cingular or T-Mobile.
Jitterbug
When we first covered the Jitterbug phone from GreatCall at CTIA this spring, it received a very positive response. It might seem silly to some people, but many others realize that there is a very large, under-served market for phones designed with seniors in mind.
Now, six months later, the Jitterbug is finally ready to dance. The company is accepting orders via their website, and phones will start shipping in a couple of weeks.
Not much has changed since we first saw the Jitterbug, although we did spend some time with it to understand the interface a bit better.
The default screen when you open it is a "phone list" of contacts you can call. The up/down buttons let you scroll through your contacts, and pressing "yes" dials that contact. Your list of contacts is programmed remotely by an operator over the phone, and automatically synced with the phone over the air. Future models will let you add new contacts on the phone yourself.
There aren't any menus on the Jitterbug; instead, the "yes" and "no" buttons do pretty much everything. The interface is so simple and basic that this method actually works pretty well. For example, if you open the phone and want something other than your contact list, you just press "no" to tell it that's not what you want. Then it asks you if you want to voice dial. Pressing "no" again brings up a prompt to check for voicemail messages. Finally, pressing "no" again will display a call history screen. Since that's about all you can do on the phone, everything is just a couple of button presses away, using just one button.
For more on the Jitterbug, check out our report from CTIA.
Wherifone
Wherify has been trying for a long time to make it big time with its tiny, simple, GPS-enabled phones.
Like Jitterbug, Wherify is finally ready to launch. Their kid-oriented Wherifone will go on sale early next month at Toys-R-Us and Amazon.com.
The concept is simple. It's tiny. Kids can use it; parents can control it. It stores 20 numbers, which are programmed remotely. The plans are simple and affordable: slightly cheaper than service for an LG Migo from Verizon Wireless.
One of its biggest selling points is the location feature. It has a GPS receiver, which basically lets parents check up on their kid's location at any time. From a PC, the parent can see the location on a detailed map. From a phone, a simple SMS query will return an approximate street address. A service for parents to view location maps on their phones is also planned.
The GPS feature uses a SiRFstarIII chip, one of the newest and most accurate GPS chips available. This is upgraded from earlier prototypes that used a SiRFstarII chip.
Wherify is operating as their own MVNO to offer service for Wherifones, in order to make it a simple standalone service. In order to find a carrier partner willing to offer them good data rates for their unique GPS service, they turned to a little-known regional carrier called Petrocom. Petrocom offers service mostly off the southern coast for oil rigs, but also has a roaming agreement with Cingular, which Wherify is able to use to offer national coverage.
LG
Finally, Sprint also gave us a sneak peek at the new LG LX-150:
It's an entry-level phone with Bluetooth. It does support the DUN profile (which Sprint calls "phone as modem"). Even nicer, it supports Bluetooth 2.0 + EDR, for faster DUN connectivity - in theory - although it's not EV-DO, so it might not help much, if at all.
It has a clean, stylish design with an internal antenna. It's also tri-mode, so it has the increasingly rare analog capability. Speakerphone is present as well.
Sprint says they are aiming this one at the text message crowd. It's their first phone with a dedicated "TEXT" key.
We'd love to tell you more about the 150, but Sprint left the battery out so we couldn't power it up.
Look for Sprint to launch the LX-150 about the same time as the Samsung M500: early November, just in time for the holiday shopping season.
Looking for smartphone compatible with verizon.
I'm looking to purchase a smartphone or something that is very compatiable with outlook. The best one would be a small flip phone - have a speakerphone and bluetooth. I am currently using verizon and would like to continue but the only thing I see is the cingular star trek phone. Are there any other alternatives coming out?
look at a Samsung i600 on Ebay.
The Jitterbug phone
The Jitterbug phone looks like a toilet!!
lmao it does i couldnt stop laughing after u mentioned that, i had to take a second look 🤣
No mention of the MOTORAZR V3xx or Max???
I just wonder since they were suppose to come out the fourth quarter of 2006.

Motorola was not even mention other then using the Razr as a comparison.

I think the preview is faulted; in that they did not cover all the manufacturers and to leave out Motorola; the leader it pretty biase review in MHO.
I tried to phrase the headline in a way that would make some sense to consumers, but basically it's a report from Pepcom's "Holiday Spectacular" press event in NYC. Only certain companies choose (pay) to attend such events. Motorola was not one of the...
(continues)
Yawn..
Boring, lackluster phones with 4hitty 176x220 screens.. YUCK!! Come on, we're going towards the late 00's now people. Most phones should be QVGA by now. Honestly. 🙄

The only one that caught my attention was the D900. Otherwise the rest is garbage. Even my beloved Sony Ericsson failed to grab my attention. Sad ☹️ Where the hell was Nokia?
Agreed. When in the hell is Sprint going to come out with a slick slider phone? No more of these fat phones. Damn, Sprint. Always a few steps behind.
Other coming phones... Need info!
Rich, or anyone, I am wondering if anyone has info (specs, features, etc) on any of these handsets possibly coming to sprint:

Samsung M610
Sanyo 7000
Sanyo M1

Also, any better pics of the ICY phones (hybrid cdma/iden phones) would be good too.

Lastly while searching for skus, I found these, listed as current models, wondering if they are anything:

Samsung A500i
Samsung N400i (both blue and silver)
Man if that M610 has a 320x240 screen and can do mp3 thats the phone I want and badly ! Hopefully they can improve on the a900's battery life!

its about as perfect a phone as I could want save one thing. I hate flip phones :-( but I can live with i...
(continues)
LX150----LOVE THE PINK
Does anyone know if verizon might get a phone like this... i adore the pink 150 its like the 7000 only better... is that a rotating camera??!!
Pre-Preview? When is the holiday preview?
How can this be a pre-preview, does this mean that there is a Holiday Preview coming before Mid-October?
Just curious.
Mostly I just feel weird talking about the holidays a whole month before Halloween. It seems early to mention holidays, hence the extra "pre". 😉

There is, however, another nearly identical press event coming up in about a month, so yes, there...
(continues)
LG LX-350
the side view where the headset jack is looks like theres a door below it for a memory card, and the button on the other side looks like its a memory card button. Any info? Seems strange that such a low-end phone would have a card slot... not that its a bad thing just strange...
my bad this thread should read "LG LX-150" not 350... 😳
I'm not sure, but I think that's just the accessory / data port.
Samsung status LEDs?
It seems that no new Samsung handsets being released from this point on have status LEDs. Is this a cost cutting measure? How expensive can a few LEDs cost...?
woo! one more question Rob
what about the SBH-170 stereo bluetooth headset?? when are they coming out? and how much will it be?? or is it available right now already?
sorry Rich meant to type Rich but i was talking to this guy named Rob... sorry sorry sorry!! but thank you
D900 which carrier?
who's going to carry the D900? t-mobile?
cingular?? or is that going to come out as CDMA? probably GSM right? so t-mobile or
cingular?? wow... i'm trying to buy the t629
but if d900 comes out pretty soon i'm changing my mind!! well you can buy the unlocked ones for about $350 shipping included but too expensive for me... so please if anybody have info on the D900 release date and carrier please reply to this thread please.. THANK YOU
It won't be coming to a carrier. Samsung will be selling it direct, via samsung.com.

That was sort of the point of the whole D900 part of the article. Sorry if that wasn't clear.
1st time 1st thread
710 SE looks pretty nice. available yet?