Review: HTC Vivid for AT&T
Article Comments 4
Nov 15, 2011, 2:46 PM by Eric M. Zeman @zeman_e
The Vivid is HTC's first Long Term Evolution 4G Android smartphone for AT&T. How does this device stack up against other devices on AT&T's network? Phone Scoop finds out in this full review.
AD article continues below...
Form
Is It Your Type?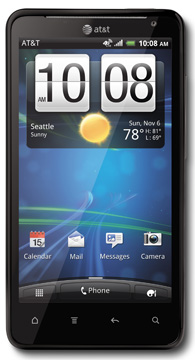 If you're an Android lover looking for the fastest phone available on AT&T's brand, spankin' new Long Term Evolution 4G network, the HTC Vivid is worth your consideration. Phone Scoop tells you why in our full review.
Body
The HTC Vivid is one of the first phones that can run on AT&T's LTE 4G network. As far as HTC phones go, the Vivid has the least vivid personality when you look back at the HTC family portrait. It is as plain and boring as they come, with its shiny, solid-black skin and blocky design. That's not to say it doesn't have an air of classy elegance, but it will be hard to tell apart from the smartphone masses if it's more than an arm's length away. It's wearing a conservative, black tuxedo when some of the competition is wearing flashier three-piece suits.
Since the Vivid is a real 4G phone, it comes with the usual caveats: A thick body and weighty feel. It isn't egregiously large, but it is definitely thick. HTC did the best it could by giving the side edges a trapezoidal shape, with the edges sloping sharply toward the back surface. This reduces the footprint of the phone in your palm just enough so that it doesn't feel like you're holding a brick. The materials feel good, though slippery. I can easily imagine the Vivid sliding out of my grip like a bar of soap. The fit and finish are excellent, on par with most HTC phones; it feels manufactured with care.
The front is a plain rectangle of black and glass. The standard Android controls are below the display in capacitive form. The four buttons felt good, offering a tiny bit of haptic feedback if you wish. They light up when the display is active, but go dark far too quickly for my tastes.
The microUSB port is the only feature on the left side of the phone. It is positioned close to the bottom, and does not have an annoying hatch that gets in the way. The volume toggle is the only control on the right side of the Vivid. It is a long, thin strip of chrome-y plastic. It's easily found and offers great travel and feedback. I've long disliked HTC's sliver-like volume toggles, but the Vivid's is one of the better toggles I've used on an HTC device in recent memory.
The power/lock button is placed on the top surface, and works really well. I like how easy it is to find, and the travel and feedback are excellent. The Vivid also has a 3.5mm headset jack on the top surface for stereo headphones. There are no controls or ports on the bottom of the Vivid.
I like the battery cover on the Vivid. HTC has had some weird, plastic wrap-around covers lately. The Vivid's is a flat metal plate that slides up with some pressure and can then be pulled off. In my book, metal is a better material than plastic, at least as far as feel is concerned. Once removed, you have access to the battery, SIM card and microSD slot. Unfortunately, you have to remove the battery to get at both cards. That means no hot-swapping for your memory cards.
In sum, the Vivid's hardware works, and works well. It is not as ridiculously large as some of the other 4G devices on the market, and its solid construction and quality materials make it feel good to use day in and day out.
The Three S's
Screen
The HTV Vivid sports a 4.5-inch qHD display with 540 x 960 pixels. It is a Super LCD, which HTC has favored in its high-end smartphones. In short, it looks fantastic. The pixel density is really good, which means text, graphics, and images are rendered smooth and sharp. It is plenty bright for use both indoors and out and is generally a pleasure to use. I have absolutely no complaints.
Signal
Phone Scoop does not have access to AT&T's limited-footprint LTE network, so we were only able to test the HTC Vivid using AT&T's HSPA/HSPA+ network. The Vivid's signal indicator has a little "4G" symbol in front of it, which is really unhelpful. Does the 4G symbol mean HSPA, HSPA+, does it mean the phone is in an area with AT&T's enhanced backhaul, or is LTE available? Who knows. Whatever network the Vivid connected to during out tests, it consistently showed three or four bars of coverage, even in areas known to have poor AT&T coverage. Other AT&T phones displayed more variety in the signal indicator. Bottom line, though, the Vivid didn't drop any calls while I tested it, didn't require and re-dials, any showed consistently quick data performance.
Sound
Call quality is a bit of a disappointment with the Vivid. Not only are calls scratchy and garbled sounding, but the volume from the earpiece is flat-out pathetic. Set to the maximum, I could *barely* hear calls in a quiet coffee shop. In a noisy bar or restaurant, no way, not even close. You'll have to step outside. Sadly, the same goes for the speakerphone. It was worthless in a quiet coffee shop. If I have to put my ear up against the phone to hear the speakerphone, the speakerphone totally fails at doing its job.Ringers and alerts are plenty loud for when you're home chilling out, but if you're anywhere else where there's actual noise, it's highly likely you'll miss calls. The ringers and alerts just aren't loud enough. Lastly, the vibrate alert is weak, too.
Battery
With only HSPA/HSPA+ coverage available in my neck of the woods, the HTC Vivid did just fine when it comes to battery life. The device typically lasted about a day and a half between charges, meaning you would go from breakfast on Monday to lunch on Tuesday and be safe. Most users will probably want to charge the Vivid every night, but you'll be safe for the entire day if you don't have access to power between breakfast and bedtime. Battery life in an LTE coverage area may be quite different; we weren't able to test that.
Basics
Menus
The Vivid runs Android 2.3 Gingerbread with Sense 3.0. There are no noticeable changes or differences between the menu layout of the Vivid and other Sense 3.0 phones.
Sense offers seven home screens, each of which can be populated with apps, shortcuts or widgets. HTC and AT&T have preloaded most of the screens, but these can all be completely customized. On the home screen, there are three software buttons at the bottom of the screen. One opens the main menu (this could be a bigger button, by the way), one takes you to the phone, and the third opens the "Personalize" panel. The Personalize panel lets you find and adjust all the phone's settings quickly right from the home screen. This includes HTC's Scenes, wallpaper, skins, sounds and alerts, etc.
The drop-down notification shade includes access to alerts as well as recently used applications. Rather than limiting the selection to the most recent four apps, you can slide the app listing sideways in the drop-down shade to get at the full list of open or recently opened apps. The inner menus don't appear to be altered.
The best feature of Sense 3.0 is still the lock screen, which we've noted in previous reviews. When the display is woken from sleep, there are four (customizable) app shortcuts at the bottom of the screen. Out of the box, they are the phone, email, camera, and text message apps. Pick the one you want and slide it down to a circle you'll see on the screen and the phone will go straight to that app. There's also a circle you can drag to unlock to the home screen.
Calls/Contacts
There don't appear to be any changes to the behavior of the Sense phone call and contacts applications.
By default, the phone app opens with the dial pad on the bottom half of the screen and either you recent call log or your top favorites above it. The phone app sorts through your contacts as you type a name, so you can sift through a large contact database quickly. In-call features run the usual tried-and-true offerings, such as mute, speakerphone, add a line, or send to Bluetooth.
It's easy to save specific call records to your contact database. The contact app will easily handle thousands of contacts imported from Google, Exchange, Yahoo, etc. You can also make use of the "People" widget on the home screen, if you like. This widget is basically a speed-dial-style app in that it lets you quickly access your besties from the home screen. Tap the little face profile on the widget to get their contact data.
Messaging
The Vivid offers no surprises when it comes to messaging applications and services. It offers the stock Gmail, Google Talk, SMS, and email apps. The stock apps all work well, as they do on other Android devices.
The newest versions of Facebook and Twitter for Android are pre-installed on the Vivid. HTC also tosses in its FriendStream application/widget but not its Peep application. FriendStream performs well. It merges all your Facebook, Twitter, and other feeds into one place and allows you to manage posts, or just scan what's going on. But it still doesn't replace all the functionality available in the full Facebook and Twitter applications.
Qik Lite for video chatting is on board. Google's Latitude app is on board; Foursquare isn't.
Extras
Media
Music
The Vivid has a handful of ways to listen to music. There's the HTC music player, MOG Music is preloaded, as is an FM radio.
The on-board music application is very good. It isn't 100% stock; HTC has given it a new skin to match the Sense 3.0 theme in the way the software looks, but the overall features remain about the same. If you use Google Music, you'll need to download the newest Android music player to access it, as Google Music doesn't work with the HTC music player.
The FM radio works well with headphones attached. I was even able to dial in some of the furthest stations from my house, and the local rock station the next town over sounded great. MOG Radio is a streaming radio music service similar to Slacker or Pandora. It offers access to 11 million songs complete with offline caching and high-quality streams.
If these features aren't enough for you, well, there's always the Android Market.
Video
On the video side of the equation, your options are almost as varied. It has the stock YouTube application, AT&T's Mobile TV application, and HTC's Watch.
Watch is HTC's movie rental/download service. The selection is far from fantastic, but it had a number of (near) recent releases, such as Captain America and Transformers: Dark of the Moon. It also had TV episodes from a small number of shows. TV episodes could be purchased for $1.99. Movies could be rented for $4.99, and purchased for $9.99 - $19.99, depending on the title. Using this service requires a credit card. The few trailers that I viewed looked really good on the Vivid's display.
Watch also comes with a homescreen widget that lets you sift through your library of purchases, where they can be played directly from the home screen.
Video content that you record, side-load, or download is played back in the gallery application. I didn't have any trouble with the DRM-free movies I loaded on the Vivid. They played back just fine.
Camera
Camera
The Vivid has a 8-megapixel camera with touch-to-focus and a flash. These three camera attributes make for a solid base when it comes to shooting your friends, family, or that funky monkey at the zoo.
The camera's tools are a fairly standard lot for an HTC device. The basic viewfinder has a scroll bar on the left side of the screen for zooming in/out, and some shortcut controls on the right (access to video camera, flash, effects, and photo gallery). The full settings menu is accessed by pressing the capacitive menu key on the Vivid, and it offers a host of options for fine-tuning the behavior of the camera.
Press the on-screen software shutter button to capture images. The touch-to-focus worked fairly quickly. I didn't have any problems with the speed or performance of the Vivid, which was fast to focus, fast to shoot, and fast to save images.
Bummer, however, that there's no physical camera button.
Gallery
The Vivid's photo gallery allows you to see images on the device broken down into folders or all together, depending on your preference. It offers access to some basic editing tools, such as crop, rotate, and effects. The effects aren't advanced, but let you perform some basic repairs when it comes to fixing exposure, contrast, etc. Sharing possibilities are nearly endless, as the Vivid incorporates most major social networks and photo-sharing services directly into the gallery software.
Photos/Video
Photos
Images captured with the Vivid are very good, but just short of excellent. In most cases, focus is sharp and images are clear. The one problem I saw most often was washed-out colors, though only on in-door shots. While white balance and exposure were accurate, the problem seemed to be related to contrast (too much gray in the images). No matter how much I futzed with the controls, I couldn't correct it. Images capture out in full sunshine were almost always spot on in every respect. You'll be happy to share most images you capture with the Vivid.
Video
The Vivid captures video at a maximum of 1080p HD. It looks really, really good indoors and out. Colors, focus, exposure, and white balance are all accurate, and it manages to avoid the jittery effect that's sometimes noticeable on HD video cameras when they are panned about. These videos will look good on your HDTV.
Browse/Customize
Browser
The Vivid's stock Android browser performed very well on AT&T's HSPA/HSPA+ network. Speed tests routinely showed the Vivid capable of reaching in excess of 6Mbps on the downlink and 2Mbps on the uplink. Browsing the web over the cellular network felt really fast, and web pages rendered in an instant. Applications downloaded from the Android Market were delivered to the Vivid lickety-split.
Customize
Phone Scoop has noted in the past how HTC's Sense user interface is one of the best when it comes to user customization. The Vivid isn't any different in that regard. Sense lets users adjust about every element of the home screens, wallpapers and other behaviors of the phone.
The customizable lock screen, in particular, will delight many users. This is an added bonus to the Sense 3.0 software.
Extras
Apps
There's a fairly typical selection of applications preloaded on the Vivid. A bunch of them are AT&T-branded (AT&T Code Scanner, AT&T Family Map, AT&T Live TV, AT&T Navigator, etc.) or HTC-branded (HTC Hub, HTC Like, HTC Watch). Some of these can be uninstalled, but some cannot.
Bluetooth
The Vivid can connect with mono and stereo headsets with no problems. I didn't encounter any issues when pairing different devices, but sound quality was an issue. Mono headsets sounded terrible, amplifying the scratchy sound that comes through the earpiece. Sending music over to stereo Bluetooth speakers was worthless; awful quality. The Vivid can also be used to push pictures (and other files) between devices, such as PCs or other phones. This feature worked just fine.
Clock
The Sense 3.0 clock is the best to come from HTC. The lock screen has a completely customizable clock that is large, bright, and readable in most circumstances. There is a full clock application in the main menu that lets you choose between a dozen or so different clock faces and styles. There are enough in there to suit most tastes. Once unlocked, the Vivid has the standard HTC digital clock plus weather report on the home screen.
GPS
The Vivid has Google Maps, of course. You know the drill there. It also has AT&T Navigator, which gets you directions with turn-by-turn guidance, points of interest, and color-coded traffic. Google Maps is free and AT&T Navigator costs $10 per month. The accuracy of the GPS radio was very good, and it pinpointed the Vivid is several seconds on a consistent basis.
Mobile Hotspot
The Vivid includes Wi-Fi mobile hotspot, allowing up to five other Wi-Fi devices to connect to the internet via AT&T's HSPA+ network (and LTE network if so covered). The software is fairly intuitive and I had no trouble setting up a hotspot and connecting several devices.
Video
Wrap-Up
The HTC Vivid is a respectable phone for AT&T to bring to market as one of its first two LTE handsets. The hardware looks and feels great, though it's a bit thick and weighty. Those are caveats that any current 4G LTE device comes with, however. It handled some of the basics — signal performance, battery life, screen quality, system performance, data speeds — with aplomb.
The one major failing of the Vivid in my book is the poor voice quality and pathetic earpiece performance. Calls sound too crummy and too quiet for the Vivid to be a useful voice phone. However, if you're not prone to actually using your phone to converse with people, this can be overlooked, especially since the zippy data speeds make it a great mobile internet device.
The Vivid's Sense interface still feels fresh and offers plenty of customization for those who like to tinker. This translates to good controls and options for the media players, camera, and so on.
If you're an AT&T customer, I recommend that you check the Vivid out. It's worth a look, and though its style and coloring isn't very vivid, it will leave a vivid impression with you. Consider the presence of the LTE radio a bonus feature for if/when AT&T gets around to covering your neck of the woods with LTE.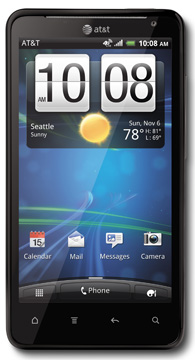 is it a cell phone? Is this phonescoop?
"However, if you're not prone to actually using your phone to converse with people, this can be overlooked, especially since the zippy data speeds make it a great mobile internet device."

This isn't a cell phone it's a small tablet computer with a crumby phone attached. Come on now, really? What is going on with the cell phone industry? Are we supposed to carry two devices with us? one for surfing the web and another to call someone?
Don't buy this phone if voice is a primary factor.

Lots of us don't give a damn about call quality
Many people, especially younger generations, rarely use voice. That's why we say things like that.
LTE Speeds
I recently got this phone at Best Buy Mobile, and have it in Indianapolis, Indiana. My data speed is pulling 24.8 down, 12.6 up...pretty impressive. The LTE network goes live in two days here...maybe it will get better.

I agree with the voice quality on phone calls, but it should get better if they ever open up LTE to voice calls not just data.