Review: HTC Vivid for AT&T
Form Basics Extras Video Wrap-Up Comments 4
Is It Your Type? Body The Three S's
Nov 15, 2011, 2:46 PM by Eric M. Zeman @zeman_e
The Vivid is HTC's first Long Term Evolution 4G Android smartphone for AT&T. How does this device stack up against other devices on AT&T's network? Phone Scoop finds out in this full review.
AD article continues below...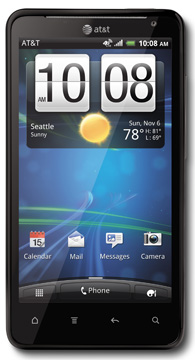 If you're an Android lover looking for the fastest phone available on AT&T's brand, spankin' new Long Term Evolution 4G network, the HTC Vivid is worth your consideration. Phone Scoop tells you why in our full review.
is it a cell phone? Is this phonescoop?
"However, if you're not prone to actually using your phone to converse with people, this can be overlooked, especially since the zippy data speeds make it a great mobile internet device."

This isn't a cell phone it's a small tablet computer with a crumby phone attached. Come on now, really? What is going on with the cell phone industry? Are we supposed to carry two devices with us? one for surfing the web and another to call someone?
Don't buy this phone if voice is a primary factor.

Lots of us don't give a damn about call quality
Many people, especially younger generations, rarely use voice. That's why we say things like that.
LTE Speeds
I recently got this phone at Best Buy Mobile, and have it in Indianapolis, Indiana. My data speed is pulling 24.8 down, 12.6 up...pretty impressive. The LTE network goes live in two days here...maybe it will get better.

I agree with the voice quality on phone calls, but it should get better if they ever open up LTE to voice calls not just data.