Verizon Announces the Casio Gz'One Ravine 2
Article Comments 7
Nov 15, 2011, 9:11 AM by Eric M. Zeman
updated Nov 15, 2011, 10:12 AM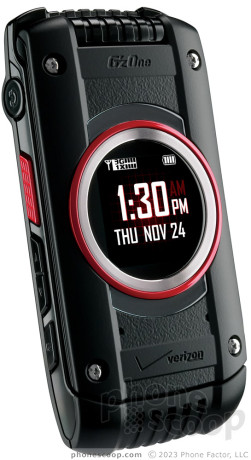 Verizon Wireless and Casio today announced the Gz'One Ravine 2, a mil-spec rugged flip phone. The Ravine 2 meets mil-spec 810G for protection against immersion, water, shock and dust, vibration, salt fog, humidity, solar radiation, altitude, and low and high temperatures. It is global phone and can roam on overseas GSM networks, has push-to-talk capabilities, and comes preloaded with the Opera Mini browser. Other specs include a 3.2-megapixel camera with autofocus, flash and camcorder; GPS and VZNavigator; dual displays; Bluetooth 2.1+EDR; and support for microSD cards up to 32GB. The Ravine 2 will be loaded with Casio's Gz'Gear software, which includes a compass, pedometer, tides, and data on the phases of the moon, sunrise/sunset, and the night sky. The Casio Gz'One Ravine 2 will be available online November 17 and in stores November 23 for $149.99 with a new agreement.
WHEN PHONE COMES IN CONTACT WITH USER FACE YOUR VOICE CAN NOT BE HEARD
RETURNED CASIO GzONE RAVINE TO MAIN VERIZON PHONE CENTER. DESCRIBED PROBLEM - TOLD PHONE LIKELY FAILURE -PURCHASES AVAILABLE UPGRADE OF THE SAME PHONE BUT HAD TO RENEW CONTRACT IN ADDITION TO THE PURCHASE PRICE. NOW I HAVE RESEARCHED THE GzONE RAVINE AND FOUND THAT THIS IS A DESIGN/FUNCTIONAL PROBLEM. I REALLY LIKE THIS PHONE AND HAD THE ROCK WHICH RECENTLY "SELF DESTRUCTED" IT NOW APPEARS I HAVE PURCHASES A NEW RAVINE AFTER BEING TOLD BVY THE DEALER IT WAS DEFECTIVE.

WOULD YOU, PROFESSIONALLY AGREE THIS IS DEALER/MANUFACTURING AND DESIGN FLAW AND I SHOULD HAVE AN ALTERNATIVE TO RECONCILE THIS AND SIMPLY USE MY ORINAL PHONE AND RECIEVE A REFUND AND CANCELED AGREEMENT REN EWAL CONTRACT, ALL ELSE CONSIDERED I AM HAPPY WITH BOULDER, ROCK, RA...
(continues)
How do you pronounce the Gz'One?
And why did Casio choose such a terrible name?
Gz' One = Geez won

As for the choice of name, I haven't a clue.
but did they fix
the microphone placement!?! That's the million dollar question.
Cellenator said:
the microphone placement!?! That's the million dollar question.
I would love to know this too. My dad got an original Ravine as an insurance replacement and they are impossible to hear well with on ...
(continues)