Hands On with the HTC Rezound for Verizon
Article Comments 2
Nov 3, 2011, 4:36 PM by Rich Brome @rbrome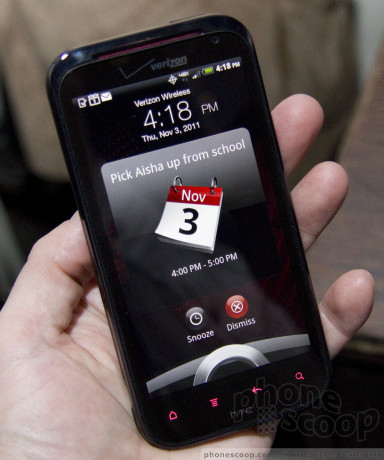 We spent some time with the new HTC Rezound for Verizon. How does this flagship Android phone stack up? Find out in our hands-on report.
Advertisements article continues below...
The HTC Rezound packs in a great list of top-end features. It treads little new truly ground in hardware or software, with the notable exception of the true HD display, which is pretty darn great.
The HTC Rezound feels a lot like a Droid Incredible-series, and the looks aren't far off, either. There's some sense to a consistent design language for HTC/Verizon phones. Something a bit more unique wouldn't have been refreshing, but if you like the harsh, masculine look (but soft feel) of the Incredibles, you'll like the Rezound.
The Rezound is a tad thicker than some of the competition on other carriers, but right in line with what we expect from current LTE phones. Helping hide the girth are some very sloped back edges, and they really do help it slip into pockets and feel smaller in the hand. Helping even more is the weight; it feels surprisingly light.
The light weight is accomplished with an all-plastic body and back. This phone doesn't adopt the aluminum uni-body design that HTC has put into some of its other recent phones. Picking it up, you'll know it's plastic right away, but it does feel quite solid and well-built for a plastic phone.
The star attraction, hardware-wise, is the true HD screen. If you thought a qHD screen was nice, wait until you see a true HD screen like on the Rezound. 4.3 inches of Retina-like screen is really quite impressive. It's just razor-sharp, and to have so much screen area (at least compared to an iPhone) is really something.
Aside form the stunning sharpness and size that true HD resolution delivers, the display is relatively standard LCD, and that shows in viewing angle and contrast ratio. The display is still quite good in those respects, just not quite up to what OLED technology can deliver.
Other hardware features of note include the dual-core 1.5 GHz processor, as fast as they come at the moment. There's also 16 GB of built-in memory plus a 16 GB card in the box, for 32 GB total, which can be expanded to 48 GB. That's a lot of music, but that fits with the phone's theme.
Speaking of, the Beats audio is a headline feature, but with music blaring the nightclub the event was in, we couldn't really test audio quality.
All of that memory could also be filled with photos and 1080p HD video, which can fill memory quite quickly. Like other recent high-end HTC phones, they've really stepped up their game on camera quality and features. Camera performance seemed impressive in our quick test, but just short of best-in-class.
The side keys aren't the best; they don't stick out much and don't feel great to press. You'll find them okay with bare hands, but good luck with gloves, and I don't have high hopes for how they'll work through a rubber case. It's just as well that there's no camera key.
The software is pretty standard for an HTC Android phone; if you've used a recent HTC phone with Sense, you'll be right at home here. The lock screen shortcuts are nice, and a dedicated slide-to-camera from the lock screen helps with the lack of a physical camera key. The lock screen has special slide-to shortcuts when you have a new notification; a nice touch.
Signal Strength Concern
I use the Droid Incredible 2 by HTC and most of us know about its poor radio. Every picture of the Rezound I've seen shows half signal or less. Is it possible this phone will have poor signal strength too?
Hdmi
Im just trying to find anywhere if this does have hdmi and if it can mirror without additional software