Review: Kyocera DuraMax for Sprint
Form Basics Extras Wrap-Up Comments 4
Is It Your Type? Body The Three S's
Nov 3, 2011, 7:26 AM by Eric M. Zeman @zeman_e
Kyocera fields one of the first devices using Sprint's new CDMA-based push-to-talk service. Can this new system — and the DuraMax — live up to the solid PTT performance of Sprint's aging iDEN network?
AD article continues below...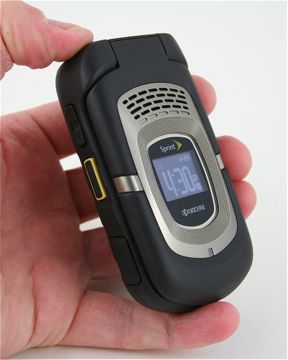 The Kyocera DuraMax is a rough-and-tumble clamshell made for Sprint. It's one of the first to use Sprint's new CDMA-based (rather than iDEN) DirectConnect push-to-talk service. Though it aims low with a basic feature set, if you're looking for a simple voice phone that can survive the daily wear-and-tear of an outdoor work environment or active lifestyle, then the DuraMax may fit the bill.
The most basic thing Sprint allows Kyocera to screw up royally
I'm sorry, but from the review, it sounds like there are so many things that us iDEN folks are accustomed to having perfect right out of the bat, that it's a wonder that this phone ever made it out of the lab and onto store shelves. Why do I say that??? Here's why...

The phone's volume on the ear piece and loud speaker are both weak at best. If you're doing anything outside where there is sound above say 70 decibels (which happens often on even "quiet" construction sites), then this phone will be useless.

Secondly, signal strength. As the review stated, his iDEN device worked IN his basement (and everywhere else) whereas this Kyocera barely worked indoors, and failed in the basement. Outdoors should improve things, but that's not ...
(continues)
QJ, is that you? Another refugee from BAW?

- cellphonesaretools
Well,"quasijedi" I have been a Nextel user for 15 years. I purchased 6 of these devices for my company and they work better than the majority of Nextel phones that we've ever used. The sound quality is fine and the reception and battery life is outs...
(continues)