CTIA Fall 2006
Part 1 Part 2 Comments 42
HTC Pearl Nokia Phones Nokia Browser
Nokia's unique full-web browser for the S60 platform is far and away one of the most innovative and advanced mobile browsers on the market. It allows browsing of full web sites with great, unique navigation controls. Based on the same engine that powers Apple's Safari browser, it renders sites exactly the way you would see them on a PC.
As impressive as version 1.0 is, it does have a few glaring omissions. Which is why (with version 1.0 barely out the door) Nokia is already showing off early builds of version 2.0, which fixes all of our gripes with the first version, and even adds a whole slew of impressive new technologies.
The biggest and most important change is that the web browser is no longer a separate application from the WAP browser; they're integrated now. You can view WAP 1.0, WAP 2.0, xHTML, and HTML pages all in one place.
Advertisements article continues below...
On a device like the E70, it's great to be able to open the keypad to rotate the display for browsing in landscape (wide-screen) mode, but what about a more standard phone like the N73? Nokia is addressing this in the new browser, with a "rotate display" option to explicitly choose landscape mode.
The new browser also supports saving of pages for offline viewing:
Clicking the cursor on a part of the page that isn't a link brings up a new little pop-up toolbar with common commands:
The toolbar contains icons for recent pages, page overview, reload, search, and RSS.
Speaking of RSS, that part of the software had been overhauled and dramatically improved. It's now pretty much on par with Sony Ericsson's feed reader.
You can now subscribe to a site's RSS feed directly from that site (the feed is automatically detected.) Once in the RSS reader, icons appear with each site's logo for easy visual identification, and once in a feed, you can see full HTML layout including images. You can also specify intervals for the phone to update all of the feeds automatically, so the freshest news is always on your phone, even if you have no signal at the moment.
The feed reader also supports the Atom format now, in addition to RSS.
The site icons (called favicons) also show up in the bookmarks: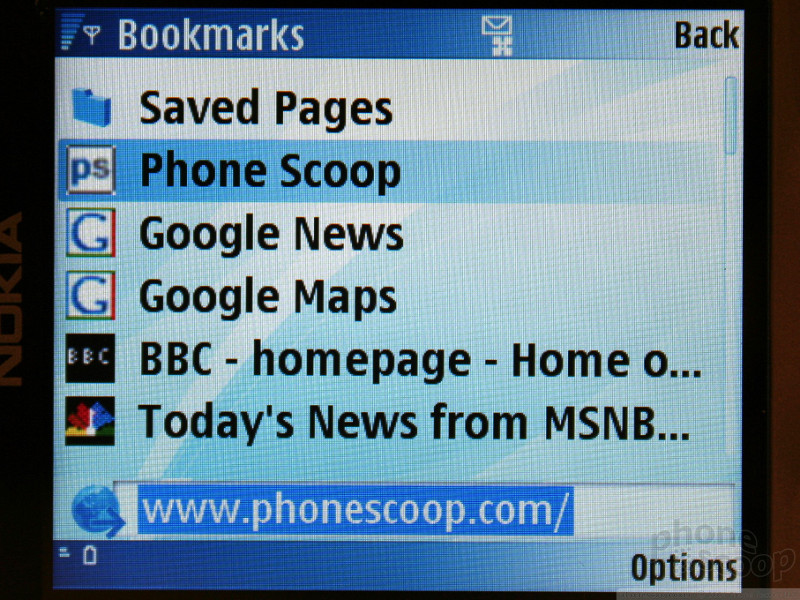 bookmarks menu
Other features of the new browser include auto-complete of forms, and a password manager, to make logging into sites less cumbersome on a numeric-keypad device like the N73.
The browser also integrates support for SVG-T and Flash Lite 2, which opens the possibility for some really interesting interactive applications right in the browser.