CTIA Fall 2006
Part 1 Part 2 Comments 42
Treo 750 UTStarcom i-mate Kyocera
An insider who got the Treo 750 before it was launched, told us he was sneaking it into meetings simply by holding his hand over the top when he had to pull it out. It's true that at first blush, the 750 looks like a 700w without an antenna, but further inspection yields additional differences.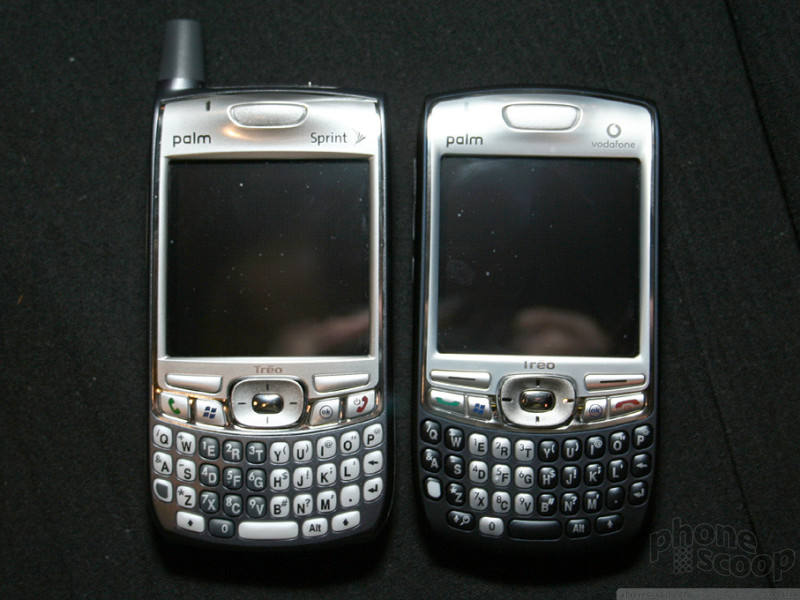 Treo 700 / 750
It's difficult to say whether the other physical changes from the 700 to the 750 are actually improvements or just changes. Either way the 750 continues Palm's evolution not revolution mantra. They feel they have a good thing going with the Treo and don't want to blow it.
The majority of the plastic (the dark blue parts) on the 750 now has a soft-touch feel, like a Motorola PEBL. The grippy feeling makes the Treo feel secure in your hand. It no longer feels like the slippery hard plastic will slide right out of your fingers when you're typing.
The edges and corners also have a different shape. Instead of a point ridge down each side, the sides have been shaved down with a gentler curve that is now extended to the corners too. You don't really feel the change the shape of the corners until you try to slide the Treo into a pocket. When it slides in just a bit easier than the older models, then you stop to notice the difference.
Finally, you may notice the send and end keys have also grown, stealing some size from the Windows and OK keys to accentuate their importance.
The changes you can't see are probably much bigger. The quad-band GSM of the 650 is now joined by tri-band UMTS, meaning out of the box, the 750 is now capable of about 300 kbps data speeds. However Palm has noted that the radio is software-upgradeable, and that the 750 will get a 10x speed boost when an HSDPA update is issued later.
Although the 750v was announced as a "Vodafone exclusive," that exclusivity only applies to Europe. Considering it has tri-band 3G, it's reasonable to expect that the Treo 750 will launch on Cingular as well.