Hands-On: HTC Sensation XL
Article Comments 2
Oct 11, 2011, 6:10 PM by Eric M. Zeman
updated Oct 12, 2011, 2:30 AM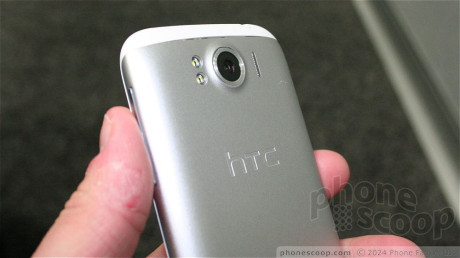 HTC had the brand-new Sensation XL on display with Beats audio technology and URbeats headphones. We gave them a listen. Here are our thoughts.
The Sensation XL is an enormous phone. It is also very white and silvery-lookin' with a splash of red color on the back. It is no doubt attractive, stylish, and 4.7 inches of Android goodness with some added audio flare.
The first thing you'll notice is the display, which is as large as they get for a phone. Surprisingly, the 800 x 480 resolution looked really good, despite being stretched across the 4.7-inch display. It was bright, colorful, and looked great.
The are no controls on the left edge of the phone, though you'll find the microUSB port there. The volume toggle, a thin sliver of metal, is on the right edge of the phone. The power/lock button is on top, as is the 3.5mm headset jack. The battery cover encompasses the entire back of the phone and peels off easily so you can get at the miroSD card slot and SIM card slot.
It runs Android 2.3 Gingerbread with the latest version of Sense, so there are no surprises there.
What really stands out, of course, are the Beats audio software and headphones. The two work together to provide for better-sounding music. There are two facets involved. First, the headphones themselves, which would cost about $100 if purchased separately, are geared towards club-style music. They emphasize the bass in what you're listening to. When they are plugged in, the phone recognizes them and offers the Beats software, which is in effect an equalizer that boosts the lows a bit to make them tighter and cleans up the highs to give them a crisper sound.
I listened to some Lady Gaga (it was all they had) and the difference is really noticeable when you switch the Beats audio software on/off. The music sounded much better with it.
Is this phone coming to the U.S.? No, but HTC implied that similar phones are on their way.
Voodoo Sound
i'd be really interested to see how this compares to the amazing Voodoo Sound available for Android phones...

i don't doubt Dr. Dre when it comes to the beats but @SuperCurio did a bangin' job on that piece of audio wizadry...
More videos, less photos/articles
I would like to see these phones actually video reviewed, Im tired of looking at just photos.