Preview: MOTOKRZR K1m
Basics Applications Comments 76
Aug 30, 2006, 11:58 AM by Eric Lin
An exclusive hands-on preview of Motorola's sleek new MOTOKRZR K1m slim clamshell phone for Sprint.
Recently former Sprint COO Len Lauer confirmed that Sprint will soon be selling highly coveted Motorola handsets such as the Q and "members of the RAZR family." Those RAZR-derived phones aren't the same old RAZR V3 that have shown up everywhere else. They will be new models, including the KRZR K1m, and most likely the SLVR L7c.
We can now bring you a first glimpse of the K1m for Sprint. While the specs and hardware of the K1m remain unchanged since our coverage from the Moto launch last month, the Sprint software is completely different than what we saw before.
Although Sprint doesn't force manufacturers to run the exact same software on all their phones as Verizon does, Sprint does require all of its hardware partners to install certain applications and meet certain criteria. Every aspect of the K1m - from the home screen to the deepest settings menu - has been customized to meet Sprint's requirements.
The new home screen offers customizable D-pad shortcuts that have been the hallmark of both Sprint and Motorola phones for some time. Sprint has never allowed customization of the soft key shortcuts, and that trend continues here. What is new is that the two soft key shortcuts are now Contacts and Music instead of Favorites and Contacts. The Music key goes to the Sprint Music Store player (and not the Media Player which allows you to play music manually copied to the microSD card).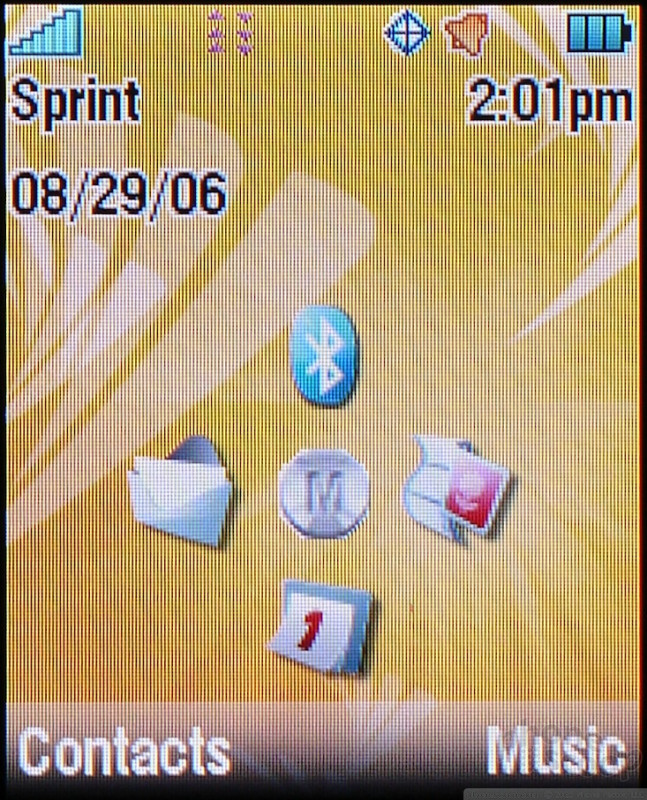 The main menu is not Motorola's traditional 3x3 menu. Instead it is Sprint's 3x4 layout with new cartoonish icons that have a style similar to those seen in previews of Windows Vista. The menu can be displayed in a traditional grid or list view, as well as a new tabs view that allows you to cycle through all the choices by moving left or right on the D-pad.
The actual choices in the main menu remain nearly unchanged at the top level. Not only are all but one of the items the same, but they remain in the same location as well. The only difference is in the center column. The Missed Alerts application has been completely removed, and alerts are now indicated by the more traditional alert icons and messages on the home screen. Instead the Call Log has been moved down to the default position in the center and a Bluetooth shortcut has been added at the top.
Some of the applications look completely new, both for Motorola and for Sprint as well. Those that aren't new have at least undergone a facelift. Options and Settings menus are now laid out better, and it's not exaggerating to say they're some of the clearest we've seen on any phone to date.
Menus have been simplified to 3 types, each of which are clearly implemented. There's a simple drop-down menu, a menu that need more explanation (usually a drop-down or thumbnail chooser), and a cascading menu. They are each organized fairly well in each application. The build we received was incomplete, and certain applications such as the Bluetooth menu are still using Motorola's old style, but this too will be updated before the phone launches.
I feel cheated!
Cingular brings Motorola out of the darkness when we launched and pushed the heck out of their v3 2 years ago, and this is the thanks we get? I can't believe Sprint's going to get the best version of this phone. I wonder if Cingular is too cheap or too stupid to realize that we'll lose the #1 spot if we don't get the new hot phones. Oh well...
Cingular Guy...
Just so you know, I registered with Phone Scoop for no other purpose other than to respond to your comment. So, here goes...
BOO FRICKING HOO!!! I love Sprint...very loyal. But they've been riding the plastic Power-Ranger-looking ...
(continues)
Cingular brought Motorola out of the darkness? LMAO! The RAZR could've launched anywhere on any network and it still would've blown up. More like Motorola helped Cingular through their merger by giving them that one year exclusive on the silver and...
(continues)
Well I love my Sprint service and in less then a month since its Q reports SPRINT has gone through many changes to improve and destroy the others and this is only the bigining of SPRINT together with NEXTEL, YES YOU CAN,DONE. jajaja cingular and veriz...
(continues)
Cingular was giving an opportunity to have the KRZR as an exclusive, as they did with the V3. It was turned down due to the phone not being UMTS or better. As phonescoop reported on the Front page recently, they are getting the "v3xx" which is still i...
(continues)
PRICE?
Anyone know the retail and/or new activation price for the KRZR??
it will come out to be around $200 after rebates when you open a new phone line
What about Bluetooth Object Push?
Does it have ther ability to move pictures from phone-to-phone and contacts the same way, the way it was Qualified?
Yes. But as you well know having this feature enabled is carrier-dependent.
The Samsung A900, A940, and A960 on Sprint feature working OBEX and FTP, and you can send pictures to and from these handsets. It is likely that the reviewers didn't try sending a photo from a stored location, instead of 'in camera'.
apparently you can move contacts, and other stuff (i don't know really all that you can send over bluetooth)
but you CAN NOT send pictures with the sprint version according to the last release and rumors...
Sprint announces release
From Reuters: "Sprint (NYSE:S) today (10/3) announced plans to launch the latest Motorola handset,
MOTOKRZR; the popular MOTORAZR; and the candy-bar style handset, MOTOSLVR.
Harnessing the speed of Sprint's Power Vision(SM) EVDO network, Sprint's
MOTOKRZR, MOTORAZR and MOTOSLVR will enable customers to access the latest
news, music and entertainment content at broadband-like speeds."

Also: "Sprint's MOTOKRZR, MOTORAZR and MOTOSLVR are expected to be available by early
November. Customers can register at www.Sprint.com/MOTOKRZR to be contacted
about purchasing MOTOKRZR as soon as it becomes available."
Telenav? Please???
I've gotta know if this guy will do real GPS applications like telenav or garmin. Anyone have the scoop?
bump. forgive me, gotta know.
is this phone worth waiting for?
after reading the other article about the new samsung TV phone, which do you guys think is worth waiting for.

i assume this new on demand tv service is going to be phone dependent and not something that could be download on other evdo powervision phones.

the k1m looks amazing and the size feature is wild too.

but if this TV service is gonna be as serious as it sounds, would you ignore the k1m and wait for the m250???
There's no reason to believe the M250 is anything other than a trial device. I personally doubt it will ever be mass-produced and made available to the public.

When Sprint does eventually launch mobile live TV to the public, it may use their new Wi...
(continues)
Get both...meaning by the time Sprint launches that OnDemand TV service, you'll be tired of the KRZR k1 m 🙂
Playing Music From Your Own Collection--Music Store app
I don't know what kind of folders the KRZR creates on the memory card, but if it is similar to my Sanyo 9000, you can put your files in the default Music Store folder and the Music Store will organize and play them.
i heard that you might need an external app to run your own music files, but i don't know for sure
Will this phone be coming out with a Nextel Two-way button?
I just have to know if sprinit was smart enough to attach the nextel 2-way to it.
Cause that would be a brilliant move, but if they didn't then i'm not getting it.
If it did, you would already know. It would be well talked about. the review described the features. did you read it?
T9 instead of iTAP...bad move
Hopefully Sprint asked for T9 in their firmware instead of iTAP. I happen to like the extra functionality of iTAP over T9 so I hope the future Motorola phones for Verizon will have iTAP.
LOL...
God the Razr just gets better and better. Even though it is Sprint, the Razr still puts peoples comments to shame. People, get use to the Razr because the consumer likes it and that is all that matters. Lol... Say hello to the future Microsoft of the phone industry and goodbye to Enron (Nokia). LG can stay!!!!

Class dissmissed... 😎
Your comments are very entertaining to read, I'll give you that.

To bad they are completely devoid of any sort of logical reasoning.

Nokia is the worlds largest manufacture by a long shot, and Motorola is not going to be close for some years. LG...
(continues)
Release
Is it coming to sprint first then?
Forgot to say "good article", cuz it was a good article... any word on any other colors for Sprint?
I hope so. Sprint needs a hot exclusive like this to come their way first.
The KRZR and SLVR will release by the end of November. Most likely the SLVR and then the KRZR to follow.
how come?? verizon
Well i thought this phone was going to be for verizon, i guess verizon is getting theirs but i bet its not going to look as good as this. Did u see this menu VERIZON this is a nice IU is not that sh**** thing that u guys have, i hate verizon, i switch just because their phones. GOOD JOB SPRINT.
stop hatin on verizon, verizon is comin up soon to become the best service provider. 😈
Verizon's will look just like this one... theres a good chance it will also be released with a new flash customizable interface like several other NEW Verizon handsets.. starting with the LG 8300... pretty nice!