Cricket Announces the ZTE Score Muve Music Smartphone
Article Comments 2
Sep 22, 2011, 7:16 AM by Eric M. Zeman @zeman_e
updated Sep 22, 2011, 7:17 AM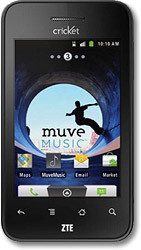 In addition to the market expansion announced today, Cricket Wireless also announced new phones that will be able to take advantage of its Muve Music plan. The ZTE Score is an Android 2.3 Gingerbread smartphone that features a 600MHz processor, 3.5-inch HVGA display, accelerometer, 3.2-megapixel camera with video capture, and Wi-Fi. The Score will be available starting Sunday, September 25, at Best Buy stores for $129.99. Cricket also announced the coming availability of a ZTE feature phone for its Muve Music, called the Chorus, which will debut later this year for $99.99. Cricket's Muve Music service includes access to streamed music in addition to voice, messaging, and web service in a single plan.
more info at Cricket Wireless »
600 Mhz?!
🤣 🤣 🤣
🤣 🤣 🤣
🤣 🤣 🤣
I'm pretty sure the Dart, Gravity Smart, and the Wildfire and Wildfire S were 600mhz too. If you arent using any apps that need power, why buy a more powerful phone? I'm sure the 600mhz processor uses substantially less than a 1ghz.