Pantech Breakout Boasts LTE for Verizon Wireless
Article Comments 8
Sep 19, 2011, 8:05 AM by Eric M. Zeman
updated Sep 19, 2011, 8:09 AM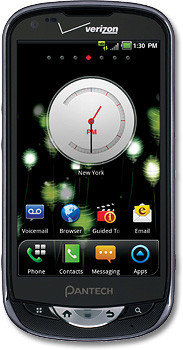 Verizon Wireless and Pantech today announced the Breakout, a new Android 2.3 Gingerbread smartphone that supports Verizon's Long Term Evolution 4G high-speed market. The Breakout is a monoblock handset that features a 4-inch display with 480 x 800 pixels, a 1GHz processor, 5-megapixel camera with 720p HD video capture, and VGA user-facing camera. It also includes Wi-Fi, Bluetooth 3.0, GPS, and support for up to 10 Wi-Fi devices via mobile hotspot. The Pantech Breakout will be available in Verizon's stores starting September 22 for $99.99 after rebate with new agreement.
This marks LTE smartphone #4 that lacks a real slideout keyboard!!!!!!!!
Verizon continues, and continues to refuse to provide choice to the market. This is the 4th LTE smartphone that lacks a real, physical, slideout keyboard. It's really frustrating!!!
Dang!!! Talk about lack of choice from Verizon, 5 LTE smartphones, all lacking a real, physical keyboard.
No keyboard? Oh no!!!!!!!! What will you ever do???? Its called adapting good sir! Get used to the virtual keyboard it's not that hard. Keep in mind most of them will have the speak to text option so in case you are clumsy at typing this feature will ...
(continues)
Pantech
Just sounds weird making android phones. This is number 2 and I am still not used to the idea.