Review: Samsung Epic 4G Touch
Article Comments 26
Sep 15, 2011, 1:17 PM by Eric M. Zeman @zeman_e
The Sprint version of the Epic 4G Touch packs WiMax 4G, TouchWiz, a speedy processor, 4.5-inch touch display and a host of Sprint software. Do these all add up to a killer phone?
AD article continues below...
Form
Is It Your Type?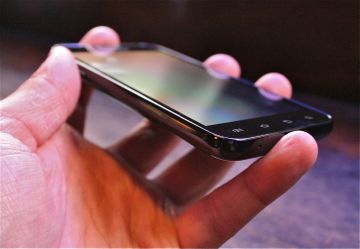 The Samsung Galaxy S II Epic 4G Touch is the latest flagship Android device available from Sprint. With its massive display, thin(ish) profile, speedy performance, and powerful media capabilities, there's a lot to like. Did Samsung and Sprint manage to get everything right with the Galaxy S II Epic 4G Touch? Phone Scoop digs deep.
Body
The Epic 4G Touch is enormous — just like nearly all the Galaxy S phones from Samsung. It has gently rounded corners and an inky blackness that almost sucks the light out of the room. I can barely get my hands around it. It is thicker than some of the other Galaxy models, in order to accommodate the WiMax radio, which also adds weight. It is a dense, large, heavy phone. Were it not for the rounded back edges, it would feel like a brick in the hand. Guys shouldn't have any problems putting the Epic 4G Touch in their pockets, but gals might.
Samsung continues to use cheap-feeling plastics to skin its Galaxy smartphones. The sheer size of the E4 helps a little, but I still long for some metallic surfaces and less plastic. These devices have looked essentially the same since mid-2010. It's time to change up the design, Samsung.
To say that the front is all screen would be putting it mildly. With 4.5-inches of Super AMOLED Plus display stretching across the front, there's little room for anything else. Samsung did manage to place four capacitive Android keys at the very bottom edge. They worked well and I liked the haptic feedback.
Other controls are kept to a minimum. On the left edge, you'll find the volume toggle in its customary place. It stands out stiffly from the side, making it easy to find. Travel and feedback are very good. The power/lock button is opposite the volume toggle on the right edge. This button works well, too.
The microUSB port is tucked into the bottom. The 3.5mm headset jack is where I like it to be, on top.
The battery cover — which has a carbon fiber texture to it — peels off easily enough, but it is flimsy. The battery is accessible once the cover is removed. The memory card slot is positioned so that cards can be swapped without yanking the battery.
Over all, the Epic 4G Touch is an impressive phone. It may lack some features — such as a dedicated camera button — but the hardware doesn't get in the way of usability. Still, the size might be a hair too much for some users.
The Three S's
Screen
The Epic 4G Touch's monster 4.5-inch Super AMOLED Plus display is excellent. It has the standard 480 x 800 pixel count found on many Android devices with smaller screens. That means pixel density is reduced. I can say that images, text, and other graphics aren't quite as smooth as they could be, but we're talking minimally so. However, the display is bright both indoors and out. The screen size does come in handy when watching video, browsing the web, and perusing Google Maps.
Signal
The Epic 4G Touch includes both WiMax 4G and CDMA 3G radios. First, WiMax.
It took the Epic 4G a *long* time to connect to Sprint's WiMax network in midtown Manhattan. A solid five minutes past after I turned on the WiMax radio before the Epic 4G Touch connected. None of the 4G connections I got in the city were solid, though. They dropped often. Once it did, speeds were wildly inconsistent. I tested in a number of different locations throughout the city. The peak download I saw was 9.3Mbps and the peak upload was 1.49Mbps, both respectable but atypical. Most download speeds averaged just under 4Mbps, while uploads averaged closer to 1.3Mbps.
I also saw the slowest upload speed ever: 40kbps. I could shoot spitballs at Sprint's cell towers faster than that.
The Epic 4G Touch was reasonably good at attaching itself to Sprint's CDMA 3G network whilst in northern New Jersey. It performed about as well as any 3G phone would on Sprint's network. I've seen better, and I've seen worse. The phone didn't drop any calls, but I had trouble connecting a few.
Sound
Phone calls sounded excellent through the Epic 4G Touch's earpiece. Not only were they clear of static and noise, they were also present and warm sounding. The earpiece is also capable of producing painfully loud volumes. This means hearing calls in noisy environments won't be a problem. Ringtones and other alerts can be set so they are loud enough to be heard over most everything in earshot. The speakerphone is also loud, and calls via the speakerphone were clear, though prone to distortion if the volume is cranked too high. The vibrate alert was good.
Battery
I barely made it through an entire day with the Epic 4G Touch under heavy usage. From a full charge, it burned through the entire battery quite consistently at the 16-hour mark (7AM to 11PM). One day, it passed out after just 13 hours, and another it lasted until about 1AM. You're going to have to charge it every night, if not during the day as well, if you use it a lot for activities other than browsing, social networking, and messaging/email.
The one caveat here is that the Epic 4G Touch has extensive power management features. These can be used to control the radios, screen brightness, backlight timer, and so on. More than simple on/off switches, the radios can be set to turn off when not being used, etc. I'd recommend you play with these granular controls over the course of a week to figure out what mixture works best for you.
Basics
Menus
The Epic 4G Touch may run Android 2.3.4 Gingerbread with Sprint's iD packs, but it also offers a refreshed version of Samsung's TouchWiz.
Samsung has toned TouchWiz down even further than in past versions. The main menu looks and acts just like other Galaxy TouchWiz phones, but the home screens are slightly different. Samsung has created its own widgets to collect information on the home screen panels. They can be used to stick all sorts of content from the web there, including RSS feeds, weather, news, email, social networks, and so on. The design of these widgets is clean and crisp, though it is easy to clutter up the home screen if you go overboard.
The newest version of TouchWiz also gets rid of all the dippy-looking, chicklet-sized icons that I've disliked intensely of previous versions of TouchWiz. Instead, Samsung has allowed the UI to look like a more natural version of Android. While there's still a decidedly Samsung feel to the user interface, it is far, far less obnoxious than it is on previous Galaxy devices.
Perhaps most interesting, the new TouchWiz adds the ability to adjust all the home screens at the same time. Pressing and holding the home screen brings up a new dashboard that lets users customize each of the home screens from one spot rather than adjusting each one-by-one.
The user interface was lightning fast. I was able to jump from app to app and screen to screen in a jiffy. With a dual-core 1.2GHz processor under the hood, it has plenty of power to get things done.
If you really want to use Sprint's iD packs, they are available, but you have to dig to find them.
Calls/Contacts
The calling and contacts applications on the Epic 4G Touch are the same basic calling and contact applications that are found on most Android devices. The software dialpad pops up when the phone button is pressed. From there, it is easy to access the call log, favorites, and the main contact list.
The Epic 4G Touch includes the Samsung "Buddies Now" home screen widget that can be populated with links to up to nine buddies. It loads up a full-screen carousel with the faces of your nine top friends. Scroll through the list for easy access to calling and messaging tasks via the action bubbles that appear in the widget next to your friends' avatars.
If you want to look at a buddy's entire contact card, simply press their face and you'll be taken into the contact application. This app can be used instead of setting a handful of contact shortcuts to the home screen.
Messaging
Samsung's Social Hub is on board the Epic 4G Touch. It lets you manage nearly everything — email, SMS, Facebook, Twitter, even your calendar — from a single portal. It takes a little bit of time to configure, but once you do, it can be your one-stop-shop for managing communications. I found use of this tool to be particularly taxing on the battery, though it is certainly convenient if you prefer to triage messaging rather than really dive into it.
If you'd prefer to skip Samsung's software, the stock Android messaging tools are still available. The SMS application remains simple yet powerful. Messages are threaded in a conversational style, and media (photos, video, audio) fall in-line with the text. The usual two Android email applications are also present. There's the generic email app for POP3/IMAP4 and Exchange, as well as the native Gmail application.
On the instant messaging side of the equation, the stock GTalk application is on board for Google users, but a catch-all application for other services is missing. If you want to chat via AIM, Yahoo, or Windows Live, you'll need to seek out a third-party solution from the Android Market.
Facebook and Twitter aren't pre-installed, so you'll have to download them yourself.
Extras
Media
Music
The Epic 4G Touch uses the same slightly customized version of the Android Music player application we've seen from Samsung of late. It includes the nifty "CD View" for sorting through music, and user-adjustable equalizers for shaping the sound.
Music can be played back through attached headphones, or sent via Bluetooth to properly-equipped Bluetooth devices. Sound quality of music playback was quite good.
The Epic 4G Touch also includes a few options other than the stock player, such as Sprint Music Plus and Sprint Radio. There are no third-party music applications preinstalled such as Slacker or Pandora, though they are easy to find in the Android Market.
Video
As far as video goes, the Epic 4G Touch has the stock Android video player application, YouTube application, and Sprint TV & Movies application on board. The Epic 4G Touch easily handled video content that I side-loaded, and I found the Epic 4G Touch great for watching movies thanks to the large screen.
Media Hub
The Epic 4G Touch also comes with Samsung's Media Hub. It is sort of like the BlockBuster Android application. Users can access the Media Hub to download movies and television shows on the Epic 4G Touch, but not music. Rental fees and sale prices vary by title.
AllShare is on board for those who like to share their multimedia files with DLNA-compatible devices, such as HDTVs.
Camera
Camera
The Epic 4G Touch uses similar camera software as found on some of Samsung's other recent devices. The viewfinder window is busy with controls running down both sides. On the left, users can switch to the front camera, select shooting mode (single, panorama, beauty, cartoon etc.), set the flash, the exposure, or dive into a fuller settings menu. On the right, you can access the camcorder and the gallery.
The main camera settings menu is extensive and lets advanced users adjust nearly every facet of the camera and picture-taking experience. Exposure, scene/setting, metering, ISO, and more can all be tweaked.
The Epic 4G Touch has touch-to-focus, and will lock onto anything you want in the viewfinder. Focusing is extremely fast, and then the image is captured immediately.
My one complaint? No physical camera button.
The camcorder software behaves in exactly the same manner as the camera.
Gallery
The Epic 4G Touch makes use of the stock Android 2.3 photo gallery. Images are stored in floating stacks based on date. The view of the gallery can also be switched to a more linear timeline view. Once you dive into the gallery or photo you want, you'll find more of the same stock Android behavior.
The Epic 4G Touch is the first Samsung device I've seen to include a separate — and powerful — photo editor application. The application can access photos via the on-board gallery or take new ones and then be used to perform a wide range of edits.
Crop, rotate, and zoom are all supported, as is the ability to make selections and copy them to a clipboard for pasting into other apps, such as Gmail. The app also lets users adjust saturation, contrast, brightness, grey-scale, and exposure. It includes effects for added creativity and plenty of options for sharing when you're all done editing.
Not only is there a photo editor app, but there is also a video editing application! This is a rare thing for an Android device. The video editing app lets you piece videos clips together with photos and/or music tracks to create one compelling product (assuming you're an awesome videographer). The app can add a limited number of themes to videos, as well. It's not Final Cut Pro or anything, but it's nice to have the option.
Photos/Video
Photos
The Epic 4G Touch's sensor is capable of capturing 8 megapixels. I was generally impressed with its performance. Given the solid camera controls, you can fine-tune the Epic 4G Touch to handle pretty much any lighting situation. Even if you don't futz with the controls, the automatic settings do a commendable job.
In the images I captured, I noticed that the Epic 4G Touch had a little bit of trouble with exposure under bright daylight conditions, but color always looked good. Both indoors and out, images were sharp, clear, and free of digital noise and other garbage. The Epic 4G Touch can easily be used to replace a point-and-shoot on any vacation.
Video
The Epic 4G Touch can also capture 1080p HD video. Panning the Epic 4G Touch around produced some choppiness, but otherwise, HD video looked very, very good. I was pleased with the overall clarity of the video and the lack of smearing. Colors were accurate, and exposure was also good.

Browse/Customize
Browser
The Epic 4G Touch comes with the stock Android browser. Paired with Sprint's CDMA 3G network it worked well, and most data sessions were fast enough to satisfy your inner speed demon. I didn't notice any additional features or functionality added by Samsung to improve the browsing appearance, though the 4.5-inch Super AMOLED Plus display certainly doesn't hurt the experience.
Customize
Samsung offers plenty of tools to let most users make the Epic 4G Touch their own. With seven home screens, there is gobs of real estate for apps, shortcuts, and widgets. Wallpapers can all be changed up, as can ringtones, and such. The added ability to use Sprint's iD packs provides even more opportunity to customize the Epic 4G Touch for those who care to use it.
Extras
Apps
The Epic 4G Touch comes with a respectable number of applications pre-installed and thankfully manages to avoid reaching bloatware levels. Still, I wish I cold delete NOVA 2 HD, NASCAR, all the Sprint-branded apps, and a handful of others. Unfortunately, you can't.
Bluetooth
The Epic 4G Touch supports mono/stereo Bluetooth headsets. Pairing and connecting was no problem, and sound quality through both was acceptable. The same goes for pairing with PCs and other devices to pass files back and forth.
Clock
The Epic 4G Touch's lock screen has a large digital clock at the bottom, but I wish the font were thicker or bolder. It can be a bit difficult to see at times. There is also a clock application if you're interested in using a stopwatch, timer, setting alarms, etc. This app doesn't have any effect on the lock screen clock, though.
GPS
The Epic 4G Touch includes Google Maps and TeleNav. Both do an admirable job of providing navigation, though TeleNav is a bit more reliable and faster to respond to changing driving conditions. Sprint offers TeleNav for free. Google Maps is also free.
Wrap-up
The Samsung Galaxy S II Epic 4G Touch pairs what users seem to want most: a ginormous display and a fast wireless data radio. With 4.5 inches of insane Super AMOLED Plus display to gaze at, and content delivered in a snap by the WiMax 4G radio on board, you'd think Samsung and Sprint could call it quits.
The biggest problem is that the Epic 4G Touch is, well, so darned big. Its massive size and weight may be too much for some users to handle.
Voice quality was good, as was 3G signal performance. WiMax performance was questionable, however. Battery life was weak and requires serious consideration by potential customers.
The music and video experience provided by the Epic 4G Touch are also good, and the camera and video camera perform better than average. With solid messaging and social networking applications available, there are few things the Epic 4G Touch can't do.
Aside from the few, minor issues we noted, there is very little holding the Samsung Galaxy S II Epic 4G Touch back. In fact, it may easily trounce the competition in Sprint's smartphone stable. If the Epic 4G Touch were a horse, it is one I'd bet on.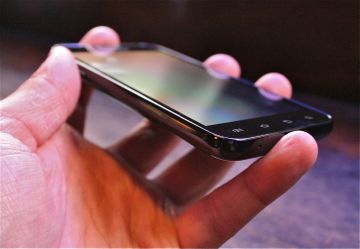 Inaccurate Review...
The phone uses a 1.2ghz dual core processor, not 1.0ghz like the reviewer states.

Also, many of the Sprint apps CAN be uninstalled. Sprint has listened to the customers complaining about unneeded bloatware and they have provided the option to be able to uninstall many of the apps that are included in the phone.

Also, there is no way this phone can be called heavy when at 4.60 oz is is much lighter than many other smartphones on the market.... perhaps lighter than 70 percent of the smartphones on the market. ie. Iphone 4, Evo 3D, Photon, Droid Bionic, etc.
The app *data* can be removed, but the bloatware icon in the menu cannot be removed. As far as I am concerned, if I still have to stare at the icon in my app tray, the app is still there.

The phone feels heavy to me. I understand that is a subject...
(continues)
How much do you get paid to review phones? Nothing! Exactly
The LG Marquee is less than four ounces, so yes, compared to the lighter phones on the market, this feels heavier, because it is heavier.
just bought the galaxy2 from sprint
Well, here is my scoop. I have never had an android and i refuse to promote or buy an iphone like the masses.

i have had sprint forever and i enjoyed the lower price i get. now sprint has cracked down on the discounts, it no longer is cheaper.

so i decided to either keep the plan and upgrade or just cancel my cell phone service and call it a day.

...so i now own a new samsung galaxy s2 epic 4G cell phone. since this is my first android experience i thought i would just get the best available from sprint. i personally hate large phones. it reminds of the old brick phones back in the 80's and 90's.

its not too heavy cause its replacing the LG rumor touch. the Rumor is heavy for its size so it kinda made this new phone feel l...
(continues)
heavy???
You really think so? Played with one this morning & it feels like its a feather compared to my EVOs I've had.
I don't have an EVO on hand. It is a brick compared to other Galaxy S II phones, though.
Signal quality
Signal & phone call quality is my priority. How does this phone compare to the Motorola Photon 4g, which you said was the best 3g phone you've ever tested on Sprint's network?