MOTO2006
Part 1 Part 2 Comments 100+
Hello Moto KRZR RIZR Together
The RIZR was only announced in a GSM model. Like the GSM KRZR, it is quad-band with EDGE and a 2 Megapixel camera.
The RIZR we used earlier was close enough to the final that most of what we said still holds true, but there have been a few physical changes. First, the spring action of the slide has been fine tuned. It no longer takes much effort to open the phone, yet it opens solidly. It is equally easy to close it.
There was also a surprise on the back of the slide. When you slide the RIZR open, a pattern is revealed. Currently there is only one pattern, no matter what the color or network of the RIZR. However Motorola is calling these patterns tattoos and seems to be pushing for a broader variety on future RIZRs. They will be making two additional patterns available on the matching H800 Bluetooth headset (which also features a spring-loaded slide). Like previous Motorola design phones, the RIZR and the matching headset will come in a variety of colors.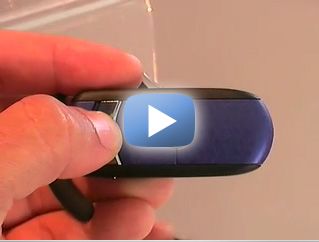 QuickTime format
File size: 528 KB
The RIZR's keypad is wider than that of the KRZR, making it slightly easier to dial and text. However the RIZR's does not have the same soft rubber feel as the KRZR. The rest of the RIZR is covered in the soft touch finish made popular by the PEBL. The RIZR does have quite the same tactilely addictive addictive qualities but it fits in the hand very nicely and was very comfortable to use.
Because it doesn't have all the new finishes found on the KRZR, the RIZR looks much more plain, and will be sold as the lower end of the two phones. It too is not expected on American networks until late this year or early next.