Review: Samsung Gravity Smart
Form Basics Extras Video Wrap-Up Comments 1
Is It Your Type? Body The Three S's
Jul 1, 2011, 1:14 PM by Eric M. Zeman @phonescooper
Samsung kicks out a mid-range Android smartphone for T-Mobile. What this little messaging phone lacks in high-end clout, it makes up for with solid performance.
AD article continues below...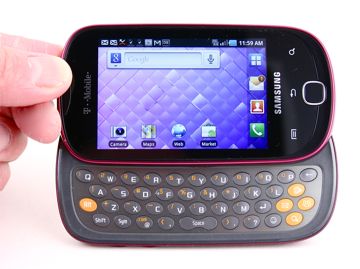 The Gravity Smart is the first handset in Samsung's Gravity line to pack some smarts. It is a QWERTY-toting phone that graduates from feature phone to smartphone status. It covers the basics, but doesn't reach for the moon. If you want to carry an inexpensive Android smartphone that has a physical keyboard for pecking out messages, the Gravity Smart is, indeed, a smart place to start.
Photoshop
Did anyone else noted that Eric used photoshop on his finger's pictures?n 🤣