Motorola Announces 'Droid 3' in China
Article Comments 5
Jun 17, 2011, 7:59 AM by Eric M. Zeman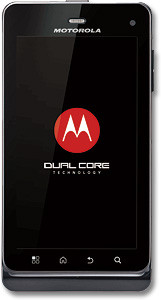 Motorola has taken the veil off a new handset for the Chinese market called the XT883 Milestone 3. The Milestone name has served as the alternative for Verizon's Droid/Droid 2 devices in other markets. This new phone is a significant upgrade from previous versions. It includes a 4-inch qHD display; a dual-core processor; an 8 megapixel camera with flash and 1080p HD video capture; and a user-facing camera for video chats. It has a brand new keyboard that has been expanded to five rows, including a row dedicated to numbers. The Milestone 3 runs Android 2.3 Gingerbread, has 16GB of internal storage, and is a world phone that will work on GSM/CDMA networks. Verizon Wireless has not indicated if it will sell this device as the Droid 3. It is expected to become available in China during the third quarter.
verizon cant even get they own orig phone in the us
hahahahahha what up with verizon the worst droids in the markets and now the droid 3 its going to china? wtf
🙄
Actually the droid 3 is set to launch in the next month or two here in the u.s.a but i would'nt expect many people outside verizon to know this.
pentile matrix
What exactly is this and why are their complaints about this type of screen?
No Physical Camera Button :-(
I'm really sad, as a Droid 2 user, to hear that the Droid 3 does away with the amazingly useful, 2-stage physical camera button, which I LOVE. It makes taking photos a much better experience than on any phones without the button, I can focus and line up my shot like I would on an actually good camera ;-)