Review: HTC EVO 3D
Form Basics Extras Wrap-Up Comments 30
Is It Your Type? Body The Three S's
Jun 14, 2011, 11:00 PM by Eric M. Zeman
HTC's first 3D phone, the EVO 3D, lands on Sprint's network just in time for summer. With 4G and 3D on board, the HTC EVO 3D is poised to be a sequel worth tuning in to.
Advertisements article continues below...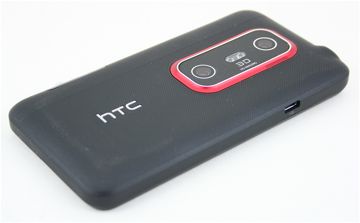 Sprint and HTC are back with a follow-up to last year's smash hit WiMax phone, the EVO 4G. This time around, HTC and Sprint have raised with bar by adding a camera that captures both still photos and video in 3D, plus a 3D display. Are these new features enough to warrant a sequel, or have Sprint and HTC just cooked up gimmicks for you to desire the EVO 3D? Phone Scoop's deep dive will answer all your questions.
NOT A GOOD IDEA
I DONT THINK THEY REAIZED THIS . PEOPLE ARE GOING TO GO NUTS AND SUE BIG TIME OVER THE EYES.. ITS GOING TO MESS UP PEOPLES EYES . VERY BADLY
No complaints with mine
I am now on day 3 of using my Evo3D and have yet to experience any of the problems noted in the article. Call quality has been very clear, and when compared side by side with my Evo4G now on a seperate line of my account I saw no difference in signal strength or connection speeds.

If there was a software or hardware issue, it must have been solved.
I gave the EVO 3D plenty of credit where it was warranted.

The only real negatives are the battery life, call quality, and signal performance. Almost all other aspects of the device are fantastic, and I said that.
it's the coverage, not the handset!
Read the review on phonearena, they said the call quality and data speed was excellent. They reviewed the handset in Philadelphia where they had great coverage for 3G and 4G.
Call Quality/ 3G & 4G Issues
I believe the phones we'll all received will have these issues corrected & there will be an update days after It's released...

Looking at the glass half full... 😁
Question for Eric.
Eric,

I currently own the EVO 4G. I was really thinking of trading up to the 3D. However, I am disappointed with the results of the review section on 4G and 3G connectivity. This has me rethinking my purchase.

My question is, what is the comparison of the 3D and the EVO 4G for signal? Did the tests not prove similar for both? In other words, were the two performed under the exact same tests but with two different outcomes?

Here in upstate NY, my EVO has performed with excellence. I will be basing my purchase according to the results of this comparison.

If the EVO 4G suffered the same degradation in your area during tests, I might assume the EVO 3D will most likely remain equivalent to what the EVO 4G is performing currently i...
(continues)
Just so you know he clearly said that he gets only one bar in NJ where he lives and sprint is hardly ever any good there. I dont think that is a fair review. I live in portland, or where we are a tester city and get everytyhing first. My 4g is always ...
(continues)
I don't have an EVO 4G on hand to do a direct comparison.

However, PCMag *did* do a direct comparison with an EVO 4G and also found that the EVO 3D performs terrible with respect to 3G voice quality and data.

My result was not unique.

Also...
(continues)
I don't think this is a fair review either.
From his review, "At my home in NJ, one bar is pretty typical for Sprint."

Sounds like Sprint's coverage in his home is spotty already, so any phone won't work as intended in his home.

I went to WV a few months ago, and my T-Mobile phone hardly ever got a signal. Can't blame that on the phone...
That 2.5GHz frequency WiMAX operates off is more sensitive to obstacles and interference unfortunately.
I test phones not just in my home, where I admit that Sprint has somewhat weak service, but I drive all over New Jersey. I have a 20-mile circuit that I follow and test how the phone operates in both strong and weak network areas. That's important to ...
(continues)
Redonkulous!
Another huge pocket size computer that does not even work doing its primary job!