HTC EVO 3D Brings Stereoscopic Powers to Sprint
Article Comments 26
Mar 22, 2011, 12:53 PM by Eric M. Zeman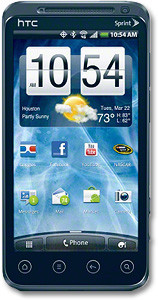 Sprint and HTC today announced the EVO 3D, a follow up to the original EVO smartphone that adds 3D picture-taking and video-capturing abilities. The EVO 3D has a qHD (960 x 540) 4.3-inch display, runs Android 2.3 and has HTC's Sense user interface overlay. It has dual five megapixel cameras with autofocus and dual LED flash, as well as a 1.3 megapixel user-facing camera. The main camera can capture 3D still images, and 720p HD 3D video. It can display both types of 3D content on the handset without the need for glasses. It is powered by a 1.2GHz SnapDragon processor, and runs on both Sprint's EVDO 3G and WiMax 4G networks with support for mobile hotspot (up to eight devices). HTC has upped the size of the battery from the original EVO's 1500mAh to 1730mAh. It also has 8GB of on-board storage (expandable up to 32GB), Wi-Fi, Bluetooth, and HDMI. It goes on sale this summer. Pricing has not been announced.
source: Sprint
3D toggle, does it work for display as well?
So far everyone has mentioned that he 2D/3D toggle on the side of the phone switch pic/vid capture between 2D and 3D modes.

But I've been worried about the "headache" symptoms that was mentioned in the review, and have been hoping the 2D/3D toggle also switches the display from 2D and 3D mode.

It would be nice to switch to 2D only from time to time. And not have worry about "dodging" 3D content to avoid 3D mode.

Anyone heard anything?
EVO 3D
I have been waiting for this I love my EVO and this is going to be mine I might even get two lol. Say what you want about Sprint they have never failed me in the 9yrs I have been a customer.
I've been with them for 11 yrs and i'll be selling my reliable Evo for the Evo 3d. At least they came out with a successor on time unlike the Pre...glad I didn't wait 2yrs for a new crap Pre.
Sprints always been good at this...
They have been good at getting innovative handsets and they had a lot firsts. But in the end, it's all style, no substance. They just don't know how to commit to things.
Hmm...I'm not sure I understand your comment. To help me out, can you give an example of a handset that has style AND substance? Also, can you explain how the EVO 3D is an example of "not committing to things"?
That sounds like marketing speak, pretty words that don't actually translate to anything of "substance".

Please name for me a phone that has this "substance" you speak of, and what infers this.

Also, please list for me a carrier that "knows how ...
(continues)
Aren't you the same guy who made a mess in your pants over lesser android phones?
True hater 🤣
I guess we'll wait until HTC sends a reworked version of this phone to your fave carrier for you to like it. 🙄
cheers!!
sprint is full of surprises.. their lineup is just so few compared to vz or at&t but.. still they rock
How do you figure their lineup doesnt compare. 3 of the top 5 selling phones are in the sprint line up!!! Best plans on the market, Evo, Epic, Evo Shft. They have the best plans in the market, and even though they dont have the iphone they dont need i...
(continues)
Will this one be better than LG Optimus 3D for AT&T?
LG Optimus 3D also looks awesome! I love Optimus and it has high rating on all carriers (T-Mobile, Sprint, Virgin Mobile...) HTC or LG, which one is better?
In my experience, HTC beats LG hands down in the smart phone department.

I have had an HTC Evo for 9 months or so and have used an LG Optimus as well since December. Though for the price the Optimus is a nice phone, it has constant issues compared ...
(continues)
INB4 Bluecoyote
Beat him to it
Beat him to what? I don't see you trash talking the phone so really you didn't beat anything!