Samsung T528 Makes Appearance on Samsung Web Site
Article Comments 6
Jun 10, 2011, 2:01 PM by Eric M. Zeman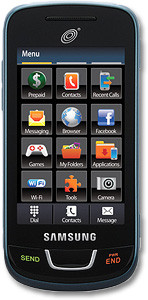 Samsung has published details about a phone called the SGH-T528g. This bar-style touch phone has a 3-inch display and runs Samsung's TouchWiz 2.0 user interface. According to both Samsung and documents recently spotted on the Federal Communications Commission web site, it supports 850/1900MHz GSM/EDGE/WCDMA, Bluetooth, and Wi-Fi. The T528 also sports a 2 megapixel camera with video capture and a full array of messaging and web-based applications. The device is sold by Tracfone.
Suitable for seniors?
Just a thought...I'm looking at getting my father an SVC phone. He's senior, but he's not unfamiliar with technology, and is certainly not intimidated by gadgets (loves them...so man!). Looking at this new tracfone option, that large screen puts me in mind that this phone might very well be suitable for seniors. Does anybody know what the volume / hearing quality is like on this phone? I'm just assuming the same $20 plan, that is available for the SVC brand, will be available for this phone too(?)
wow no updates necessary,...verrrry good!
Thats definetly a good thing that no updates to software is necessary. I hope Vzn partners with Amazon!
What the hell are you talking about?