Preview: Motorola Capri
Hardware Software Comments 100+
The new RAZR slider technically uses Motorola's same "Synergy" UI (user interface) that most of us have come to know and hate. However, the latest version - present in both this phone and the forthcoming "Canary" clamshell model - is greatly improved over past versions. It's still just as ugly - with icons that look like 80s computer graphics - but nearly all of the major usability issues and function limitations have been fixed. Motorola finally seems to have come up with a UI that's almost on par with the competition.
The improved UI keeps the few things I liked about past versions, including the extensive options for customizing shortcuts from the home screen. There's a very long list of options you can assign to any direction on the d-pad, or to either of the two soft-keys.
It also keeps Motorola's wonderful "auto-cleanup" system for automatically deleting old text messages. You can set any number of days you want to keep old messages, or an exact number of messages to keep. Many phones from other manufacturers require you to manually delete messages when memory fills up, a constant annoyance for heavy texters. I remain completely baffled as to why all manufacturers don't offer this type of auto-delete feature.
Motorola is not known for camera quality, and indeed the camera quality on our unit was dreadful. It was a prototype, so it will almost certainly improve before it ships. However, with a tiny lens and no auto-focus, I don't have particularly high expectations. At least it is 2 megapixel.
As is now standard on any decent slider phone, the camera interface operates in full-screen landscape mode. The controls are quite good. When you want to change something, you simply press up or down to select an option, and left or right to adjust it. After a second or two the controls disappear for a better view.
The night mode and white balance options are cleverly grouped together in a setting called "lighting conditions". Digital zoom, exposure (brightness), and "style" (special effects like black-and-white and negative) round out the on-screen controls.
The "Options" soft-key awkwardly breaks out of landscape mode, forcing you to turn the phone 90 degrees to change settings like resolution, quality, and save location (internal memory or memory card). It's possible this will be corrected in the final version.
The video capture mode can record long videos until the memory is full. Unfortunately video is limited to QCIF resolution, which is unusually small for a modern 2-megapixel camera phone.
The LED flash seems reasonably powerful, although we didn't have time to head to the bar for a real-world test.
After you take a photo, you can simply press the shutter button again to automatically save the photo and take another. That's a vast improvement over past Motorola phones that essentially deleted photos by default.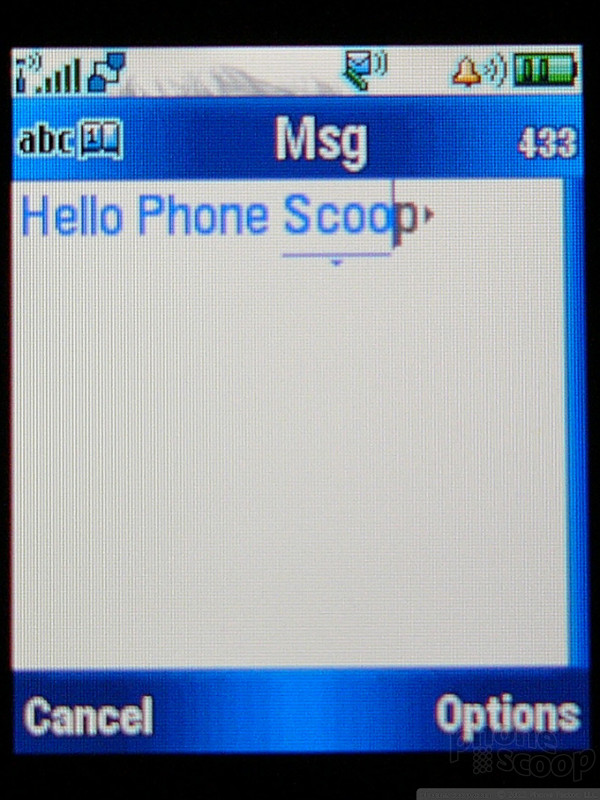 iTAP
The phone includes the latest version of iTAP for predictive text. It's pretty slick, supporting word prediction, multiple simultaneous languages (for the Spanglish speakers in the house), and intuitive visual aids.
I was happy to see full Bluetooth support, including A2DP for rockin' out with stereo audio.
Options for Bluetooth transfer and printing appear in every sub-menu throughout the UI where you might hope to find them. Using Bluetooth for just about anything is a breeze.
It also sports extensive Bluetooth security options. While most phones only let you set a paired device as authorized or not authorized, this phone lets you set authorization for each profile of each paired device.
One annoying "feature" carried over from past Motorola phones is that all sounds will play through a paired Bluetooth headset - even keypad tones, and even if the connection is idle. It seems silly to "wake up" a Bluetooth headset just to play a little beep. Turning off key tones avoids this issue.
However, one benefit of this quirk is that the phone will play music through a regular (mono) Bluetooth headset. Many other music phones with stereo Bluetooth will only play music via the A2DP profile, and not via the headset or handsfree profiles.
As anyone who has ever used a Motorola phone can attest, the phone book has long been the most embarrassingly awful part of Motorola's UI. Fortunately, it has been seriously overhauled in this new version. It's now completely on par with the rest of the industry, and even offers a few unique innovations that might put it slightly ahead of the pack.
First, the old way of organizing entries around numbers instead of names is now completely gone (except when dealing with the SIM card memory, like all GSM phones). Now one person = one entry, just as it should be. Multiple numbers for the same person are always shown together as part of the same contact entry. (Finally!)
There are also options for sorting by either first or last name, and an interesting new option to display contacts by most recently called, keeping people you call often right at the top of the list.
Like past Motorola phones, you can scroll vertically through the list of names, and then scroll left/right to choose an alternate number. It was kind of a hidden feature, though, so now Motorola has added a helpful little arrow icon to show when there are multiple numbers to scroll through.
Last but certainly not least, you can finally jump right to a contact by typing the first several letters of the name. Past Moto phones only let you type the first letter, or forced you to use a separate "search" screen that required far too many extra key presses to be useful. Now you can just type "jo" to skip right past the Jessicas and Jennifers to call John.
Motorola's new options for syncing your contacts and calendar with your PC or over the network are collectively called MOTOSYNC. This phone includes MOTOSYNC, and it supports both SyncML and Microsoft's Exchange ActiveSync.
The phone includes a Java-based music player. It's pretty basic, but it does all the basic things a music player should. Adding music is as simple as dropping MP3 files into the "audio" folder on the memory card, which can be done via USB mass storage mode, or yanking the card out and using a card reader. The music player automatically reads ID3 tags when you start the application, so it knows the title, artist, album, etc. for each song. Unfortunately, you can't play music in the background while you do other things.
The phone does have a flight-safe mode. Oddly, it uses the new CEA standard icon in the menus, but not on the idle screen where it is actually intended to be used.
In summary, I came away impressed with this phone. My only notable gripes were the camera quality and difficult-to-open slide mechanism, both of which may be addressed to some degree in final tweaking before launch. This new phone has all of the style, class, and quality that made the RAZR such a huge hit. It even feels a little more refined than the RAZR, and fixes the major flaws with Moto's previous UI. While it may not be the "ultimate" phone when it comes to music or photos, for example, it does strike an excellent balance between features and size. With so much going for it, it looks like Motorola may have another hit on their hands.