Motorola Triumph Coming to Virgin Mobile
Article Comments 11
Jun 9, 2011, 11:46 AM by Rich Brome
updated Jun 9, 2011, 11:57 AM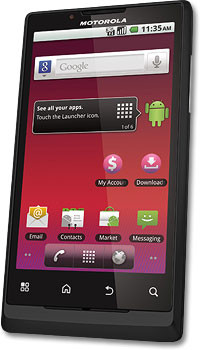 At an event in New York City today, Motorla announced the Triumph, an Android phone for Virgin Mobile. The phone sports a very square shape and unusually high-end features for Virgin. Those features include a 1 GHz processor, large 4.1-inch display, 5-megapixel auto-focus camera, front-facing camera, HDMI TV output, and EVDO Rev. A 3G data. On the software side, it runs Android 2.2 and comes with a Virgin Mobile social networking music app. It will be available "this summer", according to Sprint, or this month, according to Motorola.
man i cant wait for it
🤤 🤤 🤤 🤤 🤤 🤤 🤤
$130 is a damn good deal for a smartphone like this!
Me, either! When it comes out, I'll send my Huawei Ascend packing!
A Motorola with stock Android????
Do my eyes deceive me??? 😳
iDont Care said:
Do my eyes deceive me??? 😳
As it is written, so shall it be done.