Review: Casio G'zOne Commando
Form Basics Extras Video Wrap-Up Comments 4
Is It Your Type? Body The Three S's
May 7, 2011, 3:58 PM by Eric M. Zeman
updated May 14, 2011, 10:24 AM
Phone Scoop puts Casio's rugged Android smartphone through its paces. Can this mil-spec handset take a beating?
Advertisements article continues below...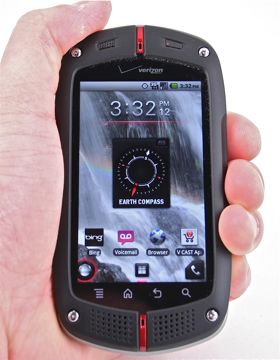 Casio has long made tough-as-nails handsets for those who lead an active life. Historically, they've been feature phones. Aiming for the more advanced user who wants a powerful, but protected, pocket pal, the Commando is a ruggedized, butt-kicking Android smartphone ready to take on any punishment you can deliver.
So...
Why not get a good smartphone with plenty of signal on Big Reds network and put it in a friggin' Otter Box?

This phone makes absolutely no sense to me.

"I have a phone that doesn't get signal very well on Verizon's network, so I can barely go online with it unless there's wifi in the wilderness ... but, I can take pictures and then go to starbucks after the hike and upload them onto my facebook."

Get a droid, or a fascinate ... and an OTTER BOX! seriously.
Even with an otterbox, those phones wouldn't even be considered water "resistant" let alone waterproof
Hmmm...
According to the reviewer, poor signal capability (so it frequently lost signal of even the mighty Verizon network), and lousy sound (so the reviewer had to keep asking callers to repeat their words).

This is what we call a "non-phone".
Lieutenant!!!!
order us these my Barrage is great but this is better!