Review: Samsung Droid Charge
Form Basics Extras Wrap-up Comments 16
Is It Your Type? Body The Three S's
May 1, 2011, 10:19 PM by Eric M. Zeman
updated May 14, 2011, 10:24 AM
Verizon's second Long Term Evolution 4G phone, the Samsung Droid Charge, is a huge, spaceship-sized device that represents all the promise of things to come. Does it fulfill those promises?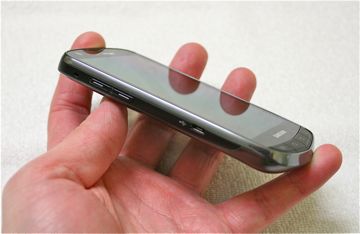 The Samsung Droid Charge is the newest LTE smartphone to join Verizon's small-but-growing lineup of 4G devices. If the latest-and-greatest hardware is all you care about, the Charge makes an obvious and compelling choice. But there are drawbacks.
Testing use results
I got the droid on May 15, and I have been testing it out. The screen and the LTE speeds are definitely it's strengths.

The 4G LTE coverage in the greater Seattle area has been solid. The only spot I have lost a data signal was in a tunnel that also caused my other phone to lose connection. Even here, the coverage was quickly restored to 1G and then seemlessly switched to LTE. I have had no problems with phone reception, as another user mentioned. I took it on a train trip through an area with no 4G coverage, and it did fine with the 1G and 3G networks.

The only two immediate issues that I have found with the phone are the battery life and quality of the phone voice. The speakerphone, which I use often, is distorted. Also people have...
(continues)
Very poor reception
I have various Verizon phones from Droid X to Accolade sitting right next to a Samsung Charge. They get 5 bars 3 constantly. The Charge only 2 max, usually just one.

Download speeds with my droid x about 1.4-1.5 meg. With the charge 400-500k max.

What is up with this?
No one else having this issue? Every Charge I have sold have the same thing only 1 to 2 bars of signal but all my other Verizon phones always have 4-5. Data speeds are horrible on this phone about half the speed of my other android phones. That's the ...
(continues)
A Bit Disappointing
Several reviews including this one comment on the sound quality, after all, it is a phone! When using the front camera you are likely to be using the speaker/mic, and it appears as a phone it falls a bit flat.

The inability to switch back to 4G would be a dramatic problem, one not reported for the HTC Thunderbolt. As 4G rolls out the ability to be agile switching between networks would be essential.

Not reported here, but reported several other places, is a rather slow speed. Noticeably slow in some browsing, more so than competitors. Some improvement was gained by turning off JavaScript, but what is the point of that? I'd be lighter if I cut off a leg, but rather useless if I wanted to be lighter to run faster. Same here.

Out of th...
(continues)
The whole thing about connecting to 4G, I just think it's a problem with Samsung. I can tell you that there Wimax radio on the Epic 4G is also crap when compared to the HTC EVO. I tested both and I can tell you that I can be in the same spot and the...
(continues)
They always fall short on something. Never fails. I wouldn't touch this device with a ten foot pole long as it has that hideous TouchPISS iOS wannabe interface and RFS aka Retarded File System that attributes to lag and poor Quadrant scores.

Do yo...
(continues)
I would not go by any review especially from Eric he seems to always have a beef with the voice quality of verizon phones, but every time I go get the phone it sounds great!