Review: Samsung Droid Charge
Article Comments 16
May 1, 2011, 10:19 PM by Eric M. Zeman
updated May 14, 2011, 10:24 AM
Verizon's second Long Term Evolution 4G phone, the Samsung Droid Charge, is a huge, spaceship-sized device that represents all the promise of things to come. Does it fulfill those promises?
Form
Is It Your Type?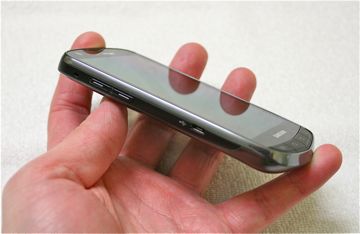 The Samsung Droid Charge is the newest LTE smartphone to join Verizon's small-but-growing lineup of 4G devices. If the latest-and-greatest hardware is all you care about, the Charge makes an obvious and compelling choice. But there are drawbacks.
Body
Like the HTC Thunderbolt, the Samsung Droid Charge is absolutely ginormous. At 5.1 inches by 2.66 inches by 0.46 inches (0.59 at thickest part), the Charge is a full-on whopper of a handset. Given the sheer size, it is surprisingly light. The Charge is not a phone for small hands (or small pockets). I had a hard time getting the Charge to rest comfortably in my palm. Using it definitely evoked nightmares of my high school calculus class. Yes, Texas Instruments, the Charge reminds me of your massive calculators.
Samsung has adorned the Charge in trappings similar to its Galaxy S kin — that is to say, the plastics that make up the Charge's skin are smooth, shiny, and slippery. The feel of the plastic doesn't sit well with me. It's so smooth and slippery as give off the impression that the skin has been well oiled in time for some sun the beach. It also has a V-shaped chin and semi-rounded off shoulders that give it a science fiction look. You almost expect to receive phone calls from Flash Gordon.
The Charge is one of the first devices from Samsung to stretch its signature "Super AMOLED" display all the way up to 4.3 inches. With so much space dedicated to the display, Samsung had little room for much else on the front of the Charge. There are four physical buttons tucked into the chin for the standard Android controls. Having real buttons that your thumb can feel is refreshing, even if it clutters up what would otherwise be a clean face.
Samsung positioned the volume toggle on the left side of the Charge. The toggle feels slightly rubbery, which prevents your thumb from sliding right off it. The travel and feedback were both good.
The power/lock key is on the right side of the Charge, which is where Samsung typically puts it. I prefer the power/lock key to be on the top of the device, but the Charge's button is easy to find and use. Below it, the Charge has a microHDMI port. It is covered by a hatch that is easily removed. The 3.5mm headset jack is on the top of the Charge, right where I like it to be.
To access the battery, SIM card and microSD card slot, the battery cover needs to be removed. It pops loose with just a little effort from a thumbnail. The Charge has a 1600mAh battery, and both the SIM card and microSD slot can be accessed without yanking the battery out.
The Three S's
Screen
The Charge's 4.3-inch Super AMOLED display is one of the best in the business. It is blindingly bright, vivid in color, and rich in detail. It offers the same 480 x 800 pixels that many other Android devices do, though with the larger physical size, the pixel density is somewhat reduced. I could only tell when putting side-by-side with a device that has a display with a higher pixel count. It's a shame Samsung couldn't up the Charge's display to qHD (540 x 960), but you're still going to love the Charge's display as-is. Outdoors it worked well enough. It wasn't perfect, expesially if you want to tell the time, but the camera worked OK outdoors.
Signal
The Charge did well with Verizon's 3G network where I live in NJ (just out of LTE range!) It connected quickly and remained steadfastly on Verizon's EVDO network in 3G regions. I never saw the Charge dip to 1XRTT data. During my testing period, the Charge never dropped a call. Data sessions in 3G regions were often quick and rarely did I see any significant slow downs.
As for 4G, we tested the Charge at Newark Airport in NJ, and Orlando, Florida. In both areas, the Charge found 4G easily and connected to the LTE network. Its grip on LTE wasn't exactly iron-clad. It would connect to 4G and then after a while drop to 3G. Once it dropped to 3G, there was no easy way back up to 4G without a reboot. That's a bummer. Once it lost 4G, it stayed off 4G, even when other devices in the same area could see the 4G network. This is a significant issue, and we aren't the only ones who noticed it. Hopefully his is something that can be resolved with a future software upate.
Sound
Old school science fiction fans will remember the way Cylons spoke on the original Battlestar Galactica. (For you young'uns, Google it.) They had a tinny, talking-through-a-fan sound to them. That's exactly how phone calls sounded through the Charge. There was a distinct robotic effect applied to callers' voices that made me wonder if I was speaking to the High Command or my friends. I also noticed distortion and choppiness during voice calls. It's not a total deal-breaker, but it is highly annoying. I didn't get used to during my review period, but you might be able to ignore it after a while.
Aside from poor call quality, the Charge was capable of producing loud ringtones (be sure to check out the default ringtone before changing it), and earpiece volume was also loud. The speakerphone was loud, but noisy, and the vibrate alert was solid.
Battery
As with the HTC Thunderbolt, the Charge worked just fine in 3G-only areas. It easily lasted a full day under Verizon's 3G network. During a single day, I used it for email, calls, surfing, Twittering, and streaming music from Amazon's Cloud Player. There was still plenty of juice left when I called it a night.
As for 4G, though we tested in an area covered by LTE, it wasn't for a period long enough to have a major impact on battery life. We will continue to use it in Florida this week and report a more thorough answer later.
Basics
Menus
The Samsung Droid Charge ships with a modified version of Android 2.2.1. The modifications are mostly visual, in that Samsung has applied its own design aesthetic to the menus and application icons. As with the Galaxy series of devices from Samsung, I can't stand the bright xcolors and overall cartoonish look of the user interface. The ridiculous use of primary colors (especially blue and green) make me want to find Barney and strangle him. That's just me, though, you might like 'em just fine.
The Charge has seven home screens, most of which Samsung has taken pains to stuff with widgets and shortcuts. As with most Android phones, the home screens can be adjusted at will to suit individual tastes.
The main menu is laid out in 4 x 4 grids. Rather than use a single "page" for the main menu that scrolls up and down, Samsung prefers to have rigid pages that slide from side to side, like the iPhone. Sliding the main menus left or right jerks the screen sideways to the next grid of 16 apps.
Applications are listed alphabetically by default, but it is easy to rearrange them into any order you like. The main menu can also be set to appear in a single list view.
As for performance, I saw a few hiccups here and there, but the Charge charged forward with all actions for the most part. Screen transitions were smooth, applications opened quickly, and the device didn't crash during my review period.
Calls/Contacts
Calls
The calling application on the Charge is the same basic calling application that's found on most Android devices. It looks different only because Samsung chose to add a splash of color. The main phone page has a software keypad filling about half the screen. Call logs, contacts, and favorites are accessed by tabs spread across the top of the phone app. Dialing numbers is a snap.
Contacts
The contacts application is the stock Android app, but again has been colored in a bit by Samsung to match the Charge's theme.
The Charge also includes a home screen widget that can be populated with shortcuts to up to nine buddies.
As with all Android handsets, the calling and contact applications continue to work well together
Messaging
Samsung doesn't break any new ground in the messaging department. You'll find a communications feature set on the Charge that mirrors that of most Android handsets.
The SMS application remains robust and user-friendly. Users can address messages without the need to key in any information unless contacting someone for the first time; the contacts app fills in the blanks whenever possible. Messages are threaded in a conversation style, and media (photos, video, audio) fall inline with the text.
The usual two Android email applications are also present. There's the generic email app for POP3/IMAP4 and Exchange, as well as the native Gmail application. I didn't notice any new features that make them stand out.
On the instant messaging side of the equation, the stock GTalk application is on board for Google chatters. There is also a catch-all application that supports AIM, Windows Live and Yahoo chat. It isn't pretty, but it gets the job done.
Oddly, the Charge does not include Samsung's "Social Hub" for social networking. It does, however, have a home screen widget for accessing generic feeds, such as Twitter, Facebook, and so on. The feed works well, but I found it to be a bit limiting and not nearly as feature-rich as the full-fledged social networking applications themselves.
Speaking of the social networking applications, you're going to have to go to the Android Market and download them yourself; they aren't pre-installed. That's just annoying.
Extras
Media
Music
Samsung massaged the stock Android player a bit with some added features. The basics of navigating through and finding your tunes is more or less the same, but Samsung added something neat called CD view. When CD view is selection, the Charge takes the album art for your music and lays it atop a CD. The CDs are then stacked together sort of Cover Flow-style for a more visually-appealing way to sort through your library. It's not the most thrilling feature ever, but I appreciate the artistic approach to it.
Samsung also decided to offer a number of preset and user-adjustable equalizers for shaping the sound of music playback. Any phone that offers customizable EQs earns brownie points with me.
Music can be played back through attached headphones, or sent via Bluetooth to properly equipped Bluetooth devices. Sound quality of music playback was quite good.
The Charge also comes with Rhapsody, Slacker, TuneWiki, and RockBand if you really want to get your RAWK on.
Video
Samsung has made similar improvements to the stock Android video player. Videos can be found in several different locations, but are generally available when you need them directly from whatever app you may be using, such as the camera, or gallery, or media folder. The video player itself is a bit more basic, but handled the movie files I loaded on the Charge with no trouble.
The Charge also has Blockbuster for renting/buying movies, V CAST Media, and the YouTube application.
Media Hub
The Charge also comes with Samsung's Media Hub installed. Think of Media Hub as iTunes or Amazon MP3 Store, and you more or less get the idea. Users can access the Media Hub to download movies, music, and television shows. The selection isn't as good as Apple's or Amazon's, but it should be enough to keep most people's wallets spitting money into Samsung's bank account.
Camera
Camera
Samsung usually doesn't disappoint with its camera software, and the Charge is another winner. I do have to ding it for the lack of a physical camera key, but the camera can be launched quickly via home screen shortcuts.
There are myriad controls running down both sides of the viewfinder window. On the left, users can switch to the front camera, select shooting mode (single, panorama, beauty, cartoon etc.), set the flash, the exposure, or dive into a fuller settings menu. All of these tools are stored in a drawer that can be closed or opened at any time.
On the right, the top-most control lets you access the camcorder, jump to the gallery, or depress the shutter button.
The main camera settings menu is extensive and lets advanced users adjust nearly every facet of the camera and picture-taking experience. Exposure, scene/setting, metering, ISO, and more can all be tweaked. With an 8 megapixel sensor to work with, Samsung stuffs it with plenty of power for the discerning photog.
The Charge has touch-to-focus, and will lock onto anything you want it to in the viewfinder. Focusing takes about a second, and then the image is captured immediately. You can set the review screen to last several seconds, or have it jump straight back to the camera.
The camcorder software behaves in exactly the same manner as the camera.
Gallery
Samsung defers to the stock Android 2.2 photo gallery. Images are stored in floating stacks based on date. The view of the gallery can also be switched to a more linear timeline view. Once you dive into the gallery or photo you want, you'll find more of the same stock Android performance.
The Charge offers literally *zero* editing capabilities. You can't even rotate or crop images. That flat-out sucks. There aren't any third-party apps on board to help with editing either. You'll have to find them in the Android Market. Lame sauce.
Photos/Video
Photos
With so many megapixels to work with, I was expecting great things from the Charge and was mostly pleased with the results. Color, white balance, and exposure were generally accurate. Most images, unless captured in the darkest environments, were free of grain and/or digital noise. The biggest problem I noticed was focus — or, more appropriately, the lack thereof. Too many images were snapped off just shy of sharp. This was frustrating and made me question my ability to keep the darned thing still. It is worth pointing out that these softer images were more frequent when shooting in darker environments. Images captured under the best circumstances were often spot on.
Video
The Charge can shoot 720p HD video, and lower resolutions if you want. Shooting in 720p is great, and the Charge did a good job in most environments at getting all the settings correct. I didn't see any jitteriness, any ghosting, or any odd digital artifacts on the video I shot. You can definitely snag some YouTube-worthy material with the Charge.
Browse/Customize
Browser
The Charge comes with the stock Android browser, which includes support for Flash Mobile Player 10.2. This is a good browser. It is one of the better browsers available to any mobile device. It is getting old, though. I'd like to see some new features, such as syncing bookmarks with Google's Chrome browser, for example.
As for browsing, the Charge was a raging beast when it came to performance in 4G LTE areas. I tested the Charge at Newark Liberty International Airport, and I saw some insane broadband speeds there. Peak downloads through LTE reached 18.76Mbps. Average downloads were in the 11.3Mbps region. I'll take that! Uploads were equally impressive, with a peak of 5.48Mbps and an average of 4.21Mbps. Well done, Verizon,
LTE speeds were so fast, I was able to download an MP3 album while sitting in my plane before takeoff. The download took under a minute for a 116 MB album. Not bad at all.
With the browser, you're talking intuitively fast browsing. Web sites load in tenths of seconds. Simply put, it is fast as hell.
Customize
Samsung offers plenty of tools to let most users make the Charge their own. With seven home screens, there is plenty of real estate for apps, shortcuts, and widgets. Wallpapers can all be changed up, as can ringtones, and such.
What continues to bug me is that the customizations made by Samsung with respect to colors and themes can't be adjusted. I can't emphasize how much I dislike the colors enough. It looks like the color scheme was provided by a psychotic kindergartner. But, you many not care as much as I do.
Extras
Apps
The Charge comes with 58 applications on board. That's outrageous, especially since many of them are crappy Verizon bloatware (such as Guided Tours, and Let's and can't be removed. The one saving grace is that the Charge has 1.2GB of internal memory, in addition to support for microSD cards. Aside from the Media Hub, there aren't too many apps from Samsung on board. Obviously, you have access to the full Android Market to find what the Charge lacks out of the box.
Bluetooth
The Charge can pair with mono and stereo Bluetooth headsets, as well as PCs and more devices for basic file sharing. I was able to pair and connect to mono and stereo Bluetooth accessories with no problem, I did run into trouble pairing it with PCs, though.
Clock
The lock screen offers an anemic clock that is shoved way down against the bottom edge of the display. There doesn't appear to be a way to improve the clock without heading to the Android Market. In bright sunlight, the stock clock on the unlock screen is more or less invisible.
GPS
The Charge is preloaded with a flotilla of location apps. In addition to Google Maps, there is Google Places, Google Latitude, Google Navigation, and VZ Navigator. As much as I like how all the Google apps work on their own, it would be nice to see some better integration. I mean, do we really need Maps, Latitude, and Navigation to be thee separate apps? That niggle aside, they all work well, and were able to pinpoint me with scary accuracy. VZ Navigator is the same old software, and also works well if you don't mind the monthly $10 tithing.
Wrap-up
The Samsung Droid Charge has a lot going for it. It is a good looking phone, despite its hulking shape. The 4.3 Super AMOLED display is outrageously awesome. It puts every other smartphone display to shame.
As for the basics, the Charge handles Verizon's 3G network with no problem. It digs itself in like a tick. The 4G performance is a bit less consistent. When it connects, i'ts awesome. When it doesn't, it is a hassle. The last thing you want to worry about when you need to connect is the actual connecting part.
The robotic voice quality concerns me a bit, but if you aren't a big yapper, perhaps the Cylon-esque vocals won't bother you so much.
Battery life is an important factor to weigh. In 3G regions, the Charge kicked butt. Bring the Charge into a 4G region, though, and battery life drops off a cliff pretty quickly. In just a few short hours in Orlando under full 4G coverage, the Charge went from 100% to 40%. If you're only in 4G sporadically, or have constant access to power, this may not concern you.
The Charge handles the rest of the expected feature set with aplomb and is a solid performer all around. The camera software is robust and leads to good images. The music and video playback options are exceptional. The lack of photo editing is the only real ding I can hit the Charge with.
Bottom line, there's lots to like with the Charge, and as long as you are comfortable with the few drawbacks going in, you're going to enjoy this phone.
In the words of Maj. Gen. George Pickett, "CHARGE!!!"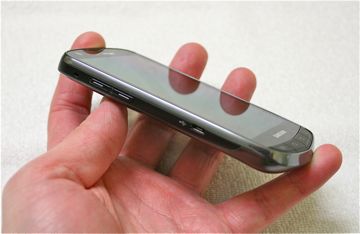 Testing use results
I got the droid on May 15, and I have been testing it out. The screen and the LTE speeds are definitely it's strengths.

The 4G LTE coverage in the greater Seattle area has been solid. The only spot I have lost a data signal was in a tunnel that also caused my other phone to lose connection. Even here, the coverage was quickly restored to 1G and then seemlessly switched to LTE. I have had no problems with phone reception, as another user mentioned. I took it on a train trip through an area with no 4G coverage, and it did fine with the 1G and 3G networks.

The only two immediate issues that I have found with the phone are the battery life and quality of the phone voice. The speakerphone, which I use often, is distorted. Also people have...
(continues)
Very poor reception
I have various Verizon phones from Droid X to Accolade sitting right next to a Samsung Charge. They get 5 bars 3 constantly. The Charge only 2 max, usually just one.

Download speeds with my droid x about 1.4-1.5 meg. With the charge 400-500k max.

What is up with this?
No one else having this issue? Every Charge I have sold have the same thing only 1 to 2 bars of signal but all my other Verizon phones always have 4-5. Data speeds are horrible on this phone about half the speed of my other android phones. That's the ...
(continues)
A Bit Disappointing
Several reviews including this one comment on the sound quality, after all, it is a phone! When using the front camera you are likely to be using the speaker/mic, and it appears as a phone it falls a bit flat.

The inability to switch back to 4G would be a dramatic problem, one not reported for the HTC Thunderbolt. As 4G rolls out the ability to be agile switching between networks would be essential.

Not reported here, but reported several other places, is a rather slow speed. Noticeably slow in some browsing, more so than competitors. Some improvement was gained by turning off JavaScript, but what is the point of that? I'd be lighter if I cut off a leg, but rather useless if I wanted to be lighter to run faster. Same here.

Out of th...
(continues)
The whole thing about connecting to 4G, I just think it's a problem with Samsung. I can tell you that there Wimax radio on the Epic 4G is also crap when compared to the HTC EVO. I tested both and I can tell you that I can be in the same spot and the...
(continues)
They always fall short on something. Never fails. I wouldn't touch this device with a ten foot pole long as it has that hideous TouchPISS iOS wannabe interface and RFS aka Retarded File System that attributes to lag and poor Quadrant scores.

Do yo...
(continues)
I would not go by any review especially from Eric he seems to always have a beef with the voice quality of verizon phones, but every time I go get the phone it sounds great!