Review: Helio Kickflip
Form Function - Basics Function - Extras Wrap Up Comments 2
Camera Pictures and Videos Browse / Customize Other
Pictures in bright light conditions have excellent color and look sharp on the screen. Unfortunately the pictures do not look nearly as sharp when viewed at full size on a computer monitor. In fact the Kickflip actually performed worse in the vision test than many cameraphones with smaller sensors, scoring a 20/50 at best. Pictures also have a slight fish-eye effect to them, especially those taken of subjects closer than 20 feet away.
The video is grainy, but it is relatively smooth. It also has a pink cast to it that does not show up in pictures. The problem lies not with the camera hardware, but with the video encoding software.
AD article continues below...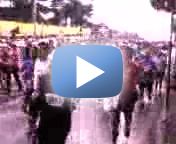 3GPP2 / MPEG-4 format (viewable with QuickTime)
File size: 222 KB