FCC Outs Rugged Motorola WX450 for AT&T
Article Comments 10
Feb 27, 2011, 9:13 PM by Eric M. Zeman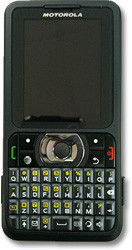 New documents seen on the Federal Communications Commission web site provide details about an unannounced Motorola handset. The Motorola WX450 is a ruggedized bar-style QWERTY phone that is similar to the Clutch (sold by Nextel/Boost), but has support for quad-band GSM/EDGE and dual-band 850/1900MHz WCDMA, which makes it more likely to be sold by AT&T. The draft user manual also makes note of AT&T-branded services. Other features mentioned in the draft user manual include support for push-to-talk services, microSD support, and an FM radio, though these aren't confirmed. The FCC does confirm that the WX450 has Bluetooth and a keyboard, but the FCC documents don't include any information about Wi-Fi. Neither Motorola nor AT&T has announced this device.
Another GoPhone
Definitely another GoPhone. Highly doubtful anyone would sign a 2 year contract for this phone. Low end specs.
You obviously have no clue what you are talking about! I will sign about 72 contracts for this/similar phones for employees of my company! I have over a hundred employees that specialize in hospital construction and all of our 250 lines are out of c...
(continues)
NICE!
I was gonna pick up the new MOTO Android tablet, but I think I'll get this instead.
By the looks of this device, it resembles too much of the i465 from boost mobile which is an awful device. Perhaps the browsing speed will be somewhat better due to the GPRS/EDGE radios and possibly WCDMA but regardless of how 'great' this device can ...
(continues)
Small Screen
Why does motorola put such small screens on all of there PTT phones? The Clutch, i886 now this phone.
It's not a smartphone. Sure it looks small compared to any smartphone, but it's simply a different category of device. People who need a big screen for apps and web browsing would generally go for a smartphone, not this.