HTC Announces 'Merge' CDMA World Phone
Article Comments 16
Feb 25, 2011, 11:51 AM by Eric M. Zeman
updated Feb 25, 2011, 12:01 PM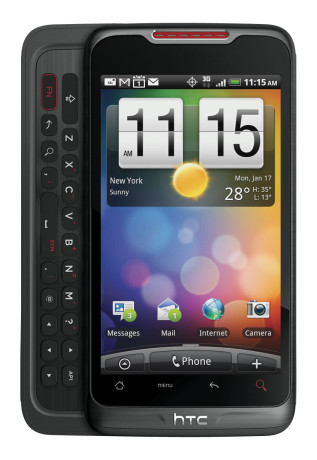 HTC today announced the Merge, a new CDMA/GSM world phone that runs Android 2.2 and has a slide-out QWERTY keyboard for messaging. The Merge has HTC's Sense user interface overlay and offers a 3.8-inch touch display, 5 megapixel camera with autofocus, flash, and 720p HD video capture, GPS and Wi-Fi. HTC didn't say which carriers would offer, but specified that North American operators would sell the Merge, which it says is its first CDMA world phone, this spring. Both Verizon Wireless and Sprint have offered dual-mode CDMA/GSM world phones in the past.
Oooooo
That looks like a really nice phone, i like the red, that makes it look kinda spacey 🤤
FINALLY!
I've been waiting to upgrade from my Sprint TP2 to Android, but am not willing to get rid of my world phone capability.
If this has a full 5 row keyboard I am officially in love.
Looks like the Evo Shift, which does NOT have a dedicated number row. ☹️
Pretty sure its going to verizon though...
Personally, I don't care for this phone. According to the pic, the keyboard is missing more than half the alphabet, has no numerals, and not a dedicated vowel button to
be found.

I require a full qwerty keyboard. However, I will keep an open min...
(continues)
wait a minute...
If this phone is newly announced why have I had screen covers for it in the backroom for 3 months now?