Review: Huawei M735
Form Basics Extras Wrap-Up Comments 2
Is It Your Type? Body The Three S's Touch
Jan 31, 2011, 5:13 PM by Eric M. Zeman @zeman_e
The Huawei M735 is an inexpensive touch phone for MetroPCS. While it aspires to round out the low-end of MetroPCS's portfolio, it only manages to find the bottom of the barrel.
AD article continues below...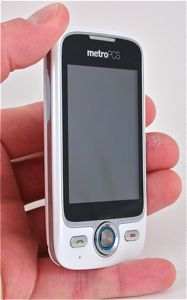 The Huawei M735 joins MetroPCS's lineup of inexpensive handsets and offers a 3 megapixel camera, touch screen and a tiny footprint. If you're in the market for a pre-paid touch phone, but don't want to go full smartphone, the Huawei M735 might be the alternative you're looking for.
A Little Harsh
I think you a little harsh on this phone. This phone isn't designed for the phone techies, or even mid-range users. This is the phone that Metro put on its network for the parents of teenagers everywhere who don't want to blow more than $100 on a phone.

It's got a touch screen, mobile browser, and music player. The youth market doesn't care about useless things like call quality.

As far as your experience with browsing on 1x, I think there may be slow rendering on this device. I use it on my Optimus M and it's relatively fast considering.