Review: Motorola Cliq 2
Form Basics Extras Wrap-Up Comments 11
Is It Your Type? Body The Three S's
Jan 19, 2011, 4:42 PM by Eric M. Zeman
Motorola heavily revises its first Android handset, and the result is a much better device for everyday use. The Cliq 2 for T-Mobile is a solid option in its Android lineup.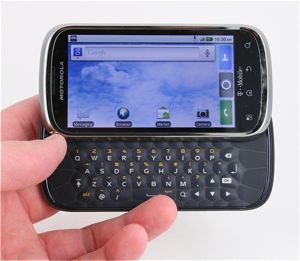 The Motorola Cliq 2 takes everything that was good about the original Cliq (Motorola's first Android handset) and kicks it up a notch. It's a wee bit larger and heavier, but the improved construction and drastically increased performance make this Android 2.2 handset a charmer in T-Mobile's lineup.
Why the g2 ooh updates as if they will ever work right unless you root. Better keyboard not! The cliq2 may look odd but it is the best out there. The clip 2 is. a quality phone and with froyo the updates after this will be incremental at best. The cli...
(continues)
The G2 is a pretty good device made my a reputable company HTC. Motorola on the other hand offers some great features such and Motoblur which has been a large success on their other android devices.

Someone mentioned the processing speeds, the HTC...
(continues)
Wi-Fi calling
"The Wi-Fi calling app falls short of its potential and makes me wonder why T-Mobile bothered to include it (especially since there is no economic incentive for customers to use it)."

The intent of the app is not economical at all. It's meant to give those in a low or no signal area another option to still be able to make and receive calls. I know I would be more than happy to have it on my phone where I live.
I second that. The one main reason I may consider switching to T-Mobile when my contract runs out with AT&T is for that feature. Reception in my home is dismal.
Hmmmmm
Is Mr. Phonescoop Reviewer a Guitar player? I noticed a Mesa Boogie Amp. Just saying. 😎
*THOCK!*
Great review. Although I have to say, the keys being under a raised sheeting of plastic might fail one day. Also, the Dolphin HD browser is MUCH better than Android.