Review: Motorola Cliq 2
Article Comments 22
Jan 19, 2011, 4:42 PM by Eric M. Zeman
Motorola heavily revises its first Android handset, and the result is a much better device for everyday use. The Cliq 2 for T-Mobile is a solid option in its Android lineup.
Advertisements article continues below...
Form
Is It Your Type?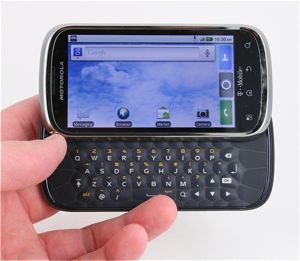 The Motorola Cliq 2 takes everything that was good about the original Cliq (Motorola's first Android handset) and kicks it up a notch. It's a wee bit larger and heavier, but the improved construction and drastically increased performance make this Android 2.2 handset a charmer in T-Mobile's lineup.
Body
The Cliq 2 is a thick, heavy phone. It feels incredibly solid in your hand, with the materials and construction as strong and sturdy as they come (without being ruggedized). The front of the device has the now-overused black and silver accents, while the back half of the Cliq 2 has a bronze color to it. The outer edges are all rounded nicely, making it comfortable to grasp. You'll be able to get it into most pockets, but you're sure going to know it is there.
As far as the controls go, there are the typical Android access keys in capacitive touch form placed below the display. They worked fine, and offered haptic feedback when pressed, but physical buttons make for better ease-of-use. The power/lock key and 3.5mm headset jack are placed on top. I have no complaints about either. The volume toggle, ringer mute switch, and two-stage camera key are all built into the right side of the Cliq 2. The volume toggle is closest to the top. It has a nice shape and is easy to find, but travel and feedback are a bit mushy. They ringer mute switch is a bit stiff to push back and forth. The dedicated camera key is a good size and both stages have a distinct feel. The microUSB port is on the left side of the phone. Thankfully, there's no hatch covering it up.
The slider mechanism feels fantastic. It moves smoothly and snaps open with a satisfying "thock." It has just the right amount of spring assistance to help both open and close it. With it open, users can access the QWERTY keyboard. Motorola has taken an interesting approach to this keyboard. Rather than go for the mundane square, circle, squircle, or rectangular shaped keys, the keys of the Cliq 2 have six sides. It looks like a beehive. Rather than stick up as individual buttons, however, the keys are really all underneath a solid surface and rise up in tiny hexagonal mounds. The look is dramatic.
In terms of actual usability, I can't say that hexagons are better than squares, circles, etc. The buttons don't feel distinct enough under your thumbs to be able to type simply by feel. The hexagonal grid that's painted onto the keyboard surface is so unusual a background that it takes a bit of time to get used to what you're looking at. Believe it or not, it was easiest to use the keyboard in the dark, when only the letter/number itself lights up against the dark background. The travel and feedback of the keys was disappointing, but it does get points for having a dedicated "@" key, as well as stand-alone period and comma keys. The arrow keys for fine-tuning text editing don't hurt, either. It sure looks cool, but better functionality would make for a better keyboard.
The microSD slot is hidden under the battery cover, but thankfully not under the battery itself. Users can hot-swap memory cards if they so wish.
The Three S's
Screen
The Cliq 2's display is drastically better than the original Cliq's. It increases in size from 3.1 inches to 3.7 inches, and jumps from 320 x 480 pixels to 480 x 854. This is a typical resolution for a Motorola LCD of this size, and it looks great. It is very hard to see individual pixels, and most of the time text, graphics, images and icons look smooth and free of jagged edges. phonescoop.com appeared sharp and I was able to read the text of the articles without zooming in too much. On the brightness scale, it puts out enough light to be perfectly usable indoors. Outside, it was a bit harder to see and use, but it wasn't a total wash. Under cloudy skies, it was perfectly fine. It took the sunniest day to really obstruct usability much.
Signal
The Cliq 2 had no trouble finding and connecting to T-Mobile's network in the metro NYC region. I consistently had at least several bars of coverage registering on the handset. In terms of real-world performance, the Cliq 2 didn't drop any calls, but I had to re-dial several before they went through — even though I had 5 bars of service. Data speeds ranged all over the place. The peak speed I saw with the device was 5.1Mbps down and 1.9Mbps up (it is capable of a theoretical max of 10.1Mbps down). The average download speed was about 3.5Mbps, with the slowest coming in at 1.1Mbps. Applications from the Android Market (even those greater than 10Mb) all downloaded in a jiffy. Only once did the Cliq 2 pause a minute or two to connect a data session before I could browse.
Sound
Call quality was very good. My tests proved the Cliq 2 to offer clear audio on both ends of a call. Voices in the earpiece were sharp and free of distortion. Those with whom I spoke reported no issues on their end, either. The earpiece was plenty loud. It can probably be set at 60% most of the time. Putting it up all the way hurt my eardrum a bit, but that volume could be useful in particularly noisy environments. The speakerphone was also sufficiently loud for use at home or in a closed office. Clarity of the speakerphone calls was also excellent. Conversely, ringtones were not quite as loud as I would have liked them to be. You won't miss a call if you're in the same room as the Cliq 2, but you might if you're in another room or behind a closed door.
Battery
The original Cliq had horrendous battery life. The Cliq 2 makes major improvements in that regard. It easily lasted an entire day, even with Motorola's Blur services up and running the entire time. I didn't make too many phone calls, but used the Cliq 2 constantly for email and web surfing with music playing in the background. There was enough of a charge left over that it could last a few hours into the following morning, though most users will want to charge it every night.
Basics
Menus
The Cliq 2 uses the same version of Motoblur found on other recent Motorola Android handsets. It has seven home screens for user customization, and tons of content that can be used to populate that real estate.
Out of the box, Motorola and T-Mobile have dumped apps, widgets and shortcuts onto six of the seven home screens, leaving only one completely blank. It can all be deleted and rearranged to suit individual tastes. Once you've navigated to one of the far home screens, pressing the Home key takes you back to the central home screen.
The re-sizable widgets continue to be a great feature of Motoblur. This lets the end user control the size and shape of widgets. This is especially helpful when you're trying to conserve screen real estate. There are widgets for Twitter, Facebook, MySpace, as well as a widget that combines features of all three social networking services. Other widgets are available for the media player, weather apps, contacts app, RSS feeds, settings, and so on.
One thing that Motorola has added is support for different home screen profiles. There are three basic profiles offered out of the box: Home, Work, Weekend. Motorola's versions of these three profiles change up the wallpaper and default apps/widgets on each of the home screens. Each profile can be edited in its own way, allowing users to create up to three distinct home screen environments for their Cliq 2. The entire concept resembles HTC's "Scenes". (Personally, I like the entire concept of the "Weekend" profile.)
Once you move past the home screens, the Cliq 2 looks like any other Android 2.2 phone.
Calls/Contacts
Calls
The Cliq 2's phone application is the basic Android calling application. Motorola/T-Mobile didn't even bother with a new skin.
The Cliq 2 also supports Wi-Fi calling. Setting the Cliq 2 up so that it knows to make calls over a local Wi-Fi hotspot was a snap. It takes several minutes (first time only) for the Cliq 2 to tunnel through the internet and connect to T-Mobile's service, but once it does, calls work perfectly via Wi-Fi. The one problem is that this isn't the same UMA service previously offered by T-Mobile. Making calls via Wi-Fi use plan minutes, and the Wi-Fi calls do not transfer from Wi-Fi network to the T-Mobile cellular network and vice versa.
Contacts
The Cliq 2 will import all of your Google and Exchange contacts if you have them. Adding Facebook friends is optional. If you choose to do that, the contacts application adds the Facebook profile photos to your existing contacts and merges them into one contact.
You can choose to sort contacts via status updates and/or your most recent calling/texting history. In the main contact app, swipe to the left to see all the most recent messages you've sent/received and who you've sent them to. Swipe to the right to see your contacts' most recent Facebook (and Twitter if you want) status updates.
Messaging
The Cliq 2 doesn't differ much from any of the Motorola Blur phones that have shipped in recent months.
The Cliq 2 offers the fine Gmail application and a lesser, catch-all generic email app. The Gmail experience on Android continues to be the best way to interact with Gmail from a mobile device. As for the other email app, it can be used for Yahoo, Hotmail, AIM, Exchange and other POP3/IMAP4 accounts. It works fine, and alerts come in at a steady pace.
The SMS messaging application is the stock Android version, and offers threaded SMS and MMS conversations. Images and video appear in-line with text, making it easy to follow the natural progression of a conversation.
The Cliq 2 offers two distinct instant messaging options. The first is Google's GTalk client. The other option bundles AIM, Yahoo IM, MySpace IM, and Windows Live into one app. I had no problems using it.
The universal messaging inbox Blur widget works in concert with the SMS app, Twitter DMs, and Facebook email. It collects the messages from all three types of communication and dumps them in one spot.
Speaking of social networking, it is a core part of Motoblur. Blur integrates Facebook, Twitter and MySpace into one portal and serves them up in widget form on the home screen. Users can post status updates, respond to messages, or just watch the conversation float on by. Alternately, the native Facebook, Twitter and MySpace apps are all robust and offer their own home screen widgets.
Extras
Media
Music
The Cliq 2 makes some modest improvements to the Android music experience. Users can sideload media directly to the microSD card, or use third-party solutions such as the doubleTwist AirSync software. The media player includes an FM radio, links to Wiki-based music communities and information, as well as the Amazon MP3 store and SoundHound built into the music player user interface. These added services don't do anything to jazz up the look of the Android Music player, but they do actually add features. The player still doesn't have a user-adjustable equalizer of any sort. Slacker Radio is also pre-loaded on the Cliq 2.
Video
The music player also doubles as the media/video player and even includes links to YouTube and GoTV for music-related content. I was able to side-load some non-protected video content and it played back just fine. Thankfully, T-Mobile skips MobiTV and its own branded mobile video services on this handset. The Cliq 2 does have Netflix on board for those interested.
The Cliq 2 also has the DLNA service on board. It allows users to wirelessly share phone-based content with other DLNA certified equipment like some TVs.
Camera
Camera
The Cliq 2 carries over the solid camera software that has been on several of Motorola's Blur handsets lately. It opens reasonably fast whether you press the dedicated camera key or opt for the software button on the screen.
Once it comes to life, the display shows a focusing box in the center used for framing shots (no touch-to-focus), and there is a drawer/shade on the right side. When opened, the drawer offers easy access to the camera's controls and settings. The lists are plain and limited (fewer advanced controls), but they make sense. They let the user get in, adjust what they want quickly, and get back to picture-taking.
The camera offers autofocus and takes about a second to focus before snapping the shot. The picture is saved and the review screen lasts about two seconds before reverting automatically to capture mode. This is great. I hate it when cameras leave you stranded on the review screen and you have to press a button to get back to the viewfinder.
Gallery
The gallery is a simple one, and uses mostly stock Android tools. Photos are arranged into piles based on where they are stored (phone memory, memory card, Picasa, etc.) or when they were taken. Opening any of the galleries requires a simple tap. Users can swipe through photos on their own, or start a slide show. The slide show offers a pretty good set of features, including control over transitions, speed, and shuffling.
As far as editing features go, the Cliq 2 offers a ton of ways to adjust images. Users can make a wide range of edits, including alterations to brightness, contrast, color, effects, cropping, rotating, clip art, text, frames, and more.
Photos/Video
Photos
The Cliq 2 has a 5 megapixel camera with autofocus and an LED flash. It performed well. Indoor shots taken without the flash were surprisingly good. Focus was sharp, and the presence of grain/noise was kept to a minimum. Adding the flash helped illuminate near-by subjects, but it doesn't really work beyond 6 feet or so.
Photos captured outdoors looked very good. I was pleased with the focus, white balance and color representation. The photos you'll take with the Cliq 2 will be great for sharing via Facebook, Picasa, Flickr, and other social sites.
Video
As with the camera, video results were very good. It can capture video at 480p. It's not HD, but it's good enough. There was a little bit more digital artifacting than I'd like, but it was mostly free of blockiness, smearing, and waviness when panning back and forth. It also performed well in reacting to wide changes in background light. These videos are definitely YouTube and MMS worthy.
Browse/Customize
Browser
The Cliq 2 comes with the basic Android browser pre-loaded. If this is all you ever use, you'll probably be happy. It is a fine browser, and does a great job of rendering HTML and mobile web sites. The Cliq 2 ships with Adobe's Flash Player Mobile on board. With Flash, the Cliq 2's browser is improved with added content compatibility.
Customize
Motorola's Blur offers a wide palette for changing the basic appearance and behavior of the Cliq 2. First, the re-sizable widgets are great for really packing content into the home screens. The addition of three sets of home screen schemes via the Home, Work and Weekend profiles opens the door to customization even further.
The Cliq 2 also comes with T-Mobile's App Pack. The App Pack is a series of recommended applications in the Android Market that have been compiled by T-Mobile. These app recommendations will change over time.
Extras
Bluetooth
The Cliq 2 supports the mono and stereo Bluetooth. I had no trouble pairing with either type of headset. Call quality through mono headsets was quite good. Bluetooth speakers worked well and sounded good, too. The Cliq 2 can also pass files around via Bluetooth, and I was able to do this with multiple devices with no problem.
Clock
The Cliq 2 displays a huge digital clock on the home screen when the lock/power button is pressed. You can easily see it from an arm's length (indoors as well as out). This clock can be adjusted to a smaller digital format, as well as analog. Of course, users can also choose to download their own clock skins from the Android Market.
GPS
The Cliq 2 has Google Maps and T-Mobile Navigator both on board. Google Maps continues to be an excellent free tool for voice-guided navigation. It is my go-to GPS app. The newer 3D point-of-view tools and offline capabilities really make Google Maps a great, free product. If you prefer T-Mobile Navigator and don't mind the $10 monthly fee, it also performs well. Both programs kept me on track from here to there.
Hotspot
The Cliq 2 also includes the mobile hotspot feature. Turning it on converts the Cliq 2 from a smartphone to a MiFi-like Wi-Fi hotspot for up to five other devices, relying on T-Mobile's HSPA+ network to provide the main internet connection. Set up was a breeze. All I had to do was turn it on, set up a network name and password, and connect my laptop via Wi-Fi. I ran Speed Test on my laptop. The best it was able to get was 2.4Mbps, even though the device itself was pulling down 3.5Mbps. Even so, 2.4Mbps was certainly fast enough to take care of my email and browsing tasks.
Wrap-Up
The Cliq 2 is a worthy successor to the original Cliq. It improves every feature from top to bottom. The hardware is bigger and heavier, but much more sturdily designed and constructed. The added screen real estate and doubled screen resolution go a long way to making the overall Cliq 2 experience much better. Perhaps the only hardware fault is the goofy keyboard design.
Motorola's MotoBlur user interface overlay has come a long way since it first debuted on the original Cliq. The adjustable widgets are great, as are the added profiles for altering home screen settings. This handset is highly adjustable to suit individual tastes.
In performance tests, the phone, signal, and battery all did well. Motorola made some modest - but still appreciated - improvements to the Android media experience. The camera software is easy to use and the camera itself produces consistently good images.
The mobile hotspot feature performs as advertised, though slightly faster speeds would have been better. The Wi-Fi calling app falls short of its potential and makes me wonder why T-Mobile bothered to include it (especially since there is no economic incentive for customers to use it).
In the end, the Cliq 2 is a solid Android phone that gets the basics right. Aside from the abnormal QWERTY, it's a powerful phone that will make plenty of users happy.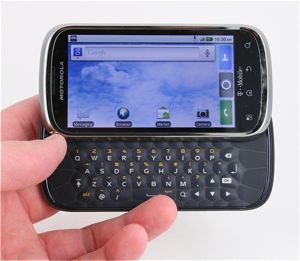 Why the g2 ooh updates as if they will ever work right unless you root. Better keyboard not! The cliq2 may look odd but it is the best out there. The clip 2 is. a quality phone and with froyo the updates after this will be incremental at best. The cli...
(continues)
The G2 is a pretty good device made my a reputable company HTC. Motorola on the other hand offers some great features such and Motoblur which has been a large success on their other android devices.

Someone mentioned the processing speeds, the HTC...
(continues)
Wi-Fi calling
"The Wi-Fi calling app falls short of its potential and makes me wonder why T-Mobile bothered to include it (especially since there is no economic incentive for customers to use it)."

The intent of the app is not economical at all. It's meant to give those in a low or no signal area another option to still be able to make and receive calls. I know I would be more than happy to have it on my phone where I live.
I second that. The one main reason I may consider switching to T-Mobile when my contract runs out with AT&T is for that feature. Reception in my home is dismal.
Hmmmmm
Is Mr. Phonescoop Reviewer a Guitar player? I noticed a Mesa Boogie Amp. Just saying. 😎
*THOCK!*
Great review. Although I have to say, the keys being under a raised sheeting of plastic might fail one day. Also, the Dolphin HD browser is MUCH better than Android.