Review: HTC EVO Shift 4G
Article Comments 10
Jan 14, 2011, 12:12 PM by Eric M. Zeman
HTC's EVO Shift marries Android, Sense, WiMax and a physical keyboard in one, chubby little smartphone. In Phone Scoop's full review, we tell you want works, and what doesn't.
Advertisements article continues below...
Form
Is It Your Type?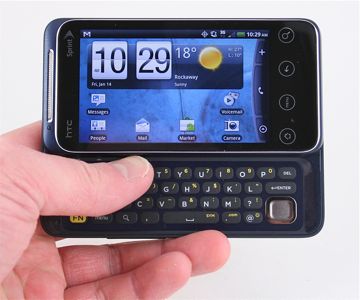 Don't be fooled by the EVO name, the EVO Shift 4G is not a follow-up to the flagship EVO 4G. Instead, it is its smaller, less capable cousin. The EVO Shift 4G packs HTC's Sense user interface on top of Android 2.2. If Android, WiMax and a keyboard are what you're looking for, there's no better place to start than with the EVO Shift 4G.
Body
The EVO Shift 4G is an interesting device. At first glance, it reminds me strongly of HTC's circa 2007 Windows Mobile smartphone designs. The dark blue, soft-touch paint job especially resembles HTC's older devices — this isn't necessarily bad, it just is. However, the overall form factor of the EVO Shift 4G is sure to please some users. It has a reasonably small footprint when held in the hand. It's a thick phone, but HTC angled the sides steeply (think trapezoid) so that the Shift 4G sits deep in your palm. It's easy to get your hand around the entire device. I had no trouble placing it into or retrieving it from my jeans' front pocket, but at 6 ounces, (just barely heavier than the EVO 4G,) you won't forget it's there. The construction feels mostly solid. The top and bottom halves of the Shift 4G fit snugly together to form clean, even seams.
One of the EVO 4G's stand-out features was its massive 4.3-inch display. For the EVO Shift 4G, HTC dialed the down diameter to 3.6 inches. That's a drastic reduction in screen real estate, but I don't think I want to imagine how ginormous the slider smartphone would have been if it also had a 4.3-inch display. The EVO Shift 4G has four capacitive buttons below the display for the standard Android controls. They work fine, but physical buttons would be easier to use without looking.
Rounding out the controls, the volume toggle is on the left side of the phone. It is large, easy to find, and has good travel and feedback. One thing I noticed, because of where it is placed, I often pressed the volume toggle accidentally while sliding the Shift 4G closed. This was annoying because it almost always raised or lowered the ringer volume. A microUSB port is tucked below it for charging and data transfer. The power/lock button and 3.5mm headset jack are on the top. They were easy enough to get at.
With respect to the slider, I wasn't too impressed. It is not spring assisted, so you have to shove it all the way up. It doesn't glide up nicely. Instead, it's actual work to open the EVO Shift 4G up as well as to close it. As with the exterior design, the physical QWERTY keyboard also takes me back to HTC's 2007-era designs. It packs it four, offset rows, but the keys are flat and unsatisfying to use. I was glad to see a dedicated "@" key, and the selection of emoticons is extensive if you don't mind hitting the function key first. Speaking of which, the keyboard does carry forward two of my favorite HTC characteristics: there are two lights that illuminate to let you know when you've activated the Shift and Function keys. At times, this is invaluable. The EVO Shift 4G also gets good marks for including dedicated question mark and comma keys. However, if the only reason you're interested in the EVO Shift 4G is for the keyboard, you may be disappointed with what you find.
Unfortunately, you have to peel off the battery cover and remove the battery to access the microSD card. C'mon, HTC, you know that's a no-no.
The Three S's
Screen
The EVO Shift 4G's 3.6-inch capacitive display isn't the smallest touch screen out there, but it's hardly the largest either. Since the EVO Shift 4G packs in as many pixels (800 x 480) in a somewhat smaller space, the EVO Shift 4G enjoys a healthy pixel density. The result is a screen that looks smoother, cleaner, and free of pesky individual pixels poking your eye. The brightness of the LCD display is more than adequate for indoor use, though I found it lacking a bit when outside. Even a moderately cloudy day gave it trouble, with glare obscuring most of the screen. In my time with the device, the sun rarely shown brightly, but even a partly sunny day was too much for it.
Signal
The EVO Shift 4G has separate 3G and 4G radios. The 3G radio is on whenever the device is powered up and not in airplane mode. The 4G radio can be turned on or off at will. The EVO Shift 4G did well on Sprint's CDMA 3G network. In my home it captured two bars of signal strength, though that immediately jumped to three if I went outside. It lost all contact with Sprint's network in my basement, but this is typical of Sprint phones that I've tested. It also lost contact with the network in my local supermarket. When it was actively connected, though, I didn't miss any calls. Data speeds were mostly good, with a few noticeable slow downs here and there.
Turning on the 4G radio takes about one minute. Once it is active, it will find and connect to Sprint's WiMax network (if present). Sprint doesn't offer WiMax where I live, but I was able to take the EVO Shift 4G into New York City, where I tested it a bit. WiMax performance was spotty. It would connect to the WiMax network, only to lose it a few seconds later. It was rare that it maintained a solid connection for more than 10 minutes at a time. During that 10 minutes, web browsing was noticeably faster than browsing via 3G. Manhattan is a challenging environment for any cellular device, but I was disappointed with how the EVO Shift 4G performed in 4G mode.
Sound
Call quality with the EVO Shift 4G was good, bordering on very good. Most calls were clear, though every so often I encountered odd noises and such. The EVO Shift 4G can produce loud ringtones. Volume levels of the ringer and speakerphone were more than adequate. You'll easily hear the EVO Shift 4G in a crowded mall or busy office. Earpiece volume was also quite loud, if not bordering on painful. Set to the highest level, the earpiece speaker distorted a bit, but conversations weren't affected. The vibrate alert could have been a bit stronger, it wasn't quite as jarring as I like.
Battery
The EVO Shift 4G works great as a 3G phone. With HTC's FriendStream software constantly pulling down Facebook and Twitter updates to the device, it still managed to squeeze through an entire day with just 3G on. One full day is good, but a few more hours wouldn't hurt. Turning on 4G, however, nearly killed the battery in an instant. I turned the EVO Shift 4G on in New York City at 7:30 AM and immediately connected to the WiMax network. By Noon, when I was on my way to the bus station, the battery had less than 40% left, and I had barely used it beyond some light web browsing and email. I hadn't even set up FriendStream at that point. I left the WiMax radio on the rest of the day, and the EVO Shift 4G was dead by 3PM. That's not even 8 hours. If you have to get through a single day, leave 4G off. Only turn 4G on when you know you can plug in and charge during the day.
Basics
Menus
The EVO Shift 4G runs the newest version of HTC's Sense user interface overlay. Sense offers 7 home screens on which to stuff content. The basic menu architecture of Android itself hasn't changed, and HTC hasn't made too many obvious improvements to the main menus.

One of the other neat features of Sense is that it offers a number of different "Scenes." Each Scene is basically a completely different set of configurations for the home screens. For example, the "Work" Scene prioritizes work email, calendar, and so on. All of the screens are rearranged with different applications, widgets and shortcuts to reflect this. Each can be customized, meaning that users have an infinite way to arrange apps and content on their device.
As for speed, the EVO Shift 4G has an 800MHz processor, which is slower than the 1GHz processors that many of today's Android devices use for power. Amazingly, that doesn't appear to have any impact on speed of the user interface or the device's general performance.
Calls/Contacts
Due to the pervasiveness of the software phone button on the home screens, getting to your phone calls is pretty easy. By default, it opens with the dial pad on the bottom half of the screen and your top favorites above it.
The phone app automatically sorts through your contacts as you dial a number, so you can easily jump though a large contact database quickly.
If you've synced the EVO Shift 4G with a Facebook account, the device automatically adds not only your friends' Facebook profile pictures to their contact info, it also ports over any phone numbers stored in their Facebook profile. This feature isn't unique to the EVO Shift 4G, though.
The synergy between the calling and contacts apps is very well done with Sense. I like what HTC has done to make them one tool, rather than separate functions.
Messaging
The EVO Shift 4G tackles email, SMS, MMS, IM, Twitter, Facebook, MySpace, Picasa, Flickr, etc. with aplomb.
There are several different avenues to get your email. First, there is the HTC-made Email program, which was very specifically designed to support Exchange email accounts. HTC made this email program before Android supported Exchange. Now that Android does, this email program isn't a necessity for business users, but it offers a nice user interface for sorting through messages. Then there's the native Gmail client. The EVO Shift 4G also works with pretty much any POP3/IMAP4 email account you could throw at it.
There are two SMS apps on the EVO Shift 4G. One is the native Android SMS app, the other is the HTC-made Sense SMS app. The main difference is that the HTC app offers a widget that lets you page through your messages from the home screen.
Google Talk is the only native IM app on board. Want more? Go fishing in the Android Market.
There are a number of ways to connect to social networks with the EVO Shift 4G. First, there's HTC's FriendStream. The FriendStream app reaches into your Facebook and Twitter accounts and pulls down status updates in a stream that you can look at quickly. You can also use HTC's Peep application for Twitter, though I prefer the official Twitter application. The native Facebook app is also better than FriendStream for really interacting with your account.
Extras
Media
Music
The EVO Shift 4G uses the same music player that's on other Sense phones. The HTC-skinned music application does all the same things that the stock Android app does, but it does them with more style. You can sort through tunes in the usual way, via artist, song, album, genre, composer, etc. Music can be downloaded directly through the Amazon MP3 app if you wish.
Music playback sounded very good through the speaker, great through stereo headphones, and decent through stereo Bluetooth headphones.
There still isn't any sort of equalizer, but the EVO Shift 4G packs in an FM radio, which must be used with headphones. Reception was better than I expected. My favorite station, which is broadcast from about three miles from my house, sounded amazing. Stations broadcast from NYC (~30 miles away) also sounded rich and full.
Video
Thankfully, the EVO Shift 4G has a video app on board (sometimes there isn't one!). The on-board video app handled all the mp4 and m4v files that I threw at it with no problem. Playback was smooth and free of any weirdness.
Camera
Camera
The EVO Shift 4G's 5 megapixel camera is fairly solid, and is carried forward from other Sense devices. Lack of physical camera key aside, it nails pretty much every other detail.
Once you find the camera app, it launches in about 1 second. There are controls on the screen that let you control the flash and exposure levels without opening the menus. This is nice. Fast access to the flash is a must-have feature for me.
There's a tab on the left side of the screen. Press it to get at many of the camera's other controls. The controls let you adjust the shooting mode, exposure, saturation, sharpness, add effects, as well as dial down and alter the core settings. ISO (the camera's "speed") ranges from 100 to 1250. The camera natively shoots in a 5:3 aspect ratio. You have to change it to 4:3 to get the full megapixel count. Most people won't notice or bother with this.
The EVO Shift 4G has touch focus; if you see something on the display and you want it to be in focus, press it. The camera will focus on that spot (which hopefully is your friend's radiant smile). Press the screen (or the d-pad on the keyboard of you prefer) to actually take a picture. The EVO Shift 4G focuses fast and shoots pictures fast. The review screen lets you send the photo off wherever you want to send it with just a few quick taps.
It's a tragedy that the EVO 4G doesn't include a second user-facing camera. That means no two-way, face-to-face video chats.
Gallery
As with other Sense phones, the EVO Shift 4G uses an HTC-made gallery. It can be opened from either the camera or the menu, and presents pictures in either a timeline or via grid. The timeline mixes pictures and videos into one long stream of images and movies. The entire stream flows back and forth as you swipe your finger to and fro in a very fluid manner. I dig it.

Pictures can be cropped and rotated. That's it. Users can't make any other adjustments or edits.
Photos/Video
Photos
The EVO Shift 4G's 5 megapixel shooter was mostly accurate with exposure, white balance and color. The flash isn't as good as I've seen on other HTC devices, but it does a reasonably good job of making sure your friends' faces have some color on them and aren't a fuzzy mess when you take pictures in the (near) dark. Sometimes faces have a slight blue tint, but mostly they looked OK.
Shots taken in the Great Outdoors also look good. Images were sharp and accurate, and there was little grain. You'll be more than satisfied to share these images via Facebook and Flickr, though it probably isn't going to suffice for taking family portraits.
Video
The EVO Shift 4G can capture video at 720p. Videos look good. Colors are mostly right, focus is good, and there is little waviness or ghosting. The EVO Shift 4G isn't going to replace a dedicated camcorder, but it definitely records YouTube and MMS-worthy clips.
Browse/Customize
Browser
The browsing experience on the EVO Shift 4G is really no different than that of any other Android phone running 2.2 Froyo. You can use your finger to navigate around web pages directly on the screen or use the d-pad on the EVO Shift 4G's keyboard if the device is open.
Flash content worked pretty well, and most normal in-line video played back as intended. You're still not going to be able to stream movies from Hulu, but you'll be able to watch (eventually, because Flash is so slow) a large bulk of the video that's embedded on web sites.
Customize
Thanks in part to HTC's Sense software, the EVO Shift 4G can be customized by end users more than most. Wallpapers of all kinds can be customized, as can the live (animated) wallpapers. Ringtones, alerts, picture IDs, etc., can all be adjusted. Because the EVO Shift 4G has 7 home screens, users can practically load so much content as to be able to avoid the main menu altogether. The widgets, shortcuts and apps spread across those screens make for a highly personalized experience. Throw in the extra, customizable Scenes that Sense UI offers, and the sky is the limit when it comes to making the EVO Shift 4G your own.
Extras
Apps
The EVO Shift 4G can access all of the nearly 100,000 apps in the Android Market and more. Support for Android is not lacking. If you want apps, they are out there.
Bluetooth
The EVO Shift 4G can connect with mono and stereo headsets with no problems. I didn't encounter any issues when pairing different devices, and sound quality through both mono and stereo headsets was quite good. The EVO Shift 4G can also be used to push pictures (and other files) between devices.
Clock
If you know anything about HTC devices, you know that HTC is serious about the clock. It's there, it's huge, and it is mated to HTC's animated weather application. Even when you wake the phone from sleep, the time is easy to find and read. There are also a host of different digital and analog clock faces from which users can pick. The HTC Clock app is off the hook. Basically, every clock-related function you can think of is packed in, such as stopwatch, countdown timer alarms, world clocks, etc. The weather is thrown in for good measure. It looks classy and is a breeze to use.
GPS
Both Sprint Navigation and Google Maps are installed on the EVO Shift 4G out of the box. Sprint is generous in offering its navigation software for free. Both offer voice-guided turn-by-turn directions between points, and can re-route you if you get lost. Google Maps 5.0 is particularly impressive because it now offers offline use (in case you roam out of network coverage) as well as 3D maps for a limited number of cities.
Wrap-Up
The EVO Shift 4G offers great software in a so-so wrapper. Personally, I don't like the weight, thickness, nor keyboard action of the EVO Shift 4G. They're just not as good as some of the EVO Shift 4G's competitors. However, if those items aren't as important as simply having a physical keyboard at all, then it's a wash.
The Sense user interface continues to be easy to navigate and is highly customizable. HTC allows users to adjust nearly every feature, screen or parameter of the EVO Shift 4G in at least some small way. Sense is speedy, doesn't hesitate, and offers solid camera and music software, in addition to its improved messaging and social powers. The camera takes good pictures for this class of devices, and the music player is slightly better than what stock Android offers.
If you're in the market for an Android phone that has WiMax and a keyboard, the EVO Shift 4G is one of the only options out there. Sure, it doesn't have quite the same sex appeal as the current crop of flagship Android devices, but not every smartphone can be a Ferrari. Some have to be Fords.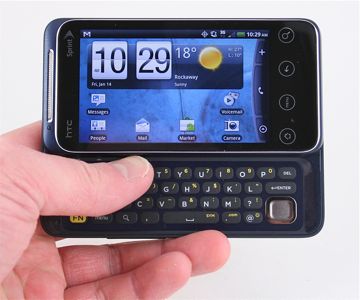 The Keyboard...
That's two phonescoop "reviews" I've read saying that the keyboard was not very good. One from Eric and one from Rich... what gives? The keyboard won't win any awards, but I love it. I think the keys are well placed and easily used. And I also like the fact that you have to move the keyboard without the spring action. I've seen several spring loaded keyboards fail miserably. This one feels like it will last for years. Oh and as far as the video calling...
I'm pretty sure it was abandoned on purpose for 2 reasons. 1. Qik being bought by Skype. 2. Everyone bitches about Vid calling on anything but WIFi. The fact is, like you touched upon in one of your articles, Vid calls aren't perfect even on a pc, so I'm not really demanding my cell phone ...
(continues)
I stand by my opinion and agree with Eric. It's a crappy keyboard compared to many, many other phones.

The Cliq 2 keyboard, for example, may look funny and feel kinda cheap, but the keys are a much, much better shape that makes them easier to feel ...
(continues)
Spelling error
"we'll tell you *want works, and what doesnt".
What research?
The processor is the newest version of the Snapdragon processor (the same one in the g2) and is much faster than the Evo's, not to mention a better graphics processor. This phone is essentially the g2 without the trackpad, and Sense on top. Please do your research!
Agreed, the megahertz myth is in full effect here...if clock speed meant that much, we'd have 10 GHz processors in our computers by now.
Nice review--
--and you have rugged, manly hands.
muchdrama said:
--and you have rugged, manly hands.
muchdrama! lol