Review: Sony Ericsson W810
Form Basics Extras Video Wrap-up Comments 42
Camera Pictures and Videos Browse / Customize Other
Because of the camera's high resolution and high quality lens, it is not a surprise the W810 has scored the highest on the vision test of any phone we've reviewed so far: 20/30. The camera captures detail very well, even from 20-30 feet away. Color is rich and accurate, but not over-saturated. Believe it or not, the grass actually is that green because of all the rain San Francisco has gotten in the past two months.
White balance was excellent in good light, but suffered in low light, where photographs tended to yellow. Activating the flash and/or compensating by adjusting the white balance corrected this.
AD article continues below...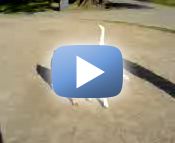 3GPP / MPEG-4 format (viewable with QuickTime)
File size: 266 KB