CTIA 2006
Intro Part 1 Part 2 Part 3 Part 4 Comments 93
Helio Samsung Jitterbug UTStarcom
We went to the UT Starcom booth not expecting much, but they managed to give us a few surprises.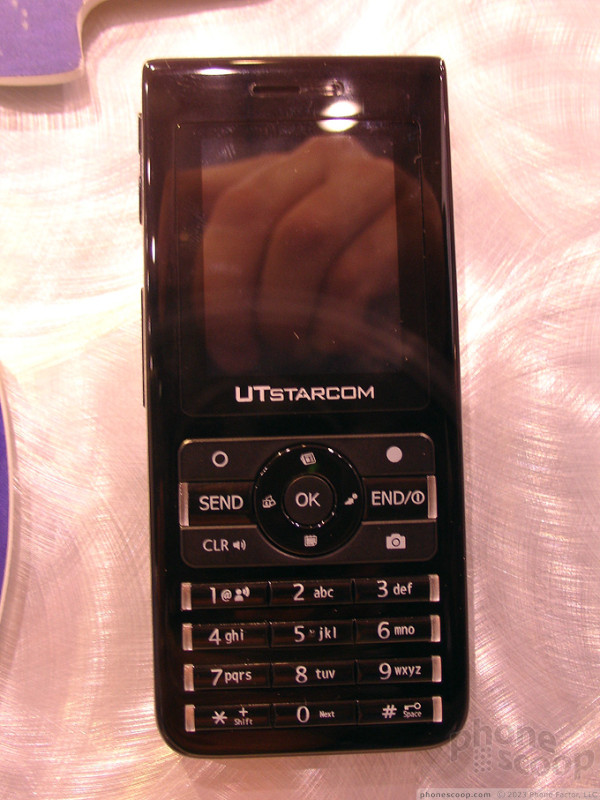 Today a new phone mystically popped up at the UT Starcom booth - it wasn't even there yesterday. The 9250 is yet another thin candybar phone with a VGA camera. It looks much more polished and well put together than a simple SLVR knockoff, possibly because this handset is a KT Freetel produced unit. It has a MicroSD slot, VGA camera, BREW and all sorts of other features that could mean it's coming to Verizon. However UT Starcom hasn't even announced or launched it yet, let alone a carrier. The 9250 was behind glass so we couldn't sneak a peek at the software either.
AD article continues below...
UT Starcom hasn't officially launched the 7945 yet either, however there was one the floor with Verizon sotware on it, which comes as no surprise. The 7945 will be the first mid-range phone they launch produced by UT Starcom. It has a 1.3 Megapixel camera as well as a MicroSD slot and external music controls. Oddly the unit we played was not flashed with the music player, just the basic Verizon interface, so we didn't get to test the playback controls.
We didn't really get to test the software on the G'Zone either, but we did get to dunk it in water while it was running a demo loop. The G'Zone UT Starcom was showing off was still the Japanese version available through KDDI with a Japanese keypad and KDDI service labels on the keys. Even though we couldn't use it, we could at least get a feel for it. The G'Zone was a little larger than a VX8100, but it didn't feel huge. It is still easy to wrap your hand around it, and has a solid feel without being too heavy. Of course the most remarkable thing about the G'Zone isn't the size or build quality, but the fact that you can dunk it in water or drop it to the ground and the phone will keep going.
After seeing the G'Zone emerge in perfect working order from a dunk-tank, it wasn't just we who were impressed. Several people from other well known companies in the mobile world were drooling and ready to lay out money for one.