CTIA 2006
Intro Part 1 Part 2 Part 3 Part 4 Comments 93
Helio Samsung Jitterbug UTStarcom
Samsung has a decent lineup of new phones here at CTIA this year. Unfortunately, most of them are ones that have leaked out one way or another and we have reported on, so they may not be that new to most of our readers. Now they're official, though, so we can bring you more photos and details.
The A960 is a unique-looking CDMA clamshell with an internal antenna. The design is almost identical to Samsung's E750 for GSM networks in Europe.
AD article continues below...
The design includes a full-color OLED outer display that is both circular and off-center. Next to that display is an odd little button for launching the music player. The phone is a nice size, although a bit on the thick side. It feels very solid, though.
The features are nice, although not earth-shattering. It's an EV-DO model with features nearly identical to the A900. Unfortunately that means it lacks a memory card slot. Audio features include Bluetooth and VoiceSignal's speech-to-text feature for dictating text messages. A 1.3 megapixel camera with LED flash and sliding lens cover is also thrown in for good measure. Look for this model before mid-year. *
The T509 is basically Samsung's answer to the Motorola SLVR. Exactly as expected, it's an ultra-thin bar-style phone with EDGE, Bluetooth, and a camera.
It's also confirmed for T-Mobile. At 9.8 mm, it's slightly thinner than the 11 mm SLVR. The only new info is that camera is VGA. Megapixel resolution would have been nice, but then again the SLVR only has a VGA camera as well.
The T719 is a phone we first reported on a month ago. It's the new slim BlackBerry clamshell GSM phone.
One new thing we noticed is that the monochrome outer LCD display has the same strange fixed-color background as many of the LG models for Cingular.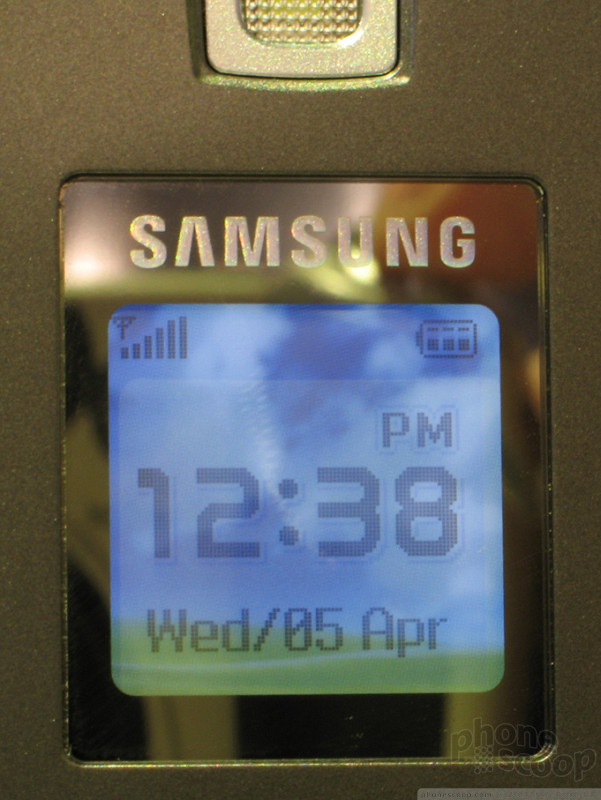 T719 outer display
It only shows up when the backlight is on, but it has the same kind of green grass / blue sky thing going on that the LGs have. This kind of gimmick seems somewhat out-of-place on a business-oriented phone like the T719.
Samsung announced the D407 officially, although we reported on that last month, and we didn't discover anything new about it.
Also on display was the A930. We first covered this back at CES, but since then the color has been changed to all-black:
I personally preferred the sleeker two-tone design, but the black version has a kind of sci-fi look that some people might like.