Review: Samsung Nexus S
Article Comments 7
Dec 17, 2010, 8:17 PM by Philip Berne
The Samsung Nexus S offers a pure Google experience on a slick Android phone. There's no carrier apps, no interface tweaks, but is there enough to satisfy buyers?
Advertisements article continues below...
Form
Is It Your Type?
Is It Your Type?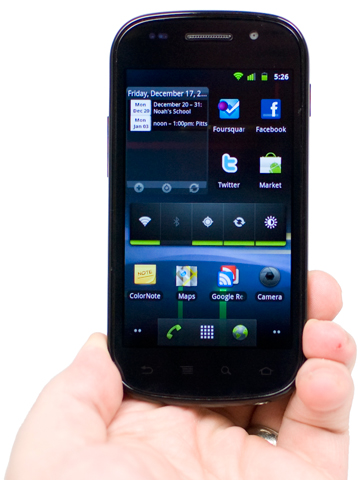 The Google Nexus S by Samsung offers a pure Google experience in a shell reminiscent of, but slightly more stylish than, Samsung's successful Galaxy S phones. What does pure Google mean? If you're not sure, you're probably not the target audience for this phone.
Body
For better and for worse, the Google Nexus S bears the common traits of the entire Samsung Galaxy S lineup. It's a thin, black phone, clad all in glossy plastic. I might prefer the feel of a metal shell on a handset, like the HTC-built Google Nexus One, but there are some benefits to that plastic. First, the Nexus S is just a bit lighter than the original HTC Nexus phone, even though it's bigger in almost every way: taller, wider and with a larger screen. Samsung's plastics don't feel cheap on this phone, but there is something about HTC's metal designs that make phones feel quite solid, and that the Nexus S lacks.
The phone has a gentle, yet noticeable curve to it. It curves just slightly to fit your face when held to your cheek for a call. Honestly, the curving glass front did not seem to make any difference using the phone, but it does add a unique style to the otherwise black monolith. I never found the curve getting in the way. The phone was very comfortable in a pants pocket, even with the curve facing away from my body.
The phone has very few buttons, too few if you ask me. There are the requisite Android buttons on the face, below the screen. These are touch buttons for Back, Menu, Search and Home. After nine months of using the Nexus One as my primary device, I wish these buttons were standardized by Google, as Microsoft mandates the order for the Windows Phone 7 buttons, so that I didn't have to learn the new layout (Search and Home are switched on the Nexus One).
Otherwise, there is a power / screen lock button on the upper right hand side of the phone, and a volume rocker on the left. Both of these are nicely raised and easy to find. I'd like to see the government pass a law requiring all touchscreen phones to have camera buttons. Again, Microsoft got this so right on Windows Phone 7, requiring every phone to have a hardware camera key, and I wish this carried over to other smartphones like the Nexus S.
The microUSB port and the 3.5mm headphone port are on the bottom of the phone. Both are exposed - no sliding port covers on this phone like on the Galaxy S devices - which is too bad.
Around back, there is a subtle pattern in the glossy paint, but no texture. A bulge near the bottom breaks the graceful curve of the device. It also helps keep the phone from wobbling like a rocking horse on a desk, but it seems a bit severe for this otherwise smoothly sloping phone.
The Samsung Nexus S has no trackball or other pointing device. With the improved text selection in the Android 2.3 Gingerbread system, this isn't a serious problem. But a bonus feature of the trackball on the Nexus One is that it glows with an LED light, and you could easily add an app that would customize that light to flash different colors for different notifications.
The Three S's
Screen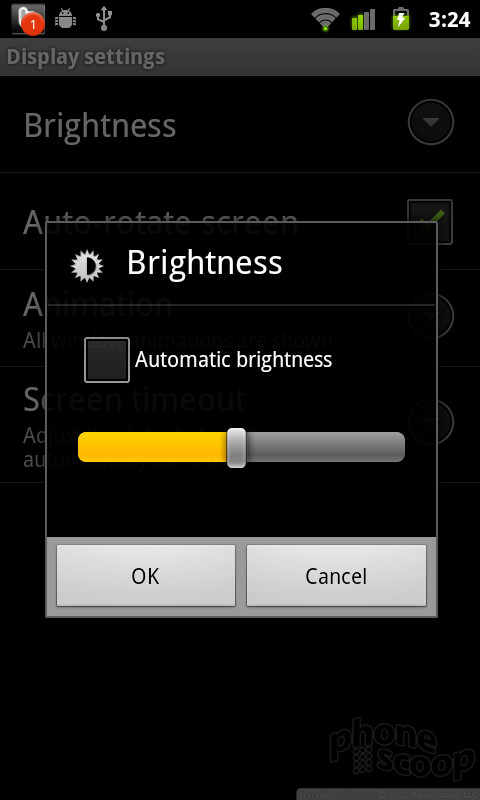 The Samsung super AMOLED screen is the best feature on the Google Nexus S (and on the Galaxy S phones and every other high-end smartphone Samsung makes). Though the Nexus S doesn't pack the pixel density of Apple's so-called "retina display" on the iPhone 4, the trade off is more than worthwhile. The sAMOLED display shows rich, bright colors with deep, dark blacks, providing an ideal contrast, especially for viewing pictures or watching movies.
The 4-inch, 800 by 480 pixel display does everything well. Text looks sharp and menu icons were crisp and clear. You might see the occasional jagged edge, but most curves are smooth. The screen holds up very well outdoors, too, better than every other screen technology on the market today.
Sound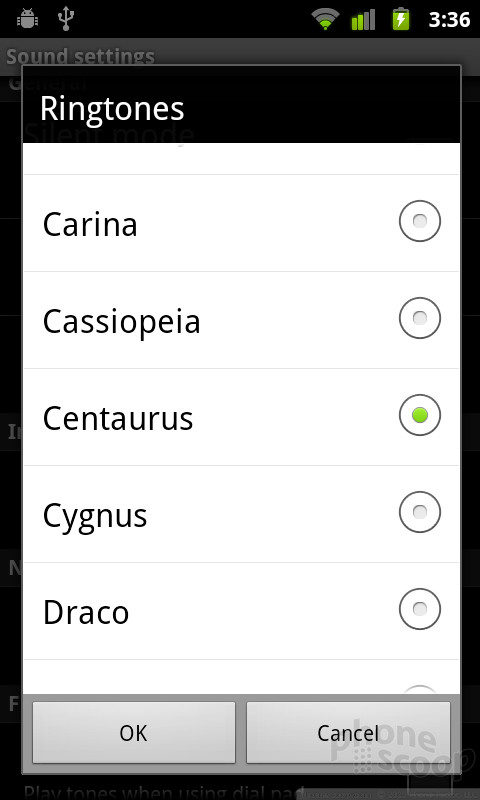 Sound quality from the Nexus S was very good. Using T-Mobile's network, calls were clear and bright, with a sound through the earpiece that was accurate and present. On their end, my callers also said I sounded great, with almost no background noise. Most callers could not tell if I was on a cell phone or my cable landline phone.
Music also sounded great through the headphone port. The Nexus S can hit a higher volume than most other phones I use, which makes it great for working out or listening to loud music (in moderation, please, be kind to your ears). The speaker could have been a bit louder, but it reached an ample volume for ringtones to be heard. The speakerphone was also loud and clear, fine for talking handsfree while driving fast down the highway.
The Nexus S comes with a cool selection of ringtones, most of which are bent towards the ambient music side of the spectrum. With the sound turned off, the Nexus S had a solid, if slightly sharp, vibration.
Signal
I have been very impressed with signal performance from the Samsung Nexus S on T-Mobile's network. I never had trouble with dropped or missed calls. The phone holds onto a 3G signal nicely, and I was never without good data reception. At best, I saw download speeds in excess of 3 Mbps, which is incredibly fast, considering Samsung and Google skimped on support for T-Mobile's faster HSPA+ network. Likewise, the phone did a fine job holding onto my home Wi-Fi network, even in the deepest recesses of my closet, where signal fades.
Battery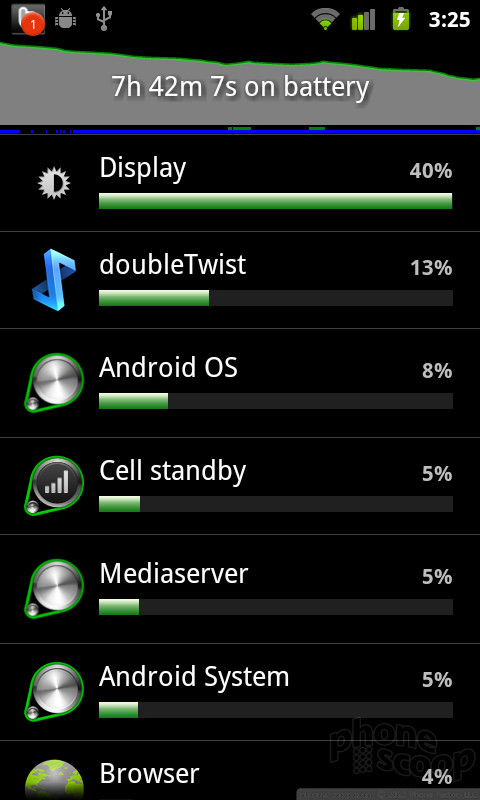 Battery life on the Samsung Nexus S was adequate, though I did encounter some strange issues. The phone charges very slowly. After five hours of charging from a reported 10% battery life, the phone was still at 94% charge. Another hour only pushed the phone to 96%. I wonder if there is a reporting issue with the battery meter.
From that 96% charge, I was able to use the Nexus S all day without draining the battery completely. I stayed away from too much GPS and camera use, which are both battery hogs on this phone, though I did plenty of Web browsing over the cellular network and Wi-Fi. You should be able to use this phone through a full day, but unless you're limiting yourself to just phone calls and emergency browsing, you'll want to charge the Nexus S nightly.
According to the phone's own battery meter, the display drains the most power from the device, so I kept an eye on the good old Android Power Control widget and dialed down the brightness whenever a brightly lit screen wasn't necessary.
Touch
For the most part, touch response on the Samsung Nexus S was flawless, though some apparent bugs in the system did cause problems with the touchscreen. After my initial startup, the phone was a bit laggy to the touch, but that's because Android downloads and installs all of the apps I use on my other Android devices, and app installation tends to slow down the phone considerably. Once my 40 or so apps were installed, the phone responded more smoothly to the touch.
A few times, though, the touchscreen simply stopped working. I would swipe the screen lock to open the homescreen, and that gesture worked fine, but once I was looking at the homescreen I got no response. App icons and shortcuts would not register my taps, and I could not swipe from one homescreen panel to the next. It was very disconcerting. This always cleared itself up after a couple minutes, so it seems more like a serious system bug than a problem with the touchscreen. Thankfully it never happened during my phone calls, and hopefully a future software update will clear up this problem.
Basics
Menus
The Samsung Nexus S uses an unadulterated version of the Android 2.3, or Gingerbread system. Most Android phones on the market today are tweaked by the carriers or manufacturers. On Samsung's Galaxy S phones, for instance, you get a slightly different app menu design, a different look to the shortcut buttons on the homescreen panels, and some changes throughout the core phone features like the dialer and the address book. For the most part, I think these changes are a matter of taste, though at their worst manufacturer changes can slow down a phone or cause performance problems, as I saw on the Samsung Transform, with its Sprint ID interface, which caused some sluggishness and shorter battery life.
That said, I don't think manufacturer tweaks are inherently a bad thing. Motorola's Motoblur interface on phones like the Droid 2 and Droid X, for instance, offers a great selection of customizable widgets and some deeply integrated social networking features. HTC's Sense design, on phones like the Droid Incredible and the HTC Evo 4G, offers a very slick interface design and some dramatic improvements to the contact list, again integrating social networking features deep into the system. Neither of these bog down their respective phones and both interface designs offer plenty of benefits that you won't find anywhere else.
So why go with a pure Google experience? First, Google has updated Android multiple times this past year, and those updates always came to the Nexus One first. Presumably, the Nexus S will also be updated early, which is especially enticing since the next version of Android, the rumored Honeycomb system, could feature the most significant interface enhancements in some time. The more a manufacturer tweaks the Android system, the more work it has to do to update that system to the new Android OS version, and the longer those updates take to roll out, with no guarantees that most Android phones will ever see the newest updates.
Second, some of the most interesting enhancements available for the Nexus One came in customized ROMs, system software packages created by user communities, and not the manufacturers. Unlocking the phone to use those ROMs is not for amateurs or the faint of heart, and it will void your warranty, though HTC had no problem replacing multiple defective Nexus One phones I owned when the problem had to do with hardware and not system software. There is a vibrant developer community working on ROMs from Cyanogen or MoDaCo that add very slick and highly customizable features to Android phones, and the Nexus phones are the easiest Android devices to unlock and customize. In this way, these phones seem to be designed and sold with developers in mind more than average consumers.
That said, I had a couple significant issues with the Samsung Nexus S. For one thing, the Gingerbread system update is a disappointment. Sure, there are plenty of tiny visual refinements and interesting flourishes. But in many ways Google is still leaving key features in the hands of third party developers, which keeps the system from competing head-to-head with the likes of Apple's iPhone. While Google makes minor improvements to the software keyboard and the notification shade, the Android music player has gone unchanged in more than 2 years, and there is still no standalone video player app. The camera software is basic. The settings menus are still a maze of white text on a black background.
Some of the best hardware features are still unsupported by the system software. The Nexus S has a front-facing camera for video chat, but there are no video chat options preloaded, and the software on the market, like Tango Video Chat or Qik, is buggy and unreliable. The Nexus S features built-in near-field communications (NFC) hardware, but there are few ways to use NFC in the real world. NFC payment options from major credit card companies and banks are still in early trial stages, casting doubt on whether Nexus S buyers will have that option any time soon.
My second issue with the Nexus S is that the phone just seemed buggy all around. Besides the freezing homescreen issue I mentioned, I had numerous app crashes every day through my testing period. In fact, as soon as I signed into my Google account for the first time, the phone started downloading all of my apps from the app market, and this caused repeated crashes. This does not instill confidence. In two days of nonstop testing, I probably had to Force Close apps a dozen times. That's embarrassing for a flagship device that is running the most pure version of Google's OS.
Calls / Contacts
The dialer looks a bit different from previous Android versions, but the changes are only skin deep. Otherwise, the calling and contacts experience on the Nexus S is exactly like previous Android phones. Here is one area where Google is being lapped by its manufacturer partners. Options during calls are useful but simple. There is no auto-respond option to ignore a call and send an SMS message, like you'll find on even basic Android phones like the LG Optimus family. There's no built-in call recording feature. You don't get recent status updates or message conversations when a contact calls, like you do on HTC Sense phones. It's all very basic.
The contact list is also nice, but lacking in any advanced features. Unlike most other Android phones, the Nexus S doesn't integrate social networking into the contacts any deeper than synchronizing basic information and avatars. You don't get status updates, calling and messaging history or photo albums, like you do on other Androids.
Even calling shortcuts are a bit too simple for my taste. You can plant direct dial or messaging shortcuts on the homescreen panels, but these can be confusing. The shortcut for calling someone's mobile number and sending them a text message look very similar: the person's picture with a big "M" on the icon. Only a tiny, hidden indicator in the corner lets you know which is which. There are no easy calling shortcut widgets, you'll have to dig those up yourself from the Android Market, and manufacturers like HTC and Motorola do a much better job with their own proprietary widgets, unavailable except on those phones.
Messaging
The new Android 2.3 software offers no improvements to the stock Android messaging experience. You still get the same basic toolkit. The text messaging app is solid, with threaded, conversational messaging and picture messages that show up in line with the text. There is Google Talk on board for IM chatting, but that's all; you'll have to download clients for other IM services. For email, you get Gmail for Google's own mail service, and a slightly inferior Email app for Exchange, POP and IMAP accounts.
I won't beat a dead horse about all the bonuses you'll get with a tweaked manufacturer's phone. But I am disappointed that Google hasn't improved its own apps. It seems like video chat in Google Talk would be a no-brainer. Hopefully Google will add the feature in the near future.
The software keyboard has seen some improvements, but it still isn't the best available. The keys are more separated, but also a bit smaller. The auto correct worked nicely, though, and you can now hold down a key to activate the corresponding number or symbol. This has long been a feature of other software keyboards. I prefer Swype to the stock Android design, but Swype is still in a closed beta trial, so if you're not already in, you can't get the gesture-based keyboard on this phone.
Social Networking
Though Google Android phones are known for being adept social networking devices, these features mostly rely on third party software, as the stock Android build offers no built-in social networking support. In fact, until you download official versions of the Twitter and Facebook apps, you can't even sync your contacts with your social circle. But those apps are free downloads from the App Market, and they keep getting better. Facebook now supports its own IM chat service, for instance. Twitter is still better on other platforms, especially iOS, where the interface is better and notifications come through much faster.
That said, Android does allow social apps to penetrate deep into the system. Once you have Facebook on board, you can sync your contacts, you can upload photos directly from the gallery, and you can start adding special widgets and folders to the homescreen panels, like a shortcut folder that gathers all your Facebook contacts who have phone numbers.
If you're a real social networking fiend, though, I would recommend a different Android, especially a Motorola Motoblur phone if you like to keep a constant eye on your update stream, or an HTC Sense phone if you want quick access to your friends' photo galleries and message history. Android is very flexible, but the Nexus S does not come with many social features out of the box, and even the third party widgets available from the app market fall short of the high quality software that HTC and Motorola are offering.
Extras
Multimedia
Frankly, multimedia support is an embarrassment on the Samsung Nexus S. The fantastic 4-inch display is almost wasted with no good video playback options. Even after a search through the App Market, the only robust players I could find that would support my favorite video formats were pricey and/or buggy. Apple's iOS platform, and now Windows Phone 7, are both taking multimedia very seriously with good conversion software on the desktop and easy, appealing music and video players on the device. Google has essentially conceded this point to the competition.
Even music playback is sub-par on the Nexus S. Sound quality was great, but the stock music player is bare bones. You can't even control music from the lock screen with the stock player, you have to unlock the screen and jump to the app or the player itself, unless you download a third party option. There are plenty of good music player options, far more than there are video options, but even with the best software, like DoubleTwist or WinAmp, the Nexus S seriously lags behind the competition.
Camera
Camera
The camera app on the Nexus S is very basic for a flagship smartphone, but Google does include most necessities. The camera button and interface elements take up too much of the screen, maybe a fifth of the large display, leaving you with less room for the actual camera viewfinder window. You get some focal controls, like a macro mode or a basic auto focus, but the phone lacks touch focus capabilities, which are always a big plus.
There are 10 scene modes, including modes for snow scenes, fireworks and sunsets, but these didn't help much in my photos when I had a chance to use them in their respective situations. You can also apply color effects, like sepia tones or black and white, and you can adjust the exposure and white balance, though again the white balance tweaks seemed to hurt my pics much more than it helped.
There are plenty of features I would have liked to see on this camera app. Face detection would be nice, or panorama stitching software.
From the camera app, you can also switch to the VGA front-facing camera for self portraits. Though these pics are even lower quality, this is your best option for self portraits. If you try to snap yourself with the 5-megapixel camera around back, it's difficult to press the camera button on screen.
The camera can respond very quickly. After pressing the app icon, the camera fired up in less than 2 seconds. There was a delay after each shot to review pics, and I wish I could turn off this image review and just get back to shooting faster.
Image Gallery
The image gallery on the Samsung Nexus S is completely unchanged from previous versions of Google Android, but here's one feature where Google is already ahead of the pack. The gallery consists of cool, 3D-looking stacks of images that move as you tilt the phone. You can pull the stack apart with two fingers to see a slick fly-by of all the images it contains, or just tap to see the pictures as a thumbnail grid. Tap a thumbnail to see it full screen, with pinch-to-zoom gestures for a close-up.
There are also plenty of sharing options from the image gallery, depending on which apps you have installed. You get to share photos as picture messages and emails out of the box, and you can upload pics to Picasa if you use Google's online photo service.
Image Quality
Photos
Image quality from the 5-megapixel camera on the Nexus S was disappointing. Image quality has never been much of a priority for Samsung, and this is true for Google's new flagship phone as well. Frankly, I was surprised to learn the phone would only have a 5-megapixel sensor. There are already 8-megapixel cameras in this price range on other Android phones. It seems like Google and Samsung were aiming low with this sensor.
Images from the Nexus S were generally hazy and faded, whether I was shooting indoors or out. The phone produced a nice level of detail in close-ups, especially with macro focus engaged, but it was nothing that will beat the best of the competition. Colors could seem washed out on this phone, and without a touch focus mode it was difficult to set up a proper shot without the phone focusing on the distant background instead of my foreground subjects.
The camera did a nice job with its built-in flash. A xenon flash would have been preferable, but the camera balanced the cool light from the LED flash nicely, and I saw more details from well-lit close-ups helped by the built-in lamp.
Video
Video from the Nexus S was a mixed bag. Again, I was disappointed that Samsung and Google went with a 480p camcorder. High-def, 720p video cameras have become the norm on high-end smartphones, and the next few months should see the release of the first 1080p smartphones to hit the market. For a flagship device, the Nexus S is already well behind in imaging.
That said, videos weren't bad. Quality was similar to the still images. Colors were washed out a bit, but the camera handled motion very well. Sound quality in videos was superb, among the most clear sound recording I've heard from a camcorder phone. Still, details were a bit hazy and lost in the distant fog.
Browse / Customize
Browse
The Web browser on the Samsung Nexus S is unchanged from previous Android browsers. The rendering engine does a fine job producing pages that look identical to desktop pages. The browser can handle Flash videos, and playback was very smooth at best, though sometimes it could be choppy or slow to load. But I enjoyed watching streaming videos on CNN's homepage (even with CNN's annoyingly long video ads). For best results, you can tell plug-ins like Flash 10.1 to only download videos on demand, so you can pick and choose which Flash animations play on a crowded Web page.
Though the browser itself does a fine job, I'd like to see an update in the bookmarks and settings menus for the Web browser app. Bookmarks are looking crowded and aging, and the settings can be confusing to deal with, especially if you want to adjust your Flash settings.
Otherwise, it was easy to navigate Web pages. I could flick through long pages quickly, or zoom in and out with a simple pinching gesture. Android remains the best smartphone platform for Web browsing.
Customize
Though Android itself offers plenty of customizations, the real work for fans of the pure Google experience has just begun. After only a day on the market, modders had already unlocked the Nexus S bootloader, which means custom ROMs and other system tweaks are just around the corner. It's possible that many of the missing features and buggy problems I encountered in the Nexus S will be dealt with by the modding community. If you know your way around a terminal app and are not afraid of leaving the beaten path, the Samsung Nexus S will surely open up a world of possibilities. I'm especially curious to see how the community adapts the NFC features on this device. But if you aren't interested in these advanced tweaks and custom options, the Nexus S might not be the right device for you, and there are plenty of good Android phones that offer a customized experience from the manufacturer with even more useful goodies right from the start, no hacking required.
Extras
Bluetooth
Bluetooth worked just fine with the Samsung Nexus S. Actually, Bluetooth reception was pretty good. Sound quality through my headset wasn't quite as good as it was talking through the phone's earpiece, but it was still better than average. Playing music through stereo Bluetooth speakers sounded even better. I was also able to send photos from the image gallery to my laptop once I paired the devices over Bluetooth.
Strangely, the Samsung Nexus S only offers Bluetooth 2.1+ EDR, while the Galaxy S devices offer the newer Bluetooth 3.0 protocol. Bluetooth 3.0 gets the Wi-Fi connection involved to help improve data transfer speeds. Strange that Google wouldn't want the newer standard included on its flagship device.
Clock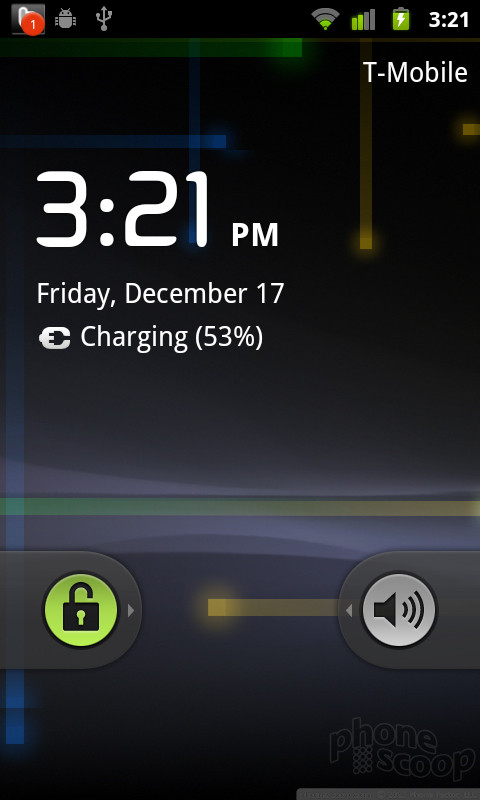 The Nexus S features a nice, big, digital clock on the lock screen. You can't customize it to change the style or size, but it is easy to read in a hurry without unlocking the phone. There is a much smaller clock in the notification bar, and Google offers a very basic analog clock widget that you can slap onto any (or all) of your homescreen panels. There are also plenty more clocks available from the Android App Market.
GPS
Though previous Samsung Galaxy S phones had some GPS issues, I had no trouble finding my location quickly with the Nexus S. On the day the phone went on sale, Google launched the new Google Maps 5, and it's a very impressive piece of mapping software. Google Maps now offers a 3D view, complete with rendered buildings in many large cities. The turn-by-turn navigation worked very well, guiding me on my trip in and out of the city. Google also has an extensive point-of-interest database that has always seemed more up-to-date than the competition, especially the standalone GPS apps.
NFC
As I've mentioned, the Google Nexus S has NFC hardware built in, but there isn't much use for it yet. MasterCard and Visa are both running select trials for their respective NFC payment systems, and the major cell carriers are getting together with large banks and financial institutions to come up with more NFC payment plans, but these plans have yet to materialize. Google is trying to get the ball rolling by offering business special NFC stickers to hang in their windows, but this program is still only in its trial phase in Portland, Oregon. For now, NFC is more of a niche feature.
Video Tour
Wrap-Up
To the right user, the Samsung Nexus S is an appealing choice, but if you're not interested in unlocking your phone ( thus voiding your warranty) and loading your own custom ROMs and system software, that user probably isn't you. Though it runs the newest version of Google Android, Gingerbread version 2.3, that's about the only feature that sets the Nexus S apart from the rest of the Android pack. The phone runs a pure Google experience, which means it isn't encumbered by bloatware and manufacturer tweaks, but it also means it doesn't get the best social networking, camera and interface features those manufacturers have worked so hard to add.
The Nexus S has a great design, with a screen that is dazzling and colorful. But Samsung's Galaxy S phones have the same screen, as does the Samsung Focus, a Windows Phone 7 with better multimedia and gaming. Call quality on this phone is very good, and there are some cool design flourishes, but the tweaks that come with Gingerbread are few and far between, and certainly not enough to recommend such a stripped down device over the more robust offerings from Motorola and HTC.
In some ways, the Nexus S is downright disappointing. The camera is sub-par, the music player is ancient in smartphone years, and core apps, like the calling, contacts and messaging apps, aren't as impressive as what you'll find elsewhere. But the real appeal for this device lies in its future potential. With NFC already on board, and a system made for easy modifications and frequent updates, the Samsung Nexus S manages to keep one foot ahead of the pack, while dragging another foot behind.
ATT Version?
I guess they want to see if people will buy it before offering it compatible with other carrier's 3G bands. 😕
I thought the unlocked one would be compatible with the service.
Is it me--
--or are the photos for this review popping 'in' instead of 'out'?

I'm using the latest stable version of Chrome.

Great review!