Hands-On: Verizon Wireless LTE
Article Comments 20
Dec 3, 2010, 8:47 PM by Philip Berne
Verizon Wireless has launched the largest LTE network in the nation. Is it finally time to make the switch to 4G?
Advertisements article continues below...
To test its new LTE network, Verizon Wireless sent us an LG VL600 USB modem. All of the initial LTE devices are USB modems, with handsets coming by the middle of next year, if not sooner. To test the network and the new modem, I traveled throughout the large Dallas / Ft. Worth Metroplex area, checking speeds at the DFW airport, all of the large suburban towns, and a few popular spots in the city centers for the twin cities here.
For my tests, I ran speed tests using Speakeasy.net's online speed testing tool. I also watched streaming movies from Netflix, did some casual Web browsing and downloaded large podcast files from iTunes. No matter the speeds and performance I saw, your mileage will certainly vary. As more customers join the Verizon Wireless LTE service, network speeds will take a hit as the towers have to share connections among users. At the moment, the network is not commercially available, so the only users are most likely journalists and testers.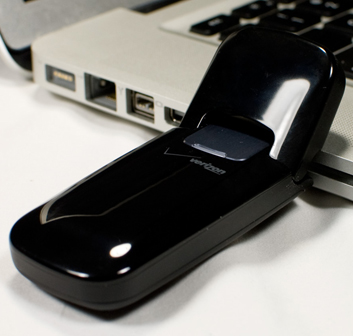 How Fast Is It?
At best, the Verizon Wireless LTE network is very fast. The peak speeds I saw using Speed Test were between 14 and 15 Mbps downloads, and better than 5 Mbps during uploads, which exceeds Verizon's own real-world claims. The carrier expects users will get between 5 and 12 Mbps downloads. Whether I was moving or stationary, I saw similar speeds on Verizon's network. The fastest speed I saw was while my co-pilot was surfing as I was driving down the expressway at 60 MPH.
To compare, I subscribe to the fastest cable Internet service that Time Warner provides in my area, which offers 24 Mbps downloads. On a good day, I do see speeds that approach that theoretical limit, but usually my home network speeds are much slower. I pipe my connection through an 802.11n router, and my laptop reports speeds around 9 or 10 Mbps. So, at its best, the Verizon Wireless LTE network is faster than my home Internet connection, at least for now.
What does that mean for real-world usage? Netflix movies start streaming in a matter of seconds. Movies often looked like they were streaming in Hi-Def, though occasionally I did see blocky compression artifacts that indicated a slower streaming rate. When I wanted to skip ahead, Netflix would buffer the stream in only a few seconds, and I could jump from scene to scene with ease. Web pages loaded very quickly over the network connection. Long podcasts downloaded in a minute or two, exactly as they do on my home connection.
Unfortunately, even with little traffic on the network, I saw a wide range in the network's performance. At DFW Terminal D, the largest and newest terminal, my speeds usually hovered around 2-3 Mbps. I never reached 6 Mbps at the airport, even though Verizon Wireless has claimed that it is focusing on airport networks, with 60 airports connected at launch. In real-world terms, that means that movies would take longer to start, and the quality was much lower than when I had a faster connection. But Netflix still played through my queue no problem. Web pages also loaded very quickly. Downloads were a bit slower, but still only took a couple minutes. In every instance, the LTE connection was faster than using my cell phone, a Google Nexus One on T-Mobile's HSPA network, as a Wi-Fi hotspot.
Upload speeds crawled to a halt when the network was slower. Speakeasy.net reported upload speeds much lower than 100 Kbps at the airport. This will cause problems if you need to do any uploading for work, say, if you're sending off a revised PowerPoint deck before you hop on a plane. At those slow speeds, which were often in the 40 - 50 Kbps range, you might be better off biting the bullet and picking up a day pass for the airport Wi-Fi.
When the connection was slower, I also found the network stalled from time to time. A couple times, I paused a Netflix movie and tried to jump ahead about an hour, but the connection completely failed and I had to reload the movie from the start. Other times, buffering the Netflix stream took up to five minutes, especially at the airport.
Overall, I would say that my experience with Verizon's LTE network fell within the carrier's acceptable range, and I rarely saw speeds faster than 10 Mbps, though it did happen, as I said. Still, I expected much better, since there is barely any traffic on the network. That said, Dallas is a difficult test market. Our airport is among the largest in the world, and the metroplex encompasses a huge geographic area, as well.
How Is the Coverage?
Wherever I went in the Dallas / Ft. Worth area, I found LTE coverage, except in one spot. That happens to be my house. A few blocks away, I had an LTE connection, but once I pulled into my garage, I lost the signal. This is probably a terrain issue, since I have the same problem with Sprints WiMAX network. Still, Verizon Wireless' coverage maps online were a bit confused by this problem. The coverage indicator claimed I would be covered by the end of 2010 (so, next week then?). Verizon Wireless reps did confirm that new towers could be activated before the new year, so maybe my coverage will improve soon.
Thankfully, the USB modems for LTE also work with Verizon's 3G and even 1xRTT networks, so you probably won't be lost without any signal, but you might lose that fast LTE connection. According to the signal meter on my laptop software, the device showed 3-4 bars where service was strongest. At the airport, I saw only 1-2 bars of service, and I also found the connection speeds at the airport to be consistently the slowest.
The fastest connection I found was not within the downtown areas. The best speeds I saw were driving on highways around the largest suburbs. In Plano, TX, which is the largest Dallas suburb, I experienced those blisteringly fast 14 Mbps download speeds. When I was inside buildings or parking garages, I did see a noticeable dip in signal strength on my indicator, but this did not always translate to slower download speeds.
How Easy Is It?
I was dismayed to find that Verizon Wireless requires the VZ Access Manager software to use the LG VL600 USB modem. Not surprised, since almost all Verizon devices require the software for testing, but I've had a bad experience with the software in the past. This time, I did have some trouble that might confound new users, but the connection was stable, for the most part.
Still, the software has always been buggy. For the moment, it only works on Windows machines, so I ran the software on the Windows 7 partition on my Macbook Pro. The first time I installed it, it asked to check online for updates, but the link I was supposed to click was dead and would not work. The first time I connected to the network, the program hung during the connection process and claimed to be "initializing" my connection. I would have waited much longer, but I found the connection was in fact active, even though the software wasn't aware. I tried closing the window to clear my desktop, and even though the software went through a lengthy closing procedure, when I later clicked on the shortcut on my desktop, I got an error saying "VZAccess MAnager is already running," even though there was no visible window.
None of these problems made much difference in my network connection, which is a good thing. But I hate that the software is necessary at all. If it isn't going to work clearly and properly, it shouldn't be necessary. I am also annoyed that there is no Mac support in this first wave of modems. I'm sure drivers and supported hardware will be forthcoming, but I hate being treated like a second-class citizen.
Buy It Or Wait?
Actually, now might be the best time to jump on the LTE bandwagon, while the networks are barren of users. Until the network becomes more popular, and before Verizon Wireless floats a boat load of LTE-enabled smartphones and handsets, the speeds are quite impressive. Often the LTE network was faster than my home Internet connection, which is really impressive.
However, users should be wary of all the power that speed entails. In a single, long day of testing, I burned through 2 GB of data without trying too hard. All of that Netflix streaming was undoubtedly to blame. If you rely on the LTE network for your entertainment needs on a long business trip, you could easily burn through the larger 10GB data cap in a single work week watching TV and movies online. That's $80 down the drain just to watch Netflix. At that point, Verizon starts charging $10 per GB of data over the limit, which isn't exorbitant but it isn't cheap, either.
It's really too bad, because Verizon's LTE network could be a feasible replacement for a home, wired Internet connection, except for that data cap. Sprint and Clearwire have no data cap on the WiMAX service they share, and Clear markets WiMAX as a possible alternative to a wired Internet service.
So, Verizon's network is fast, the plans are actually cheaper than plans with similar 3G modems on Verizon's EV-DO network, and the new modems can also support 3G when you aren't in a Verizon LTE zone. That makes it easy to recommend the service, but be careful with all that speed. You don't want to face a huge fine for driving too far, too fast on Verizon's wireless highway.
I'm Waiting For The Mad Rush When The LTE Phones Come Out
Latest info on that seems to be February or March. Also, 2011 is when AT&T's exclusivity agreement with Apple REALLY expires, and you all know what that means, right?

Every last iPhone owner I know in the NYC area is counting the days until they can tell AT&T to shove it.
Nexus One
Have you thought about testing their speeds with a 4G compatible phone instead of going with the Nexus One?
and what 4G phone do you think would be the best for this trial youre proposing
speed?
i am curious the speeds seemed really fast and its goin to be great for customers, but once verizon gets all their customers on that network how fast its goin to be?
no real way of measuring exactly what the speeds will be once more users are on it, but if the CLEAR/sprint/evo/what/are/we/idiots/how/did/w e/not/see/this/coming debocle proved to us anything its that there will be a sharp decline in the networks spee...
(continues)
expensive..... enough said
In a single, long day of testing, I burned through 2 GB of data without trying too hard. All of that Netflix streaming was undoubtedly to blame. If you rely on the LTE network for your entertainment needs on a long business trip, you could easily burn through the larger 10GB data cap in a single work week watching TV and movies online. That's $80 down the drain just to watch Netflix. At that point, Verizon starts charging $10 per GB of data over the limit, which isn't exorbitant but it isn't cheap, either.

1 week. someone answer how lte is better?
the biggest issue I have read is that they alotted only 30MHZ of space for this technology, so bottlenecks will be frequent. Sprints Wimax has 300MHZ...the data highway has more lanes. Thats the reason for the flucation along with terrain.
Better building penetration is all I can come up with for answer.
the premise behind 4g is the same as it was with 3g. the issue is that a true 4g network does not exist. (google it. 4g is defined as 100mbps downloads, this article is about the fast network in place and if you can read youd see that the speeds dont ...
(continues)
MacBoy
I am also annoyed that there is no Mac support... I hate ebony treated like a second class citizen.
But, Apple-ites
are
second class citizens...
I thought that there is no Mac support and yet the picture clearly shows the modem attached to a macbook pro. so what is the deal with that.
good review but...
you left your number on the photo 🤣
It is the phone number for the data device.