Review: Motorola Bravo
Form Basics Extras Wrap-Up Comments 1
Is It Your Type? Body The Three S's Touch
Dec 2, 2010, 6:45 PM by Eric M. Zeman
Motorola's latest Android handset for AT&T skips the goofy hardware designs and takes a more straight-forward tactic. The result? A solid Android experience.
Advertisements article continues below...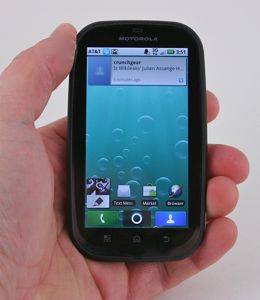 The Motorola Bravo joins the growing ranks of inexpensive Android devices, this time around for AT&T's network. It includes Motorola's Motoblur social networking features, in addition to the Android 2.1 operating system. Its compact form factor will certainly appeal to those looking for their first smartphone. Does that include you?
And that--
--is where this device loses me: the hardware. If I'm going Android, I'm getting a top end processor.