Review: Motorola Bravo
Article Comments 4
Dec 2, 2010, 6:45 PM by Eric M. Zeman
Motorola's latest Android handset for AT&T skips the goofy hardware designs and takes a more straight-forward tactic. The result? A solid Android experience.
Advertisements article continues below...
Form
Is It Your Type?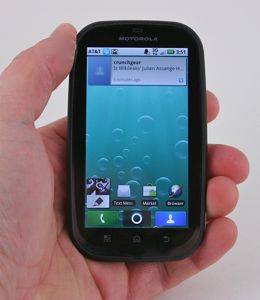 The Motorola Bravo joins the growing ranks of inexpensive Android devices, this time around for AT&T's network. It includes Motorola's Motoblur social networking features, in addition to the Android 2.1 operating system. Its compact form factor will certainly appeal to those looking for their first smartphone. Does that include you?
Body
The Motorola Bravo is a deceptively small Android phone that still manages to include a generous 3.7-inch display. The plastic and rubber materials feel just a bit on the cheap side, but not enough to put you off. The front is rimmed with a soft touch paint job, and the battery cover shares the same material. Both give the Bravo a very grippy feel in the hand. The steeply curved side and back of the Bravo allow it to sit deep in your hand, making it comfortable to hold and use. It's a little bit thicker than I think a monoblock touch phone should be (0.55 inches / 14mm), but it doesn't come off as fat. The size and shape mean it should easily slip into a tight pocket, but the soft-touch surface manages to slow things down.
The touch display covers probably 90% of the Bravo's front surface. Tucked way down at the bottom edge, users will find three capacitive keys for interaction with the Android menus. For some odd reason, there is no Search key, only Menu, Home and Back. The Bravo lacks dedicated send/end keys, too.
The microUSB port for charging and data transfer is located on the left of the Bravo. It is open and unprotected; no flimsy rubber hatch here. The volume toggle is on the right side of the Bravo. It is slim, but protrudes nicely from the side of the phone and is easy to find. Travel and feedback weren't very satisfying, though. There is no dedicated camera key. The power/lock key is on the top edge of the Bravo. It is easy to find and use. A 3.5mm headset jack is positioned next to it, meaning users can enjoy their own stereo headphones.
The battery cover pops off easily. The battery — a massive 1500mAh brick — hides the microSD card slot. You have to pull the battery to get at the memory card. That's a design no-no.
In all, the Bravo has a certain appeal, no doubt.
The Three S's
Screen
The Bravo's screen measures 3.7 inches and offers 480 x 854 pixels (the same as the original Motorola Droid). It looks fantastic. With so many pixels crammed into the display, images, text, web sites, graphics all look sharp and clear. You have to hold the phone closer than 6 inches from your eye to pick out individual pixels. Brightness is also good, though it does lose some luster when taken outdoors.
Signal
The Bravo maintained a solid connection to AT&T's 3G network through several days of testing. In my time with the device, I never saw it drop down to EDGE. The Bravo's antenna did well enough that I didn't miss any calls, though it did drop one conversation. Data speeds were slightly below average for an AT&T smartphone. The best I was able to achieve using Speedtest was 1Mbps on the download and a paltry 200Kbps on the upload. That translates to reasonably good web browsing speeds, but miserable photo uploading times.
Sound
Quality of voice calls on the Bravo were so-so. The earpiece had good enough volume that hearing calls in a crowded mall or coffee shop won't be a problem, but voices were choppy; there was lots of garbling and noise, and other digital garbage. Those with whom I was speaking tended to cut in and out quite frequently, and it was easy to miss parts of the conversation. I also noted a lot of static. Ringers were nice and loud, though not capable of rock concert volumes. They're plenty loud to be heard around the house, though. The vibrate alert was acceptably strong. The speakerphone also has good volume, though probably not enough for a busy office setting. It was loud enough in a fast-moving car, however. Quality of speakerphone calls were the same as through the earpiece. Choppy.
Battery
Motorola has made strides in optimizing its Blur software for better battery life, but the Bravo still suffers from apps that constantly ping AT&T's network. Starting with a full charge at 7AM, the Bravo needed to be plugged back in by about 8 or 9PM. Fine-tuning some of the settings — such as email retrieval, social networking, etc. — may help extend battery life a bit, but you're still going to have to charge the Bravo every day.
Touch
The Bravo has a capacitive touch screen. The screen technology works flawlessly. I never had a problem with accuracy (meaning one that wasn't my fault), and it registered presses, taps and swipes right away. The user interface, however, did tend to get bogged down a bit here and there. It was most noticeable when sliding between home screens or up and down in the main app menu. Sometimes there would be a noticeable hesitation.
Basics
Menus
The Bravo uses the same version of Motoblur found on the Motorola Defy. It has seven home screens for user customization, and an insane number of widgets, whoozits, and whatzits to populate that vast, digital landscape.
Out of the box, Motorola has dumped apps, widgets and shortcuts onto six of the seven home screens, leaving only one completely blank. It can all be deleted and rearranged to suit individual tastes. Once you've navigated to one of the far home screens, pressing the Home key takes you back to the central home screen (after all, swiping between all those screens is *so* laborious).
The re-sizable widgets continue to be a great feature of Motoblur. This lets the end user control the size and shape of widgets. This is especially helpful when you're trying to conserve screen real estate. There are widgets for Twitter, Facebook, MySpace, as well as a widget that combines features of all three social networking services. Other widgets are available for the media player, weather apps, contacts app, RSS feeds, settings, and so on.
Once you move past the home screens, the Bravo looks like any other Android 2.1 phone. The way the main menu works is unchanged, and the same goes for the settings, and other tools accessed via the Menu key. Android's menu design hasn't changed much since Day 1.
Calls/Contacts
Calls
The Bravo's phone application appears to be exactly the same app that Motorola has used across its line of Android devices. There is a large number pad in the middle of the screen, and there are four tabs along the top to access the call log, contacts and favorites.
From the call log, tap any call record and it will open up the list of recent calls to and from that number. If you press and hold a call record, a menu screen pops up with a list of options, which include calling the number, deleting the call log and so on.
Contacts
The Bravo will import all of your Google and Exchange contacts if you have them. Adding Facebook friends is optional. If you choose to do that, the contacts application is smart enough to add the Facebook profile photos to your existing contacts and merge them into one contact.
In the contacts app, press the profile picture and a little messaging menu pops up for that contact. If you have a phone number, it will show you the phone symbol to make a quick call, and you'll also have shortcuts to send your contact an SMS, write an email or go to the Facebook profile.
You can also choose to sort contacts via status updates and/or your most recent calling/texting history. In the main contact app, swipe to the right to see your contacts' most recent Facebook (and Twitter if you want) status updates. It's a neat way to make the contact application just a bit more social.
Messaging
The Bravo is packed with messaging options, including email, SMS, MMS, IM, social networking, and a universal inbox to wrap it all together
Starting with email, the Bravo offers the fine Gmail application and a lesser, catch-all generic email app. The Gmail experience on Android continues to be the best way to interact with Gmail from a mobile device. As for the other email app, it can be used for Yahoo, Hotmail, AIM, Exchange and other POP3/IMAP4 accounts. It works fine, and alerts come in at a steady pace.
The messaging application is the stock Android version, and offers threaded SMS and MMS conversations. Images and video appear in-line with text, making it easy to follow the natural progression of a convo with your BFF.
The Bravo offers two distinct instant messaging options. The first is Google's GTalk client. This is one of the better IM clients out there, and those who are invested in Google and Gmail can easily transition IM chats between their phone and PC. The other option bundles AIM, Yahoo IM, and Windows Live into one uber-client. I had no problems using it, though it isn't as seamless as the native GTalk app.
The universal inbox works in concert with the SMS/MMS app, Twitter DMs, and Facebook email. It collects the missives from all three types of communication and dumps them in one spot. It's a neat idea, but it takes some getting used to. Personally, I prefer to stick with the dedicated social networking apps for my own sanity.
Speaking of social networking, it is a core part of Motoblur. Blur integrates Facebook, Twitter and MySpace into one portal and serves them up in widget form on the home screen. Users can post status updates, respond to messages, or just watch the conversation float on by. Alternately, the native Facebook, Twitter and MySpace apps are all robust and offer their own home screen widgets.
Extras
Media
Music
The Bravo disappointingly uses the stock Android music player. Users can sideload media directly to the microSD card, or use third-party solutions such as the new doubleTwist AirSync software. AT&T's lousy music application is pre-loaded (and can't be deleted), and the Amazon MP3 app is missing in action (though it can be downloaded from the Android Market). AT&T Radio is also on board.
The player has barely changed since Day 1, and the Bravo fails to add anything interesting or unique to the experience. However, music playback sounded great through both the external speaker and headphones.
Video
I had trouble getting video to work on the Bravo. I sideloaded "Die Hard" in .m4v form, which I've never had a problem with on Android phones. The Bravo's stock player couldn't handle it, for whatever reason. I had to download another video player app from the Android Market (for free) in order to watch my movie. It looked good on the rich display.
The Bravo also has the MobiTV application preloaded, as well as AT&T's pathetic mobile video snacking service. Of course, the Android YouTube client is great for casual video consumption.
DLNA, etc.
The Bravo has the DLNA server on board. It allows users to share phone-based content with other DLNA certified equipment like some TVs. Unfortunately, I have none, and was unable to test this feature.
There is also a separate application called Media Share. It looks and acts like DLNA. It offers more steps and is more helpful in when it comes to locating and connecting to other devices, but there's no guarantee it will work with anything. For example, it connected to my PC just fine, but wouldn't see my TV at all.
Camera
Camera
The Bravo's camera is one of the more straight-forward I've seen on an Android device. It gets a "Booooo!" for lack of a physical camera key, but the user interface of the screen-based camera itself merits at least a golf clap.
What makes it good? No brainer controls that are finger-friendly. Eschewing diminutive on-screen buttons and icons, Motorola opted for thumbprint-sized software buttons that are clearly labeled. That goes a long way towards making it easy to take pictures. The basic viewfinder had three controls: Zoom In, Capture, Zoom Out. All three buttons are easy to tap and use. The control menu for the camera is also easy to work with. The lists are plain and limited (fewer advanced controls), but they make sense. Letting the user get in, adjust what they want quickly, and get back to picture-taking goes a long way to making users (well, at least this user) happy.
The camera offers autofocus and takes about a second to focus before snapping the shot. Sadly, there's no touch-to-focus feature. The picture is saved and the review screen lasts about two seconds before reverting automatically to capture mode. This is great. I hate it when cameras leave you stranded on the review screen and you have to press a button to get back to the viewfinder. Well done, Motorola.
Gallery
The gallery is a simple one, and uses mostly stock Android tools. Photos are arranged into piles based on where they are stored (phone memory, memory card, Picasa, etc.) or when they were taken. Opening any of the galleries requires a simple tap. Users can swipe through photos on their own, or start a slide show. The slide show offers a pretty good set of features, including control over transitions, speed, and shuffling.
As far as editing features go, the Bravo offers a ton of ways to adjust images. First, the Bravo has Kodak's PerfectTouch software on board. PerfectTouch automatically adjusts exposure, white balance, color, etc to make images look better. Most often, this software gets things right the first time and does in fact improve the image. Alternately, users can make their own adjustments, including brightness, contract, color, effects, cropping, rotating, clip art, text, frames, and more. Huzzah!
Photos/Video
Photos
The Bravo has a 3 megapixel camera with autofocus, but no flash. I had mixed results with it. Sometimes it captured outdoor scenes perfectly, with the right white balance, colors, and focus. More often than not, however, the focus was soft, leaving fuzzy patches on images here and there. It was almost as if the Bravo had a depth-of-field problem. Brightly lit scenes nearly always blew out the sensor and the resulting images lost gobs of details. Indoor shots were softer still, with a lot more grain and noise in the resulting images.
The Bravo's camera isn't terrible, but it isn't great, either. Would I share these photos? Sure, some will certainly be MMS-worthy, and some might even be Facebook worthy.
Video
As with the camera, video results are inconsistent. Most often, movement was blurred, focus was soft, and bright spots were blown out. Occasionally, the Bravo managed to get everything right, but only in absolutely perfect lighting situations. I'd share this video via MMS, but not on YouTube.
Browse/Customize
Browser
The Bravo comes with the basic Android browser pre-loaded. If this is all you ever use, you'll probably be happy. It is a fine browser, and does a great job of rendering HTML and mobile web sites. As mentioned earlier, browsing speeds are a bit inconsistent over 3G, but are nice and quick via Wi-Fi. Since the Bravo ships with Android 2.1, it doesn't have Adobe's Flash Player Mobile on board. You'll have to wait for the phone to be updated to Android 2.2 for that. Once it is, users might have access to a bit more content on the mobile web.
There are also a growing number of third-party browsers for the Android platform, but I find the Android browser is still the best for Android devices.
Customize
Do we really need to say anything here? C'mon, this is a Motorola Motoblur Android device we're talking about. The question isn't what you can customize, it's what you can't.
The seven home screens can be completely re-imagined to suit individual user tastes. While the Bravo doesn't offer the neat, switchable modes like HTC Sense devices have, users can still do plenty to make the Bravo their own.
What you can't do? Change the appearance of the inner settings menus.
Extras
Bluetooth
The Bravo supports the now-standard mono and stereo Bluetooth stacks. I had no trouble pairing with either type of headset. Call quality through mono headsets was atrocious. Bluetooth amplified the problems I experienced with normal calls tenfold. Music playback wasn't much better. The sound dropped out entirely more often than I'd like, and the quality just wasn't there.
Clock
The Bravo displays a huge digital clock on the home screen when the lock/power button is pressed. You can easily see it from an arm's length (indoors as well as out). This clock can be adjusted to a smaller digital format, as well as analog. Of course, users can also choose to download their own clock skins from the Android Market.
GPS
The Bravo has Google Maps and AT&T Navigator both on board. Google Maps continues to be an excellent free tool for voice-guided navigation. It is my go-to GPS app. If you prefer AT&T Navigator and don't mind the $10 monthly fee, it also performs well. Both programs kept me on track from here to there.
The Bravo also has AT&T Maps and AT&T FamilyLocator, both of which make use of the GPS radio. I would rate AT&T's mapping software as sub-par. It is essentially the same as AT&T Navigator, but was extremely slow — much slower than the Navigator app.
Wrap-Up
The Bravo is an unassuming Android smartphone that has a fantastic screen, but run-of-the-mill features. Signal performance was solid, but data speeds, call quality and battery life (i.e., the basics) were not up to snuff.
The Bravo does a fine job of keeping people connected with Motorola's Motoblur software on board. Email, IM, SMS/MMS and social networking are all handled with ease. The thousands of Android widgets available don't hurt, either.
The media player isn't unique, but it works well and Android leaves you with plenty of options. The same is mostly true other media features. The camera software and gallery software are very good, though the camera and camcorder only perform so-so.
For first-time smartphone buyers, the Bravo offers enough to entice, but it clearly doesn't match the performance of high-end hardware. I am sure for plenty of buyers, the Bravo will be something to cheer about.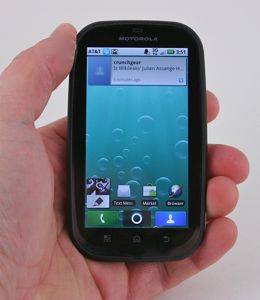 And that--
--is where this device loses me: the hardware. If I'm going Android, I'm getting a top end processor.