Verizon Wireless Announces Motorola Droid Pro's Availability
Article Comments 9
Nov 8, 2010, 8:31 AM by Eric M. Zeman @zeman_e
updated Nov 8, 2010, 9:31 AM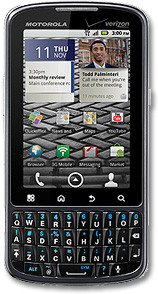 Verizon Wireless today announced availability and pricing for the new Motorola Droid Pro. The Droid Pro is a global device that can roam international 3G networks in addition to Verizon's 3G network in the U.S. The Droid Pro runs Android 2.2 and has been optimized for business users. It is a slab-style phone that has both a 3.1-inch touch screen and a keyboard on the front. Verizon announced new business features today, including AuthenTec security software, VPN integration, and productivity software. It will be available for pre-order starting November 9 and will be available for purchase from Verizon Wireless retail stores starting November 18 for $180 after a mail-in rebate and new two-year agreement.
A Droid BlackBerry?!
I would like to play with this phone. It seems like it would be a Driod BB, the best of both worlds. Hopfully Google's coporate email comes up and proves it's security it just as good if not better. Honestly, taking into consideration Android Os's efficiency, I don't doubt that it will meet and exceed expectations.
Forget the Droid business email and go with Touchdown - a $20 add on - it is a better email client and will separate your work(exchange)/ personal(gmail) email in a better way. Use the built in for Gmail works great. When you use the built in exchan...
(continues)
Droid Pro vs. Droid 2
I just ordered the Droid Pro (pre-sale started today). The confirmation email said it will ship tomorrow (Nov 10). Right after I hit return on my order, I discovered that VZW is now offering the Droid 2 with global capabilities. Gee whiz! I've been waiting months for a Droid with GSM. Should I have purchased the Droid 2 instead?
Droid Pro
Finally, Android is releasing a style of phone to 'officially' compete with the Blackberry lineup?

I honestly like it. I hope it's a decent phone.
I like it too. Waiting till it hits the store shelves so I can actually check it out...
Its still not a BlackBerry....I'll pass. Verizon needs to get the Torch.
could it work
Is it possible to convert the hex to work with sprint 😛
Not unless you know a sprint tech willing to lose their job