3GSM 2006
Intro Part 1 Part 2 Part 3 Comments 34
Sony Ericsson Smartflip Sharp
It's been rumored for a while, but the HTC "Star Trek" was finally announced at this show. Also known as the i-mate Smartflip, (and soon plenty of other carrier names,) this clamshell phone runs Windows Mobile 5 for Smartphone. HTC is the oldest and largest maker of Windows Mobile Smartphones, including models like the new Cingular 2125. The Star Trek is HTC's first clamshell model, however.
Like so many new phones this year, the influence of the Motorola RAZR is evident in the design of this phone. Really, really evident in this case. Not only are the general size and shape the same, but the keypad is the same exact type of soft metal, right down to the etched "spun" finish that radiates from the d-pad. The front also has a curved row of media keys near the bottom that echoes the RAZR design, and the hinge even has the same exact design for a chrome strap-hole on the end.
Advertisements article continues below...
Trying out the phone for a little bit, we were very impressed with the build quality. It's very well-constructed and solid feeling - perhaps even more so than the RAZR. The keypad is every bit as good as the RAZR, and much better than most HTC Smartphone keypads despite the unique appearance.
The QVGA display is excellent, although a bit small considering the width and length of the phone.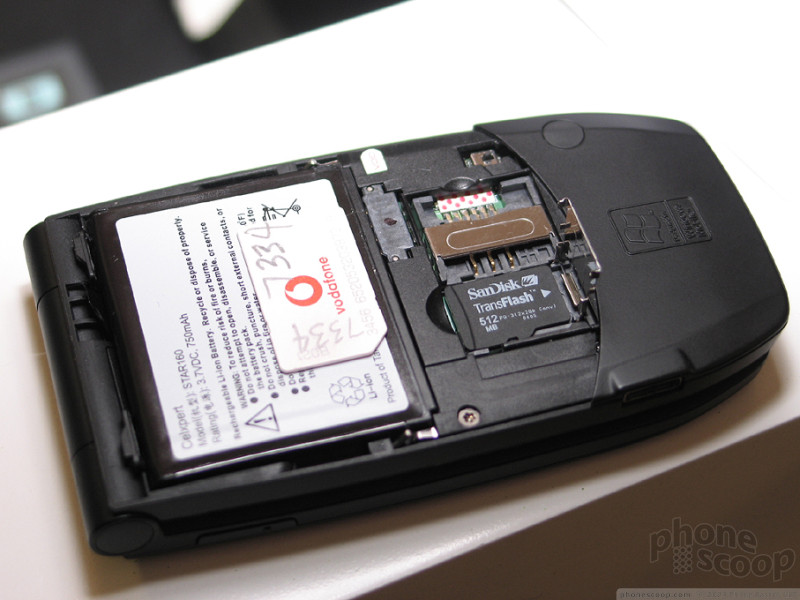 It took us a while to find the microSD memory card slot. That's because for some reason it's hidden under the SIM card slot. Unfortunately, just like the Samsung i320, this means it's not hot-swappable; you have to turn off the phone to change the memory card.
Basic specs of the phone include Windows Mobile 5, quad-band GSM, EDGE data, a megapixel camera, and Bluetooth.