Lenovo Announces Lephone
Article Comments 16
Jan 6, 2010, 6:34 PM by Rich Brome
updated Jul 28, 2019, 6:15 PM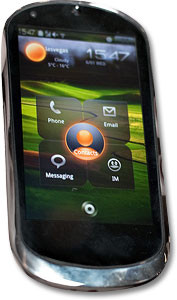 Lenovo today announced "Lephone", a new smartphone with a touch slab form factor and a very rounded design only 12mm thick. Below the 3.7-inch, 480x800-pixel touch display is a secondary touch area for navigation; there are no buttons on the front. Other features include a 1 GHz Qualcomm Snapdragon processor, 3.5mm audio jack, 3-megapixel camera, and 3G data. The software includes Twitter and Facebook integration. Lephone runs a heavily-customized version of Android. It will be released late 1st quarter or early 2nd quarter, starting in China.
source: Lenovo
Lephone, which matches with Le Shoe
Remember Le Shoe from SNL back in the 70s? (You kids can see it on DVD.) This goes with Le Shoe.

Le Phone matches with Le Shoe, and then you can Le Walk to your Le Car and drive over Le Phone and stand on it with Le Shoe.

In other words, this sounds like a great big steaming pile of Le Crap.
That post was fk'n funny! ! !
😁 One of my favorite Shows! I was partial to the original Not ready for primetime players.
that was hillarious!!! 🤣 that made my day at work so far!!
Lephone...*gag*... are you serious?
Who the heck named this phone?! Le-ame!
It almost sounds like a phone that has a disease! ! ! LOL! ! !
Everyone wants an iphone-like name.
Maybe they forgot to do their history. Last Le Item was a Renault, called Le Car. It was so terrible, Renault stopped selling cars in the US. They have only recently returned under disguise as Nissan.

Let's hope Le Phone does not get the same reput...
(continues)
Is it me, or does 'Lenovo' sound a lot like 'Sununu'?
John SU-NU-NU has a LE-NO-VO.

Say it with pursed lips, like you're sucking on a lemon. Sounds funnier.

SU-NEW-NEW. LE-NEW-VEW.

In Japan, they pronounce it 'Renobo.' Which makes it sound like a cross between Renault and Volvo.

Hey, I just ended my shift and my brain is fried and there's no air circulating in this stuffy building, sue me.
Hmph!
I don't know what to make of it. Not WinMo, not Android, not Blackberry, not Palm. Very strange...
Hmmmmm...I think it was changed while I was posting from proprietary to "heavily-customized version of Android". Well it IS Android then.
They presented it as if it was proprietary during the press conf., but once demo time started, we asked, and it turns out, it's Android.