Meet the ROKR E1
Intro The Phone The Music The Rest Comments 13
Sep 8, 2005, 12:00 PM by Rich Brome @rbrome
Hands-on report from the New York City launch of the long-awaited Motorola music phone with Apple's iTunes.
Advertisements article continues below...
The wait is over.
One year and six weeks ago, Apple and Motorola made the landmark announcement that they would join forces and create a phone with Apple's iTunes music technology. As you might expect from anything with a link to Apple, the past year has been filled with rampant rumor-mongering and leaks of varying authenticity.
Normally, Apple likes to keep info about its new products as top-secret as possible until they are actually ready to ship, and the iTunes phone was no exception. But being new to the world of mobile phones, Apple was in for a rude awakening. Phones simply can't be kept secret that long, because so many people, at so many companies and so many levels, are involved in the launch of any given phone. Info about this phone was bound to leak out, and boy did it ever.
While some rumors were way off - from an Apple-branded iPhone to a downloadable iTunes client for existing phones - most were dead-on accurate.
Because Apple insisted on timing the announcement of the ROKR E1 to coincide with the phone arriving in stores - normally a very fluid date for any phone - Motorola had only three weeks' notice to plan global launch events for the ROKR E1.
Despite the short notice, Motorola managed to pull off a fairly impressive launch party in the East Village of New York City last night, including a performance by hip-hop artist Common.
Before we delve into the nitty-gritty, let's begin with an appropriate video clip: the spiffy start-up animation: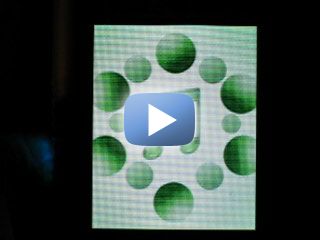 QuickTime format
File size: 1.7 MB
mp3 as ringtone
Has anyone figured out how to do this? I've looked through the manual and can't find anything on it.
yeah I've done it.. I used Motorola Phone Tools and connected to my ROKR as a USB modem. I then selected the model as E398. Came up just fine and then I went into the Multimedia Studio and uploaded mp3 clips into the `My Music' folder on the ROKR.. Go...
(continues)
This could have been a cool phone....
If Apple had done the design of the phone and simply packaged Moto's electronics, it would be a hit. As it is, it doesn't look cool enough to warrant being associated with anything with the name "iPod" on it. It looks like just another generic crappy phone. There are a ton of phones out there with MP3 players, and that allow more than 100 songs as well.

I have no idea what their marketing guys were thinking. The W800, while just a repackaged K750i, is far and away a better phone in every respect. Even the case design, which reminds me of a 50/50 bar (orange/vanilla...) is better than the junk design Moto came up with.

I expect an iPod phone to look like something from Apple, not the other way around.
It's NOT an "iPod" phone! It's a Phone "with iTunes". The difference is both subtle and crucial, as your comments make clear.
100 Song limit
100 song limit only from the iTunes app. You can have more than 100 on the embedded MP3 player, a la the E398. $250 might not be so bad if you think of it as an E398 with a 512 MB card. And surely that price will be coming down for the holiday season I would imagine.
With the release of the iPod Nano today, I'm suprised that they even went with removable media... and 512MB microSD. You mean that they couldn't find a way to put a standard SD card in the phone?

This, to me, is all hype and an introduction-to-mar...
(continues)
customers view
i work wireless dept. at bestbuy, we set a display model out right away at openning at 9, no one even picked up the phone until 3.. we sold out 20 quantity of apple nanos within the first 2 hours though, thsi phone will bomb
Synch capabilities and mitigation on memory upgrades.
This is kind of speculatory as of now, but are we to imagine that the synching process will be similar to the iPod Shuffle? If they have a 100 song limit on the device there must be some type of strange synching option. Also, I have a Nokia 6230 that Nokia says will support up to 256MB MMCards but I have used a 1GB card and it tells me total storage is 256MB but will still allow storage on the full 1GB. Who thinks something like this may be possible with the ROKR E1? BTW the phone looks cool. It is too bad that Cingular is going to be carrying it. They're going to make it suck.
Yes. From the article:
In many ways, the ROKR E1 falls somewhere in-between an iPod Shuffle and an iPod mini. Pretty much like an iPod Shuffle, it can only hold 100 songs, and you can tell iTunes to "Autofill" the ROKR with a random assor
...
(continues)