Review: LG Optimus S
Article Comments 10
Oct 26, 2010, 6:01 PM by Philip Berne
The LG Optimus S offers Sprint ID and Android 2.2 in a compact, inexpensive touchscreen phone. Does a newer Android OS help keep this phone up to speed?
AD article continues below...
Form
Is It Your Type?
Is It Your Type?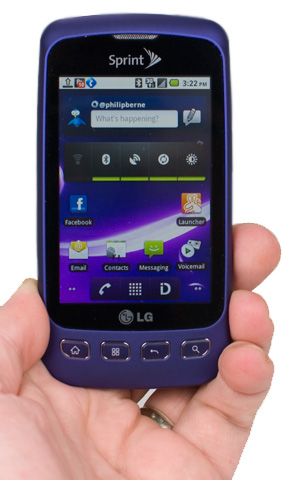 The LG Optimus S offers the newest Android 2.2 system, plus the new Sprint ID interface features, in a compact, attractive device. Do big things come in small packages, or is the Optimus outclassed by the larger Androids on the market?
Body
The LG Optimus S is a sleek little touchscreen phone. At first glance, you might mistake it for a cheap feature phone, but the soft touch paint and solid build quality exude serious smartphone style over youthful play. The phone will initially launch in black, but my review unit is a deep, dark purple that seems to glow. It attracted a nice bit of attention. The phone is only fractionally larger than the HTC Aria, the smallest Android phone I've seen, and it uses the same screen size (and pixel resolution) as AT&T's diminutive device. It's also only slightly shorter than the Sanyo Zio, another Sprint ID phone, but it is a bit heavier than that device. Still, the Optimus S, with its rounded corners and tapered profile, is comfortable in the pocket of all but the tightest pair of jeans.
Beneath the 3.2-inch touchscreen up front you'll find the row of familiar Android buttons: Home, Menu, Back and Search. These are hardware buttons, each ringed by a shiny, chrome band, and each with plenty of travel for a solid click. I greatly prefer hardware buttons to the touch sensitive controls you'll find on a phone like the Samsung Transform, the third in the Sprint ID launch trio.
Besides the main buttons up front, all of the other buttons on the LG Optimus S are too shallow by far. The volume rocker on the right side could be difficult to find, especially during a call, with the phone held up to my head. The power / screen lock button up top was tough to find in a hurry, though that's not a huge problem. The camera and voice dialing buttons, also on the right but closer to the bottom, were also a bit too shallow. The camera button was raised a bit more than the rest, which help me find the half-press to focus. Still, the camera and voice dial buttons were placed too close together. From time to time, you'll inevitably hit the dialing button when you mean to open the camera.
On the left side of the phone is the microSD card slot. The slot is covered by a port cover, and on my review unit it was so tight that the first time I replaced it, miniscule shavings of plastic rubbed off, making the port look dusty. Some wear and tear might actually help here. Up top you'll find the 3.5mm headphone port. The entire back cover peels off easily, revealing the battery.
The Three S's
Screen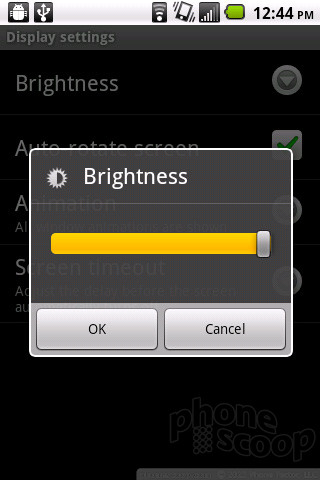 The screen on the LG Optimus S is very bright, outshining most of the best and brightest phones I have on hand, including super TFT and super AMOLED displays. Color wasn't perfect, though. The phone had a slightly yellowish tint that was especially noticeable held up against the competition. Onscreen icons and fields of white, especially in the messaging apps, looked slightly gilded. That said, the brightness made the screen easily viewable in bright sunlight. The strange tint isn't a fatal problem; most users probably won't notice it unless they compare phone screens with another device.
Sound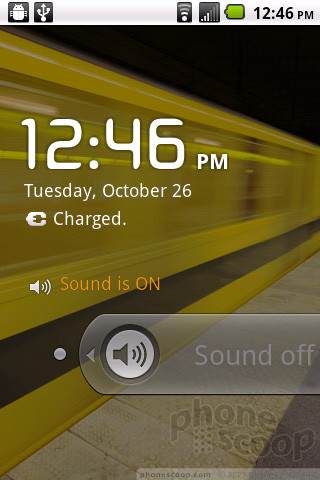 Sound quality during calls made with the LG Optimus S could be disappointing. I often heard a digital crackling sound that made voices less clear. At best, calls were mostly clean of noise problems, but still had a metallic twang to the sound coming through the earpiece. Callers had no trouble winning the "cell phone or landline" game. On my callers' end, friends reported occasional dropouts, where my voice would cut out for a brief instant in the middle of a word. Otherwise, calls sounded okay, and things sounded better for them than it did for me. Using speakerphone, the speaker on the LG Optimus S sounds good, but it could be a bit louder to be useful. I had trouble carrying on a conversation in a fast moving car with the Optimus in the passenger seat. With the sound turned off, the phone has a solid vibrate, just a bit stronger than most other phones I have on hand.
Signal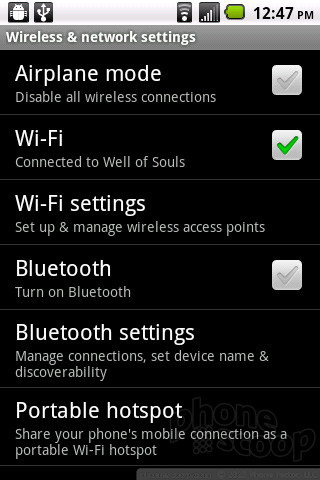 Signal strength on the LG Optimus S is pretty good. It's definitely better than the Samsung Transform, the other Sprint ID phone I have lying around. Though both phones could occasionally stall, especially while downloading the large Sprint ID packs that are required to use the devices to their fullest. Still, I'm not sure the Optimus is to blame, as side-by-side browsing tests put this phone neck-and-neck with other Sprint 3G phones. This phone and the Transform even stalled at the same times during downloads, so I'm guessing it was a network issue. The LG Optimus S had no trouble connecting to my home Wi-Fi network.
Battery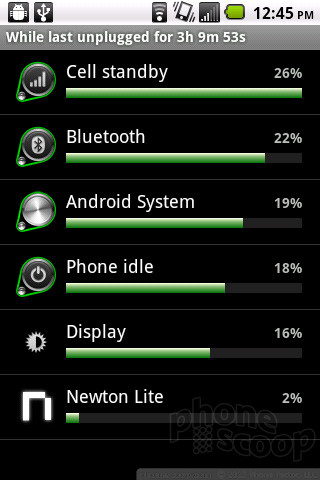 Battery life on the LG Optimus S was disappointing. It fell far below my expectations, based on manufacturer estimates. I had to charge the phone halfway through my testing days, even when usage was fairly light. I made sure to charge the phone while it was downloading all of the large Sprint ID packs, but after I had unplugged it in the early morning, it did not last until dinner time before the phone was dead again. I had similar problems with the Samsung Transform. Sprint says that some widgets downloaded with Sprint ID packs are known to drain the battery faster than normal, usually because these apps constantly update over the 3G network while running in the background. Hopefully, a fix is forthcoming.
Touch
The LG Optimus S was very sensitive to my touch, but it wasn't close to perfect. There was a slight lag on the homescreen panels. It wasn't as bad as the delay I found on the Samsung Transform, but it was noticeable. Also, occasionally the screen would not respond at all to my first swipe and I had to make a quick, second pass. The worst offender on this phone, however, is the keyboard. The stock Android keyboard could be very unresponsive, and perhaps a bit buggy. Sometimes, letters would not appear on screen after I tapped them. When you tap a letter on the Android virtual QWERTY, it usually pops up above your finger, for visual confirmation. This often did not happen on the LG Optimus S. Sometimes this meant the letter would not appear, but more often the letter would appear, just without the visual cue from the keyboard. This made typing more difficult, especially when it came to passwords with hidden letters.
Basics
Menus
The LG Optimus S runs the Sprint ID interface concept on top of a fairly basic, stock Android interface. Sprint ID lets you download packs of custom goodies. Each pack contains a selection of apps, widgets, wallpapers and ringtones, and they are grouped either by lifestyle themes, like "Socially Connected" or "Home Base," or brands, like "Yahoo!" and "EA" for Electronic Arts gaming. You can download these packs from a separate store that Sprint has set up, and the packs are all available free. Some of the apps that come with the packs are only demos, especially the games with the EA ID pack, and many are simply links to download apps from the regular Android app market. The phone lets you preload 6 packs at a time, and it's fairly easy, though not very quick, to remove an ID pack and all of its contents from the phone and load a new one in its place.
I have some problems with the Sprint ID concept on the LG Optimus S. The selection of apps in each ID pack can be way off topic. You'll find the same selection of games and demos show up in many packs, even when they aren't related to the lifestyle brand you picked. Apps and widgets show up on the homescreen, but they aren't arranged in any logical or innovative way. The organization seems tidy, but it's not useful. This all seems to defeat the purpose of Sprint ID. Sprint ID is supposed to help new users set up their phone in a specific, customized way. Each ID pack should correspond to a different use scenario. When I want to go golfing, I switch to my Golf Enthusiast pack, and the phone should present everything I need and nothing I don't. For instance, do I really need TweetCaster for golfing? Or the WeReward online coupon app? Unfortunately, these ID packs don't usually offer everything I need, and they certainly don't exclude everything I don't. Some very obvious, even free options are left out of the mix, and what remains might leave new users even more confused.
The Optimus S is the second phone I've used with Sprint ID, after the Samsung Transform, and I'm happy to report that Sprint ID seems to run much smoother and more quickly on the LG device. Though the Transform had a faster processor, the LG Optimus uses Android 2.2, and that seems to make a significant difference every step of the way. ID packs downloaded faster, and the phone switched from pack to pack in a matter of seconds, much faster than the Transform. Though the initial download time for a pack was still quite long, once you have a full complement of six packs loaded, the faster interface on the Optimus S makes the whole system much more user friendly and convenient.
I think Sprint ID is a nice idea, and it will get even better once more ID packs hit the Sprint ID market. There are some cool, branded packs coming from big names in entertainment, like Oprah and MTV. But more work needs to go into compiling, choosing and arranging the apps in each pack. Sprint needs to get rid of the unnecessary junk and offer a unique layout and style for each ID pack.
Calls / Contacts
The calling and contacts features on the LG Optimus S are exactly the same as you'll find on any basic Android device. You can start a call by pressing the phone button that persists at the bottom of the homescreen panels. This always opens whatever feature you last viewed, so if you were browsing your contact list, pressing the phone button opens that list again. At the top of the calling screen you'll find tabs for the dialpad, the call log, contacts and favorites. You can also add direct dial shortcuts to the homescreen panels. Just tap on a shortcut and it will start dialing immediately, or you can add a shortcut that will take you to a person's contact card so you can choose with number to dial.
If you press the Search button from the homescreen, you can start typing a contact's name and the phone will add corresponding contacts to the search results. Search for Philip Berne and you get my contact card, or you can start a Web search.
Out of the box, the phone will only sync with Exchange or Google address books, but as you add more apps you get more sync capabilities. With official Facebook and Twitter apps loaded, you can sync with both of those services, and the phone will add photos to each of your contacts based on their social network avatars. From the contact list, just tap on a contact's picture and you get a row of icons to communicate with, or even navigate to, that person. In the same little window, you also get their most recent Facebook status update.
Messaging
With all of the apps that come with the Sprint ID packs, the LG Optimus S offers a robust range of messaging options, though a few important features are still missing. The messaging app is the standard Android SMS, with threaded, conversational messaging in place. I had trouble with picture messaging on this phone. None of my picture messages were delivered to the LG Optimus S. Outgoing messages came through just fine, but the Optimus did not receive any pictures I sent.
The phone also gets the standard mix of Google Talk for instant messaging, as well as Gmail and a separate Email app for non-Gmail email. The latter lets you set up Exchange, IMAP or POP accounts on the phone. With the Yahoo! ID pack loaded, you also get a Y! Mail app, and a new client for Yahoo! Messenger.
There are no other instant messenger clients on board, and the App Market offers surprisingly few free options for good IM support. I'd like to see much more, including support for Windows Live, and perhaps MySpace and Facebook chatting. I shouldn't have to search for these, they should really come bundled with Sprint's ID packs.
It would also be cool to see some different keyboard options. Besides the problems with touch sensitivity on the Android keyboard that I discussed previously, I'd like to see a few different keyboard designs. Swype would be a nice addition, but when I'm in the Socially Connected ID pack, how about a keyboard with smileys and other texting shortcuts? For a phone that brags about its customizations, the LG Optimus S and Sprint ID adhere rigidly to the basics when it comes to messaging.
Social Networking
Android has plenty of social networking options available, but even with the Sprint ID Socially Connected pack loaded, I was disappointed by how little social networking was integrated into the phone. The Socially Connected pack offers Facebook and Twitter, sort of. The Facebook app is actually a shortcut to download the app from the App Market. In fact, the app icon looks like Facebook, but says "Launcher" beneath, and stays that way until you remove it from the desktop, download Facebook from the Market and replace the icon with the real app. Instead of Twitter, you get TweetCaster by Handmark. TweetCaster is not a bad Twitter app, but it doesn't offer the contact sync of the official Twitter app, so even if you keep TweetCaster, you'll probably want to download the real thing as well. These are all free downloads, so I wonder why they don't come standard with the Socially Connected ID pack.
The Socially Connected pack places shortcuts for Facebook and Gowalla on your first homescreen panel. On another panel, you get icons for Pandora and Shazam, which are music apps, not really social networking. Sprint should have taken cues from Motorola, which bundles its Motoblur phones with plenty of useful widgets and tools to keep up with all your social networks. Instead, a majority of the apps that come with the Socially Connected pack have nothing whatever to do with social networking.
Extras
Music
Even the Entertainment Sprint ID pack does little to improve the stock music experience on the LG Optimus S. The player is essentially the same music player that shipped with Android 1.0. It's not horrible, but it doesn't offer any advanced playback controls or options to tweak the sound from your music. There are plenty of other apps available from the Android Market, but music playback is one area in which Android comes up short compared to devices like the Apple iPhone 3GS. I do appreciate the search options from the music player. By clicking on the artist, song or album name, you can start a search on Google, YouTube or even Pandora. So, if you want to hear more music like Lady Gaga, just click on her name to open a Lady Gaga channel in the Pandora app.
Camera
Camera
The camera on the Optimus S was slow to open. When you hold the camera button on the side for about a second, the phone issues a vibration, and from there it takes about four seconds before you can start shooting. The camera shoots at 3.2 megapixels, and the camcorder can record VGA videos up to 30 minutes in length.
The camera app on the LG Optimus S is the fairly basic Android 2.2 camera, but it's not the worst camera app I've used. All of the controls are up front on the screen, no menu digging required. Just tap one of the tiny, translucent icons next to the border and a menu pops up. It's easy to change focus modes quickly, and just as quickly you can adjust the white balance. There are few other exposure settings, only color filters for black and white or sepia images, that sort of thing. No scene modes or panorama mode on board, let alone more fun or unusual options.
If you load a Sprint ID pack with PixelPipe on board, like the Socially Connected ID pack, the camera will open PixelPipe after every shot so you can upload your pics to any number of services. The list is mind boggling, including every photo sharing site I've heard of and more than a dozen that have escaped my attention. I set the camera to upload my pics to Flickr automatically, without prompting me each time. This added a couple seconds between each shot, but the uploading took place in the background. Unfortunately, this caused the camera to crash after every five or six shots, but recovering only required returning to the home screen and then opening the camera again. With PixelPipe turned off, the camera never crashed on me.
Image Gallery
The LG Optimus S gets the slick new gallery app that comes with Android 2.2. I uses 3D effects and some very cool two-finger gestures to let you browse through stacks of photos quickly. Tap two fingers on a photo pile and spread them apart and the photos will start flying from one finger to the other, increasing in speed the farther you spread your fingertips. You can also view photos one at a time or start a photo slideshow.
There are almost no editing options on the Optimus S. You can crop pics or rotate them, and that's all. Of course, there are myriad photo editing options available from the Android App Market, even some good free apps like Adobe Photoshop Mobile, so this isn't much of a problem. The gallery does a fine job helping you share your images. I especially like that the sharing options increase as you add more and more apps to the phone. With six Sprint ID packs loaded, I was able to share pics from the gallery directly with Twitter or TweetCaster, Facebook, Yahoo! Mail or Bump, among the other usual suspects of messaging and email apps.
Image Quality
Photos
Photos from the 3.2 megapixel camera on the LG Optimus S ran the widest gamut I've seen from a cameraphone. Some images were truly wonderful, and some were downright awful, with plenty of variety in between. The camera needs plenty of light, and there is no flash on the Optimus S, so it's best to shoot outside. Indoors, images looked washed out, with obvious oversharpening that caused a blue outline around bright spots and a look reminiscent of a video still frame.
Outdoors, pictures looked much better. I took my samples below on a bright, but overcast day. The camera had a hard time focusing properly on my shots, and the auto focus often wanted to aim for the background. But with a few tries, I was able to shoot some very nice pics. I was especially impressed with the macro mode on this camera. The Optimus S let me get closer than any other cameraphone in recent memory, and the sensor brought out some details that I've missed in plenty of other similar sample shots. Check out the arm on the thermometer / clock to see what I mean.
Video
Video quality on the LG Optimus S was not as good as the still image quality. Videos had the wavy effect I've come to associate with low end camcorder phones. At best, there was a nice level of detail and some real depth of field, but overall videos still looked garbled and somewhat fuzzy. The camcorder took its time switching from dim to bright light. Sound quality was also mediocre through the built-in microphone, and my voice sounded distant and muddled.
Browse / Customize
Browse
The Web browser on the LG Optimus S is the stock Android browser, but don't expect all the bells and whistles of more powerful Android 2.2 phones. Notably, Adobe Flash support is missing, probably because the Optimus S' 600 MHz processor isn't up. Flash 10.1 does not even appear in the Android App Market as a download option.
Otherwise, pages loaded at a moderate pace, not as quickly as I'd expect from a phone on Sprint's faster EV-DO Rev. A network, but Web sites looked great, very much like their desktop counterparts. The New York Times homepage would not load in its full desktop form, it only offered me the mobile version, but CNN did offer a "full page" link, and it looked exactly like it does on my PC.
The browser was very responsive to touch input. Flicking around large pages, there might be a brief delay at first, but this usually went away after a moment. Pinch and zoom gestures also showed some delay for the first instant, then zooming became a smooth and fluid experience.
Customize
Sprint ID packs provide a robust and relatively quick method for customizing the LG Optimus S. Though the process was not quick, it was certainly much faster to switch between ID packs than it would have been to make all of the same adjustments manually. Sprint has promised quite a future for the Sprint ID concept, with more branded packs coming from E! Online, MTV networks and Oprah, among numerous others. But the carrier has yet to offer specifics on those future pack plans, so for now I would only rely on what's available.
Beyond Sprint ID, Android offers plenty of customization options. I was pleasantly surprised to find Live Wallpapers active on the LG Optimus S, even though the Samsung Transform, a phone that has a faster processor, did not get that option. Chalk that up to the performance benefits of Android 2.2, I suppose. Live Wallpapers were fluid, but with many apps running at once and a Live Wallpaper chugging along, the phone could feel even more sluggish. Still, the Live screens are fun for showing off. Otherwise, Android offers plenty of customizable shortcuts and widgets, with tons more available from the Android App Market. There are theme apps and custom icons available from the App Market, and the level of customization is near limitless if you're willing to dig deep into the somewhat confusing heap that is the Android store.
Extras
Bluetooth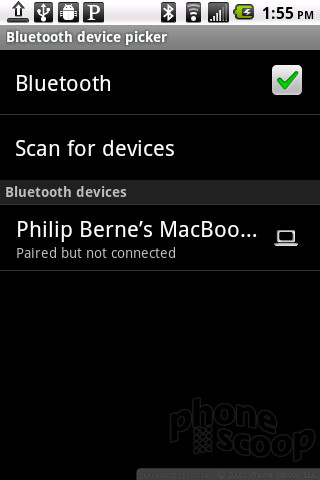 Bluetooth worked well on the LG Optimus S. I paired the phone quickly and easily with all my devices, including a headset, a set of stereo speakers and my Mac laptop. The headset sounded fine during calls. At times, it might have even sounded better, though it did occasionally drop out, especially when I swapped the phone from pocket to pocket. Music sounded good through my speakers. I was also able to transfer photos from the image gallery to my Macbook quickly using the Bluetooth connection.
Clock
Press the screen lock button on top of the LG Optimus S to turn on the display and the first thing you'll see is a big, bright clock. There is also a clock in the notification bar, but that bar disappears in some apps, so it's not always reliable. There are plenty of clock widgets available for free from the App Market that you can add to your homescreen panels. There is also a Clock app that comes with the phone, providing alarm clocks and a stopwatch for all your timing needs.
GPS
The LG Optimus S has a number of GPS options on board, and more in the Android Market. Google Maps provides free, turn-by-turn navigation with spoken directions. Actually, Sprint also offers a TeleNav GPS app for free, as well, while other carriers charge a monthly fee for a TeleNav or similar navigation options. Both work very well, so the choice might be a matter of style and taste. The Sprint TeleNav app does not come preloaded on the phone, but it is downloaded when you pick the Sprint branded ID pack, and it comes with a few other packs as well, so it's hard to avoid. The LG Optimus S found my position fairly quickly and tracked me on my travels in and out of the city with no problem. I used Google Maps on my way into Dallas and TeleNav on my way out, and both worked fine, redirecting me quickly when I got lost.
Portable Wi-Fi Hotspot
As a nice bonus, the LG Optimus S includes a Portable Wi-Fi Hotspot option built into the Android OS. You can thus use the phone's network connection to create a Wi-Fi hotspot, then connect your other devices, like a laptop or a tablet. Other carriers, like T-Mobile, have been restricting this feature even on their flagship Android phones like the T-Mobile G2, so it's nice to find the hotspot feature active on an inexpensive phone like the Optimus S. Unfortunately, this feature will cost an extra $30 per month. That's an exorbitant fee, and probably beyond the budget of most buyers interested in this $50 phone (at launch price). On my review unit, the Portable Wi-Fi Hotspot feature did not work properly, and always returned a "network unavailable" message, even when I had a strong signal and data connection. For $30 per month, the feature should work consistently, and it should also make me coffee and fetch my slippers.
Video Tour
Wrap-Up
There are a lot of things to like about the LG Optimus S. It's one of the cheapest Android 2.2 phones on the market, and the newer version of Android definitely makes a significant difference, as this phone easily outpaced the faster Samsung Transform, which uses the Sprint ID interface on top of Android 2.1, instead. This boost makes the entire experience better, especially downloading and switching between Sprint ID packs. I also really like the hardware design. The soft touch paint is classy, even in the regal purple hue, and I liked the phone's pocketable small size and real hardware buttons beneath the screen, instead of wonky touch controls.
Call quality and network speeds were about average, though the phone did have some battery trouble, but hopefully this will be fixed in the future. In terms of features, the LG Optimus S can go toe-to-toe with some of the baddest phones around. It can handle Live Wallpaper on the homescreen. It can generate a portable Wi-Fi hotspot, for a huge monthly fee, of course. It's got all the great Android features you want, except for Adobe Flash support in the Web browser. It even takes some great pictures, with dazzling close-ups, under the right circumstances.
The LG Optimus S impressed me even before I turned it on, and it held my spirits high through my entire test period. It isn't a perfect phone, and it won't replace the best Android superphones on the market, but for folks without a huge pile of cash to throw down up front, looking for a cute Android device that doesn't skimp on features, the LG Optimus S is a winner.
FM tuner like Optimus One?
Title says it all. Is there a built in FM Tuner similar to the other Optimus?
Nope, no FM tuner on this device.
I haven't used a radio since Pandora has come out.
Good Replacement for Instinct?
Thanks for your review Philip. I'd like to ask you and anyone else if you think this would be a good replacement for an original sph m800 Instinct? I primarily use it for email (gmail, yahoo, hotmail, outlook calendar), visual voicemail, live search, weather, browsing, sprint NAV occasionally, TV occasionally, music and camera occasionally. However, I like having 2 batteries. I want to upgrade but can't justify $10/mo for an evo or epic w/o 4g service. Would this work and be better than the Transform? Thanks
What does it mean to not have flash?
I see that the Optimus S doesn't have Flash capability.

For those of us who don't understand the implication of that, please explain.

What types of sites can't we see? Is there some way to work around it? Etc.

Thanks for the review. I am thinking of getting this phone, but according to your review, I have to check the phone call quality and the battery life.
Did the release date change?
Called several sprint stores and no one knew when the phone was going to be available. Told me to check in this week. Anyone know when?
It's not on Sprint's website, either, and this seems to be the only review for it on the web right now. The BlackBerry Style, which was also due to be released on Halloween, seems to be available in stores. I haven't really heard much about this phone...
(continues)
this is what i got from a sprint rep. in email...

"The LG Optimus S, originally scheduled to launch on 10/31/10, is now delayed due to unexpected supply issues.
Charcoal gray launch - 11/7/10 (soft-launch 11/4/10). Soft-launch means it will be av...
(continues)
SWYPE
I heard SWYPE will be released on a future software upgrade..... 😉
Glad sprint got it
I wouldn't have wanted to sell this POS at Verizon! Can you say chargebacks??