Review: LG Optimus S
Form Basics Extras Video Tour Wrap-Up Comments 10
Is It Your Type? Body The Three S's Touch
Oct 26, 2010, 6:01 PM by Philip Berne
The LG Optimus S offers Sprint ID and Android 2.2 in a compact, inexpensive touchscreen phone. Does a newer Android OS help keep this phone up to speed?
Advertisements article continues below...
Is It Your Type?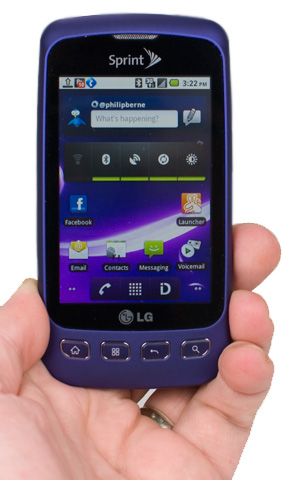 The LG Optimus S offers the newest Android 2.2 system, plus the new Sprint ID interface features, in a compact, attractive device. Do big things come in small packages, or is the Optimus outclassed by the larger Androids on the market?
FM tuner like Optimus One?
Title says it all. Is there a built in FM Tuner similar to the other Optimus?
Nope, no FM tuner on this device.
I haven't used a radio since Pandora has come out.
Good Replacement for Instinct?
Thanks for your review Philip. I'd like to ask you and anyone else if you think this would be a good replacement for an original sph m800 Instinct? I primarily use it for email (gmail, yahoo, hotmail, outlook calendar), visual voicemail, live search, weather, browsing, sprint NAV occasionally, TV occasionally, music and camera occasionally. However, I like having 2 batteries. I want to upgrade but can't justify $10/mo for an evo or epic w/o 4g service. Would this work and be better than the Transform? Thanks
What does it mean to not have flash?
I see that the Optimus S doesn't have Flash capability.

For those of us who don't understand the implication of that, please explain.

What types of sites can't we see? Is there some way to work around it? Etc.

Thanks for the review. I am thinking of getting this phone, but according to your review, I have to check the phone call quality and the battery life.
Did the release date change?
Called several sprint stores and no one knew when the phone was going to be available. Told me to check in this week. Anyone know when?
It's not on Sprint's website, either, and this seems to be the only review for it on the web right now. The BlackBerry Style, which was also due to be released on Halloween, seems to be available in stores. I haven't really heard much about this phone...
(continues)
this is what i got from a sprint rep. in email...

"The LG Optimus S, originally scheduled to launch on 10/31/10, is now delayed due to unexpected supply issues.
Charcoal gray launch - 11/7/10 (soft-launch 11/4/10). Soft-launch means it will be av...
(continues)
SWYPE
I heard SWYPE will be released on a future software upgrade..... 😉
Glad sprint got it
I wouldn't have wanted to sell this POS at Verizon! Can you say chargebacks??