Review: Samsung Focus with Windows Phone 7
Article Comments 4
Oct 20, 2010, 6:00 PM by Philip Berne
We tackle the Samsung Focus, one of the first Windows Phone 7 devices, from a business users perspective. Does it earn Microsoft a promotion?
Advertisements article continues below...
Form
Is It Your Type
Is It Your Type?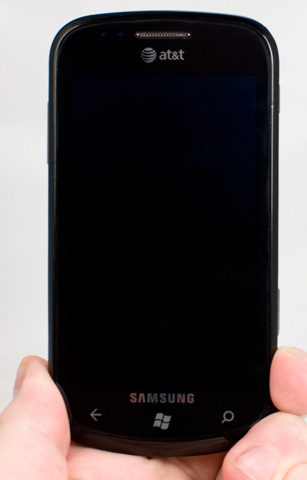 The Samsung Focus takes the best parts of Samsung's Galaxy S hardware and drops the new Windows Phone 7 OS into the mix. The phone is a classy, thin touchscreen, eschewing the sliding keyboards and gimmicks of the other Windows Phones hitting the market. But with Xbox Live tiles and a focus on friends, is this still a phone business users can get behind?
Body
The differences between the Samsung Focus and Samsung's Android-based, Galaxy S phones, like the Samsung Captivate on AT&T, are subtle, and that's a very good thing. The phone is gorgeous. It's a thin slab of plastic, with a subdued metal accent creeping up the sides and around the top. The front of the phone is dominated by the 4-inch touchscreen. The back is slightly tapered, and though this doesn't make the phone easier to hold, it certainly looks cool.
Like all new Windows Phones, the Focus has three buttons up front: Back, Start and Search (always in that order). This mimics Android closely, and I would have liked to see a Menu button on the Focus as well, like Android phones use. Too often, I was searching for more options to help me with a task, and a Menu button would have answered my questions more quickly.
On the right side of the slim phone is a screen lock / power button up top, and a two stage camera button near the bottom. All Windows Phones will have a camera button, which is a great requirement by Microsoft. These buttons were a bit shallow for my taste, but the volume rocker on the left side protruded a bit more, which made it easy to adjust volume quickly during a call. Up top, there's a 3.5mm headphone port and a microUSB port with a sliding cover. I've never found port covers necessary, but Samsung's feels sturdy.
The Samsung Focus is very thin and light. You could easily slip it into a tight pair of pants or a jacket breast pocket without bulging. It feels good in the hand during calls, too. That 4-inch screen size produces a phone that isn't unwieldy, but still offers the benefits of a larger display.
The Three S's
Screen
The highlight of Windows Phone 7 is the sharp, clean interface design, and the 800 x 480 pixel, Super AMOLED display on the Samsung Focus brings out the best in the new design. It's a showstopper. Colors explode on screen, looking sharp and realistic. I found myself opening Bing just to see what background image the phone would choose, because they all look so wonderful. Text was very easy to read, and the occasionally tiny interface cues in Windows Phone 7, like an ellipsis that tells you to look for more options, were easily visible. Even outside, the display holds up nicely. Like all phones, it fades a bit in bright sunlight, but I could use the camera viewfinder or browse emails outdoors with no trouble.
Sound
Sound quality on the Samsung Focus was quite good. During calls, the earpiece sounded clear, with no static or background hissing. Calls sounded a bit bass-heavy, and I prefer a brighter, more treble-rich sound, but they still sounded good. My callers reported an occasionally digitized sound to my voice, but it wasn't a frequent problem. The speaker on the Focus also sounded good. The phone does a fine job handling group calls over the speaker in a medium-sized conference room.
Signal
Reception was no problem on the Samsung Focus. I never worried about signal bars because the phone never had trouble connecting. The data network was always available and calls always went through. The Windows Phone 7 interface hides the signal bars from view unless you need them, at which point you can tap the top of the screen and they will fall into position. The network connection always seemed snappy on the Focus, whether I was using AT&T's 3G service or my own home Wi-Fi network.
Battery
Battery life on the Samsung Focus was a bit disappointing, but not horrible. In my week of testing, I had to charge the phone during the day every day. I never made it through an entire day without a charge. The phone uses a 1500 mAh battery, which is plenty big, but it still couldn't hang on as long as I needed. I would recommend charging this phone at your desk during a work day, or you might get stranded without a working phone by the end of happy hour. Under lighter use conditions, with only a few phone calls in a day, perhaps, you might see the phone last through the night.
Touch
The Samsung Focus is among the most sensitive touchscreen phones I've tried. It reacted swiftly to every tap and swipe. Even the slightest brush produced a fast action. This is great, because the Windows Phone interface relies on a lot of swiping left and right. The touch sensitive keys below the phone's screen were also nice and sensitive. I'm usually not a fan of touch buttons, but these gave me no trouble, and a light haptic kick let me know I had found the right spot every time I tapped.
Basics
Menus
For a thorough walkthrough of the Windows Phone 7 interface, I'd suggest checking out the detailed review of the HTC Surround that my colleague Eric Zeman has posted, or one of our hands-on videos. The Samsung Focus, and all current Windows Phone 7s, use the same exact interface design with very few manufacturer tweaks. I approached the Focus from the business user's perspective. Does WP7 help keep you informed and productive? Does it offer a work and life balance, while keeping the two appropriately separate?
The answer is mixed, but business users might be disappointed to find that Windows Phone 7 is much more a consumer interface than the old business stalwart, Windows Mobile.
Foremost, the interface looks wonderful. You have to see the phone in person, in action, to truly appreciate the effort and level of detail that went into the design, because it's not apparent until you actually touch the screen. The whole design is very fluid, with layers upon layers that create depth and motion and you navigate the menus. The so-called Metro UI tries to eschew the chrome plating and cartoonish colors of today's Android and iOS devices. At its best, it succeeds, offering information up front at a quick glance. At it's worst, though, the lack of explanation and detail can be confusing, especially to new users (and we're all new users for WP7).
On the Start screen, Windows Phone 7 offers so-called Live tiles. Microsoft is pretty open-ended about what these Live tiles might be, or what they can do, so I expect this is one area where manufacturers will differentiate themselves in the future. Tiles update themselves, to some extent, but even though they offer a quick glance worth of information, business users might find they don't go far enough. Email apps tell you how many messages you have, for instance, but don't offer a preview of what those messages contain. That was a feature I liked very much on Windows Mobile 6.x phones, especially those running HTC's Sense interface. People tiles show you recent status updates, but only the first few words, so you'll probably click on them to read more anyway. The calendar shows your next event at a glance. Microsoft might claim that you'll spend less time looking at your WP7 phone, but the Start screen doesn't offer as much information as it could.
The interface relies on many tiny symbols and hidden actions to add functionality to the phone's core features. Often, an app might have a small row of icons at the bottom of the screen, and I had trouble figuring out what each stood for. Usually, there is an ellipsis you can tap to open up an explanation menu, sometimes with even more options hidden beneath. But a UI shouldn't need to have a button to explain what other buttons do. It should be obvious. Other times, there was no explanation, and I was left wondering what, for instance, the two arrows, pointing at each other, stood for in the calendar app.
With it's clean, unadulterated look, the Windows Phone 7 interface can often leave you feeling abandoned, like features and options have been left out. You can usually hold your finger down for a pop-up menu, or access the ellipsis menu at the bottom of the screen, but if you still feel like there are features missing, you're not crazy. Windows Phone 7 feels both polished and thoughtful as well as incomplete.
I am not sold on one of the basic design concepts. Objects and text in the menus will hang over to the next panel. If there is a panel to the right to which you can swipe, you'll usually know because either the text at the top of the screen seems to run off the display, or some picture will peek out from side, waiting to be revealed. The right side of my brain loves the original idea, a holdover from the excellent Zune interface. The left side of my brain wants things to look more orderly. Occasionally, text is clipped and does not find its end when you swipe to the next screen. You simply lose the end of a name or a sentence.
Windows Phone 7 starts up very quickly. From a complete shutdown (pulling the battery out), the Samsung Focus started up and had me browsing the Internet in just over 20 seconds. That's very fast, compared to the minutes I can spend waiting for an Android or iPhone to start (or the days lost waiting for a WebOS device to fire up).
Calls / Contacts
Calling
To make a call with the Samsung Focus, tap on the first tile, which is the Phone app. You can move this tile around or remove it from the Start menu, but it will be the first tile by default on all Windows Phone 7 devices. When you open the Phone app, you first see your call history. At the bottom of the screen are three tiny buttons for voice mail, the dialpad and the address book. If you have new voice mail messages, an even tinier number will appear beneath the voice mail icon, showing you how many messages to expect. Seriously, it's like magnifying glass tiny, even on the Focus' 4-inch display.
If you tap on a name in the call history, the phone takes you to that person's contact card. If you'd rather dial more quickly, you can simply press the phone icon next to the person's name in the call history list. You can add a person's contact card as a live tile to the Start menu. Pressing on their tile opens the contact card, but you can't dial directly from the Start screen. You have to open the contact card and pick the appropriate number every time.
The phone does have voice calling, as well. Just hold the Start button, and Microsoft's TellMe app opens up. You can ask the phone to "Call Philip Berne's Mobile," and it will dial the right number. You can also speak digits directly, or you can say commands, like
"Pizza in Dallas Texas," and a map will open up.
When a call comes in, the phones wakes up and the lock screen starts bouncing with your caller's avatar picture on it, if a picture is available. Slide up the screen and you still have to press Answer or Ignore to deal with the call. That's one step too many, especially in a hurry.
When you're in a call, you get buttons on screen to end the call, open the keypad or open a menu with more options. Again, this creates a clean look, but it's one step too many. Why not simply present the speakerphone, mute, hold and add call buttons on the calling screen, instead of making me open a menu? I had no trouble making a second call for a three-way conference, and WP7 let me swap between calls or put one caller back on hold with no trouble.
Contacts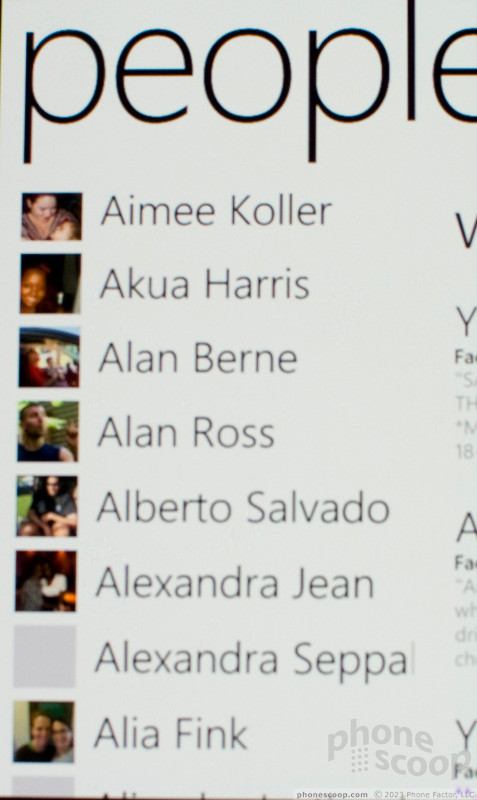 Contacts handling in Windows Phone 7 might present some problems for business users. The phone can synchronize with a variety of services, including Exchange, Yahoo and Facebook. All of these contacts are grouped together into one list. You can choose whether to synchronize all of your Facebook contacts or just link to existing contacts, but you can't keep your work contacts and your social contacts separate. Windows Phone 7 doesn't seem to support groups, either, so you can't simply assign your co-workers and clients to one group, and your old college drinking buddies to another group.
The address book offers you a list of all your contacts, a shorter list of contacts with whom you've recently interacted, and then a list of recent status updates from your social friends. Clearly, WP7 has your social life in mind more than your work life. You can read updates and comment directly from the address book, and though you can also read other people's comments, you can't see who or how many people "Liked" a comment. That feature is available in the Facebook app, though, which is a free download from the Marketplace.
Each contact entry has plenty of fields. You can enter an unlimited number of phone numbers, email and postal addresses, as well as some personal information, like birthdays and spouses names. I was disappointed that birthdays in my address book didn't automatically show up on my calendar.
Messaging
The Samsung Focus comes with a nice selection of messaging options, and these all work very well. Still, the phone is missing some essential messaging tools that business users might find crucial. There are no IM clients available yet for Windows Phone 7 as of the publication time for this review. We rely on IM often at my job, and most of my corporate friends say the same. Specifically, Office Communicator was a huge draw for Windows Mobile, and many of my WinMo friends use it extensively, but it is not available for WP7, at least not yet. Ironically, there are clients for OCS for the iPhone, so if you rely on Office Communicator and you can't wait for a WP7 client, the iPhone might be a better choice.
Windows Phone 7 does come with a fine text messaging app that displays messages in a conversational, threaded view with picture messages inline with the text. The contact list has a problem with text messaging. You can send a message directly from the contact entry, but only to the number designated "Mobile." Personally, I have designated plenty of mobile phones as "Work" numbers for people who only use cell phones, but Windows Phone 7 won't let you try to send a text to those. If you go to the messaging app and type in a person's name, only their Mobile numbers will appear. You have to type a Work number manually, and since WP7 has no copy and paste, (yet,) you'd better have a good memory for numbers.
The Samsung Focus also has a fine email client, though again, business users may find it wanting.
I like that the Focus keeps your email accounts separate, so you don't have to mingle your corporate exchange account with your personal Gmail. Emails also show up with HTML in tact, and the entire messaging interface looks fantastic. Microsoft uses a slightly rounded, sans-serif font that is crisp and easy to read, especially on the Focus' wonderful display.
You can flag a message for follow-up, and messages sent as urgent will also retain that label. The email app has separate lists for flagged and urgent messages, too, so you can find them quickly. I'd like to be able to add a message's contents directly to the to-do list to help me remember important tasks as they are sent my way. Also, WinPho7 did not find much older messages that are stored on my email server. Searching my inbox, I could find messages synchronized from the last few days, but the email app would not search the server for messages from a year ago.
I did like that the phone caches messages as they come in, so you don't have to download the entire message in steps, as you did on Windows Mobile. So, if you need to read through a large group of messages on a flight, you don't need a plane with Wi-Fi; the text of those messages will already be on your phone.
The Samsung Focus does not do a great job notifying users about new messages. When you get a new message, the phone plays a notification tone or vibrates, and that is all. There is no indicator light and no notification on screen, unless you are looking at your Start screen. You don't even get a message popping up to tell you that you have new mail. If you miss the tone or the vibration, you'll miss your message until you go back to the Start.
The virtual keyboard on the Focus also needs some work. It looks nearly identical to the stock Android keyboard, though it does seem to perform a bit better. Usually, the phone did a fine job keeping my taps on target. If I was off a bit, the phone would offer suggestions for spelling correction above the keys, and sometimes, though not always, it would auto-correct a word for me. Strangely, auto correction did not work system wide. For instance, using the app Seesmic for Twitter, there was no auto correction available. The landscape keyboard is a huge disappointment. It is no larger than the portrait keyboard. Instead, it leaves empty space to the left of the keys, and fills that space with a tiny clock and other notification symbols.
Productivity
I expected a lot from Microsoft Office on Windows Phone 7, and the office suite failed me completely. I don't care much about writing a new Word document or creating a new spreadsheet, but I definitely want to be able to read, edit and comment on existing Office docs when they are sent to me as attachments. Unfortunately, Windows Phone 7 did a horrible job handling these files.
Large attachments obviously take a longer time to download, and I'm fine with that, but the phone did a poor job telling me how much time was left, leaving me wondering if the download had failed.
The Samsung Focus opened my Microsoft Word document with no trouble, but it failed to open both my Excel spreadsheet and my PowerPoint deck. I tried simpler spreadsheets with less formatting, and these came through, but my test sheet is not too complicated, and certainly not as robust as what you'll find in a real corporate ledger. Ditto my PowerPoint presentation. Also, though the Word document opened, it was reformatted to fit the Focus screen. I could not view the document in its "Page Layout" view to see how it would look printed, or on a desktop.
This is all inexcusable from Microsoft. I want Word documents to look like perfectly printed pages. I see this on plenty of other platforms, even using third party apps, and Windows Mobile 6.x had no problem with this. I'm also flabbergasted that my Excel and PowerPoint files would not open. I want to view perfect representations of these files on my phone. I'd also like to be able to perform simple edits and leave comments on both Excel and PowerPoint files.
Office on Windows Phone 7 does let you share documents using a SharePoint server. Using SharePoint, you can add notes for follow-up and detail edits for co-workers to read. You can also synchronize documents with a SharePoint 2010 server, or keep the files in the phone's memory to work offline. I'm sure this would all be very useful if the Office suite were able to actually open my Office documents.
The Samsung Focus has a nice looking calendar app, but it isn't as useful as I'd like. The calendar on Palm WebOS devices, for instance, shows you how much time you have between events. I'd also like to see more desktop-style features on this phone, like being able to see when my coworkers and event attendees are also free on their calendars. You can invite people to an event from the Windows Phone 7 calendar, but there are few advanced features for scheduling.
Extras
Media
Music on the Samsung Focus is fantastic, especially if you're a Zune subscriber. Even if you don't use Zune, the music player and the musical interface look great and function very well. I loved seeing album artwork downloaded automatically, and the phone even grabbed album reviews for some of my music. There aren't too many advanced playback or sound options, but that didn't hurt the experience much.
When you are playing a song in the background while performing other tasks, you can access music controls quickly by simply pressing the volume rocker up or down. Music controls drop down from the top of the screen, which seems incredibly intuitive.
Videos look fantastic on the Focus' Super AMOLED display, but I did have some trouble getting my files to play. A short, 5-minute clip I sideloaded using Microsoft's beta version of its Mac transfer software played with no trouble. But a feature film, encoded with the exact same specs, refused to play on this phone. I simply got an error message.
If you're a Mac user, don't expect that beta software to come packaged with a new phone. Microsoft still hasn't announced firm release plans for music transfer software, as the software is still being finalized. I did encounter some bugs, and the software stopped working entirely a couple days before this review was posted, but as long as the final version works perfectly, it should be a fine solution. The Mac software won't give Mac users access to the Zune subscription service, but it will offer a conduit to sideload music and movies, similar to the way DoubleTwist works for other, non-iOS devices.
I also tried the Netflix app on the Samsung Focus, available in the Marketplace, and I was delighted with the results. The interface fits nicely with the rest of the Windows Phone 7 design, as all third party apps are required to do. Movies started streaming quickly and looked great. I got better quality over Wi-Fi, but streaming still worked over AT&T's 3G network, and I could watch movies from my Instant Queue or pick new movies to stream instantly.
Camera
Camera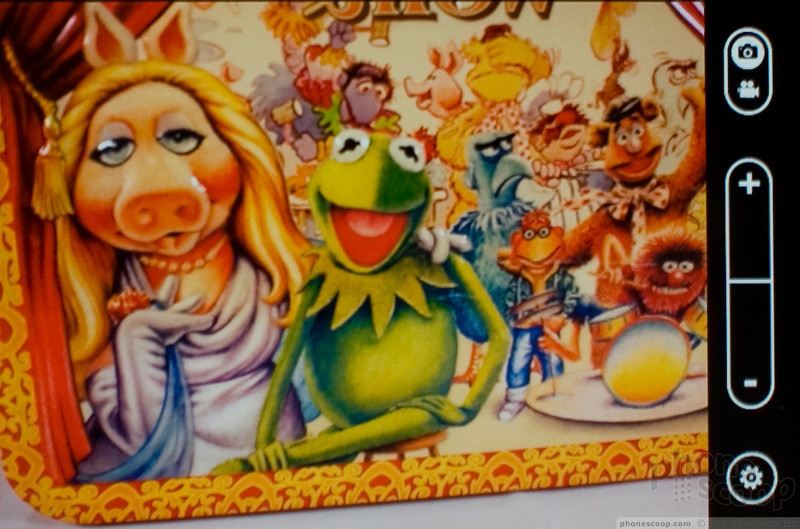 On all Windows Phone 7s, holding the camera button unlocks the screen and opens the camera app in one fell swoop. It seems so obvious once you've used the feature, I'm surprised more manufacturers aren't doing this. From a locked screen, you can press the camera button and start taking shots within about four seconds. That isn't lightning fast, but it does save a step.
The Samsung Focus has a nice, clean camera interface with plenty of shooting features. You don't get scene modes or a wide variety of shooting modes like you'll find on a point and shoot, but you do get some advanced exposure controls. You can adjust white balance and overall exposure, and also set the ISO down to ISO 50 and up to ISO 800, which is an impressive range on a cameraphone. There's also a Wide Dynamic Range feature that should improve pictures with a variety of lighting conditions.
Once you've taken a shot, your picture overhangs the camera viewfinder just a bit. This gives the camera app a disconcerting look, but it proves useful when you want to review your last picture. You don't have to close the camera, open the gallery, then return to the camera to shoot again. The gallery is instantly accessible from the camera app itself.
Image Gallery
Beyond the simple image review gallery attached to to the camera app, Windows Phone 7 offers a much more extensive Pictures hub in the live tiles. From Pictures, you can see all of your photos. That includes photos you took with the camera, sideloaded images, and photos that have been uploaded to Facebook or Windows Live SkyDrive. You also get to see photos uploaded by your Facebook friends, whether they have uploaded galleries or simply changed their profile pictures. The Pictures hub looks awesome. It uses your own images as backgrounds, and pictures are exceedingly sharp on the Samsung Focus' screen.
Besides simple viewing, the image gallery offers few options for sharing or editing photos, especially compared to more robust platforms like Google's Android. You can upload pics to Facebook or SkyDrive, or you can send them along as MMS picture messages or email attachments. New apps downloaded from the Marketplace can also stake their claim in the Pictures hub, so once I downloaded Samsung's Photo Sharing app, I had the option to upload to that service as well. There were no options to send pics to a desktop using Bluetooth.
There are also no editing options in the Picture hub. You can't even rotate or crop images, which is just silly. I'm hoping that third parties will step in and offer editing tools in the Marketplace, but at press time there were no notable apps offering these features.
Image Quality
Photos
Photos from the five megapixel camera on the Samsung Focus looked pretty good. They weren't perfect, certainly not the best I've seen, but they are definitely above average for a camera phone. Colors looked bright and fresh, especially while viewing images on the phone's display. Viewed at full crop, images lost a lot of detail and could blur considerably. This seemed more like a focal issue. I tried shooting in normal and macro modes, but the camera couldn't quite nail closeups, and tended to focus on subjects farther back. If the phone had touch focus, that might have helped me choose and sharpen my subjects a little better. The flash on the camera was very helpful, and the self portrait I've included with my samples was taken in a completely dark room with only the flash for light. Colors there look even and accurate, not bluish or overexposed like you'll find on lesser cameras.
Video
The hi-def camcorder on the Samsung Focus didn't impress me as much as the still camera did. While my videos looked pretty good, even above average for the glut of 720p camcorder phones hitting the market, I've seen better on other high-end devices. Videos looked blurry with a general fuzziness to the details, when I really want hi-def videos to look as sharp as can be. The camcorder adjusted slowly to changes in lighting conditions. You can also see, at the end of my video, a strange shift in white balance that turns the entire scene a yellowish-green color. Sound quality during video recording was pretty good, and my voice hardly sounded muffled in the videos I shot.
To see my sample below at its best possible quality, be sure to change the vertical resolution to 720p by clicking the button on the video player, and watch the video full screen.
(My original Samsung Focus review did not include a Video section under Image Quality. Problems with Microsoft's transfer software, on both the Mac and Windows 7, kept me from being able to load my videos from the phone.)
Browser
Browse
The Web browser on the Samsung Focus is a solid, modern browser, but it isn't up to par with the best mobile browsers on the market, like Safari on the iPhone or the Android browser. Most Web pages came through looking perfect. Our own PhoneScoop homepage looked exactly like it does on a desktop browser. But the phone had trouble with other pages. Google Reader, for instance, offers a great, touch friendly page for mobile phones, but the Internet Explorer browser on the Samsung Focus had trouble with the various open frames and scroll bars required to make Reader work properly. It wasn't a serious problem, but it could get in the way from time to time.
I was happy to find that all the sites I visited treated Internet Explorer on Windows Phone 7 like a full desktop browser. Both CNN and the New York Times homepage offered their full desktop version without dumping me into the mobile page first. Navigating pages is very snappy. Web pages first appear fitted to the Focus' screen, so you can see the entire page at once, then double tap on a section, and the phone zooms in quickly to that frame, fitting the text perfectly to the screen. You can also search on pages for specific text, or pin a Web page to the Start screen as a tile so that you can jump back to it later. This is in addition to the standard bookmarks and history options.
The only thing missing is Flash support. There are still gaping holes on Web pages. Microsoft recently released a rudimentary YouTube app for Windows Phone 7. In fact, the so-called app is really a link to the mobile YouTube Web site, with supporting software to let the Focus play YouTube videos. So, you can click on a YouTube link to watch videos, but you can't upload your own movies.
(My original review stated that YouTube support was not available at press time. I have updated the preceding paragraph to reflect the new 'app' in the Marketplace)
Customize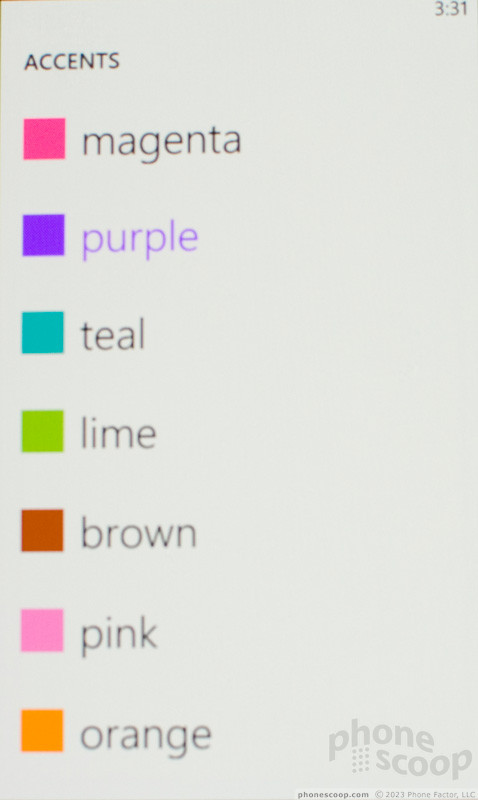 Most of the customizations you can perform on Windows Phone 7 take place on the Start menu, which you can rearrange to your heart's content. You can remove anything from that menu, even the Phone or People hubs. You can also add Web pages, contacts, maps and other features to the live tiles, and developers will have some control over how tiles work and what they offer.
Windows Phone 7 also offers some elegant theme and color options. You can't change the basic design, but you can change the colors. Microsoft offers a limited color palette for the tiles and other interface elements, and you can choose either a black background or a light greyish-white backing.
Beyond that, there are few customization options. You get limited control over notification sounds for alerts; only a few are available on the phone. There are no sound profiles to switch from settings for an office environment to settings for home (or the movie theater, or the car, etc.). You can't customize the autocorrect dictionary on the phone, which would be nice for businesses with a lot of jargon and terminology. Windows Mobile 6.x users will be especially disappointed by the lack of extensive customization options to which they grew accustomed.
Marketplace
The Windows Marketplace looks good and works fine, for the most part. Some of the menus could be redundant, but the Marketplace on the Samsung Focus groups apps by New, Featured and Top apps, as well as by categories, like Productivity or Social apps. Manufacturers can provide their own section, but the Samsung section is filled with worthless apps, like a network profile app or an app designed for customers of Europe's 3 network. This seems like a very lazy attempt from Samsung, and HTC offers a better selection to fill in some of Windows Phone 7's gaps.
Searching the app Marketplace can be a hassle. When you search for "Twitter," for instance, you get a few apps that support the service, but not all of them. The official Twitter app was not available at press time. You also get a list of songs and album titles that use the word Twitter, since the Marketplace also offers music. This seems unnecessary. If I'm searching for apps, just give me apps. Keep the music separate.
You can buy an app and bill the cost to your AT&T account. Or, most apps offer trial versions with limited features or a time limit on their use. Unlike the Android Market, there is no refund for apps once you buy them, but the trial period should alleviate some of those concerns.
Extras
Bluetooth
Bluetooth worked fine connecting to my handsfree device and my stereo Bluetooth speakers. My headset sounded as good as ever during calls with the Samsung Focus. Same goes for my speakers. Neither device experienced any significant reception issues or signal dropping. The phone does not support Bluetooth file transfers, which is a serious oversight. The microSD card is not intended to be removable, and the connection software for Mac users is not finished at launch. Bluetooth would have been a great stand-in.
Clock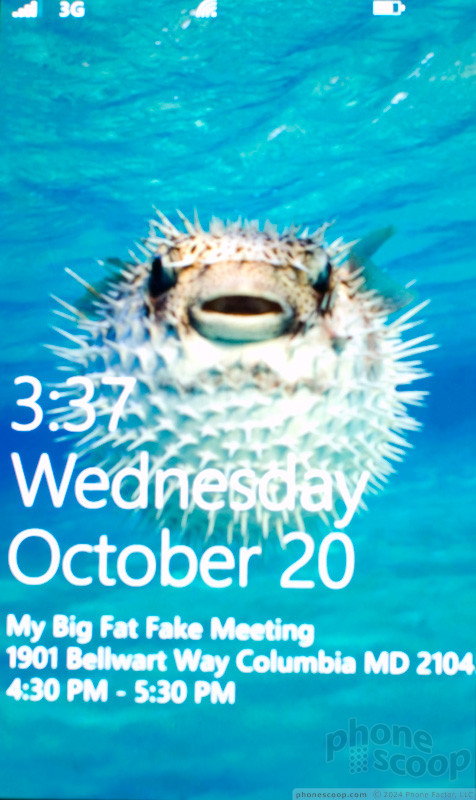 Press the screen lock button and the phone lights up with a clock on its lock screen. You also get the date, your next calendar appointment and any notifications for missed calls or messages. The Samsung Focus has a clock at the top of the screen, but this clock occasionally hides from view. In most apps, you can simply tap the top of the screen and the clock reappears, along with battery info and network reception indicators. The phone also has an app for alarms, and you can download free apps for stopwatches and timers from the Marketplace.
GPS
For mapping and GPS, the Samsung Focus comes with a couple of options preloaded. AT&T Navigator from TeleNav provides turn-by-turn directions. It looks great. The interface has been redesigned to match the Windows Phone 7 style, and this works very well for the navigation app. The phone also features a separate mapping app, simply called Maps. The Maps app doesn't offer turn-by-turn navigation, but it does provide a very slick interface with a hybrid map and satellite view that looks fantastic, especially on the Focus.
It's a shame that these two mapping apps don't talk to each other. If you tap on an address in your contact list, you can see it on a map and even get directions to it from your current location. But if you want real navigation, you have to open the AT&T Navigator app, and AT&T Nav cannot access your contact list. So, you have to memorize that address because, once again, Windows Phone 7 does not have any copy and paste feature.
Video Tour
Wrap-Up
The Samsung Focus is a wonderful piece of hardware. The screen is superlative, among the best I've used on a mobile phone, and the build quality and design are excellent. The phone sounds great during calls, gets good cell reception and snaps fine pictures. Battery life could be better, but it wasn't the worst I've seen by a long shot.
Windows Phone 7 is inspired and completely different than anything I've seen before on a mobile phone (except maybe the Kin, but that doesn't count). But from a business user's perspective, WP7 is going to be a serious disappointment, especially if you are used to Windows Mobile. The new system definitely puts play before work. While features like the multimedia player and the Xbox Live apps are mature and well developed, business features obviously took a backseat. The phone lacks advanced features in scheduling and business messaging, and it wasn't even able to open my PowerPoint and Excel files.
What's even worse for Microsoft is that other devices, notably the Apple iPhone, already have mature app markets and features in place, so many of the features that business users will need most, like perfect document editing and business-class instant messaging, are already available on Apple's device, while Microsoft fans will have to wait for support.
So that's my advice for business users. Wait for support. If you use your phone more for fun and games, for pictures and social networking, the Samsung Focus might be a fine choice. But if you need to stay productive and communicate with the rest of your corporation, Windows Phone 7 is not going to get the job done, at least not yet. Let's just hope that Microsoft hasn't abandoned its core constituency, business users, completely, because the phone starts with a fantastic base design, and I think business users would enjoy an option completely different from the iPhone and other interface designs on the market, if Microsoft can help them get their jobs done.
Lots of fake meetings....
But seriously, I'm a little frustrated myself with mobile productivity offerings, and if Windows doesn't get it right...

Maybe an update?

I'd honestly pay just about anything to have a full featured Excel creator/editor on my phone/tablet.

Oh well. The Macbook Air is in the mail, hopefully its just as portable as my iPad. (sorry, I'm really not trying to plug the Air, I'm just so damn excited to get it!!!)
I think the HD7 is the best of the WP7 devices. It would be better if TMO had better rural coverage and broader 3G. If TMO expands their coverage and includes 3G in rural areas I think they would have a better chance at taking the #2 spot.