Review: T-Mobile G2
Article Comments 2
Oct 14, 2010, 7:32 PM by Philip Berne
The T-Mobile G2 is a top-of-the-line successor to the original Android phone. Even with great specs, is the basic Android design enough to satisfy?
AD article continues below...
Form
Is It Your Type
Is It Your Type?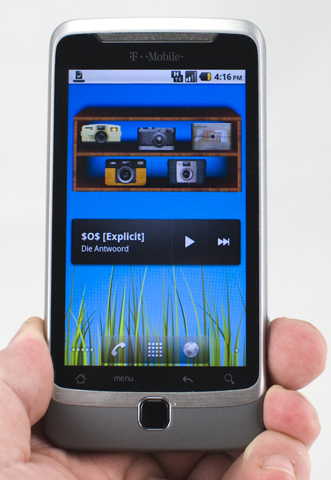 Android has seen precious few QWERTY phones since it launched with the T-Mobile G1 two years ago. HTC's new G2 slider satisfies that need with impressive hardware and a relatively pure Android build. Will this satisfy superphone fans and newcomers alike?
Body
You have to hold the T-Mobile G2 in your hand to understand the build quality of the phone's body. In photos, it looks plastic and bland. In person, it has a solid, dense feel, and a high-quality fit and finish that's reinforced by the unique, ultra-smooth sliding mechanism. The G2 is reminiscent of the Google Nexus One, but with soothing grey brushed metal and soft touch paint instead of the brownish purple color and sanded finish on the Nexus One.
The T-Mobile G2 has a great feel thanks to the weighty materials and fine paint finish, but it will feel a bit large if you've grown accustomed to non-keyboard phones or if you're stepping up from a full-QWERTY feature phone. It's smooth and nicely rounded, so it feels fine in a pair of comfortable, though not-too-tight, pants.
A tour of the device reveals a unique handset design, especially among Android phones. On the front you'll find touch sensitive keys for Home, Menu, Back and Search options. The order for these keys is different on every Android, but the differences don't take much time getting used to. After 8 months practicing with a similar Nexus One, I had no trouble with these keys, but folks used to hardware buttons might need practice. The trick? Slide your finger to the key, don't tap directly, for the best response.
The button in the bottom center of the phone acts as an optical joystick, too. It worked fine in my tests, though Android hardly needs a joystick. I used it mostly for fine text editing, but there it had a tendency to jump ahead or skip whole text fields if I moved my finger too quickly over the top of the button.
On the right side of the phone, on the top part of the slide, is the two-stage camera key. Hallelujah. Too many new touchscreen phones lack this necessary button. I found the camera button a bit stiff, so it required some effort to engage the auto focus, but it wasn't so bad that I misfired any shots. Also on the right side, on the lower half of the slide, is a latch to release the battery cover. The cover takes up about 80% of the back of the phone, and it pops off easily. You'll need to remove the battery to change the microSD card, unfortunately.
On the left side is a microUSB port, completely exposed with no port cover. I never cared for flimsy port covers, but you'll want to keep the G2 away from crumbs and moisture. Above the USB port is the volume rocker. It's too flush with the phone for easy use, and it's also placed about a finger's width too low on the side. Not a huge problem, but it could be improved.
The keyboard that swings out from beneath the screen is well designed, but I'd like something bigger. The unique Z-hinge design, which lifts up as it slides out of the way, doesn't seem to offer any benefit to the user in terms of a larger keyboard. The keys are a bit stiff for my taste, with a length of travel that is too shallow. I prefer the keyboard on the HTC Touch Pro 2, which is still my favorite among smartphones.
I've seen reports of a loose keyboard problem, and my co-editor, Eric Zeman, reports a hinge so loose on his own review unit that it swings open frequently. Holding my phone screen down, the hinge stays in place. If I open and close the phone multiple times in a row, the hinge seems to get looser, but it tightens again after some use. Very odd situation, and I hope HTC figures out this issue, if it is a widespread problem.
The keyboard has a great layout, with plenty of useful shortcuts. The @ symbol gets a key, and ".com" and "www" share a key. There are individual keys for the period, comma and question mark. This relegates the numbers to ALT keys instead of a dedicated row, but it's a worthwhile trade-off. The phone also has three programmable shortcut keys to the left and right of the space bar. You can set these keys to perform real actions, not just opening apps. So, one key can open Twitter, while another might start a phone call home, leaving the third to toggle Google Voice settings. There are plenty of robust options that can be assigned to these shortcuts.
The Three S's
Screen
A year ago, the screen on the T-Mobile G2 would have been impressive, and not at all disappointing. Now that I've spent some time with Samsung's Galaxy S phones with their Super AMOLED displays, I can't help but wish for the same tech on every flagship phone I try. The Super TFT display on the G2, pushing 800 x 480 pixels, does seem brighter than the AMOLED display on the Nexus One, but it isn't as sharp or colorful as Super AMOLED. Outside, the screen becomes much more dim. It isn't illegible, like the Nexus One, but it doesn't hold up as well as the best on the market.
Sound
Call quality on the T-Mobile G2 is superb. The earpiece on the phone sounded crisp and clear for every call I made. Callers reported a similarly pleasant experience. Most callers could not guess correctly in my "landline or cell phone?" test. Both the earpiece and the speakerphone should be much louder. The speaker sounded clear, but it couldn't manage enough volume to hold a proper speakerphone call in a loud, fast moving car. The ringtones were also more difficult to hear because the speaker was a bit anemic. The phone had a solid vibration, but it could be stronger to be sure I'll feel it in a crowded pocket.
Signal
The T-Mobile G2 is the first phone to use T-Mobile's new HSPA+ network, which is slowly rolling out in cities across the country. Down in the vast Dallas suburbs, I found great reception on the new network, and impressive data speeds. When I had an HSPA+ connection, I usually saw speeds in excess of 2.5Mbps, and occasionally managed downloads at 5-6Mbps or higher. That's ludicrous speed on a modern cell phone. At its best, T-Mobile's HSPA+ network easily bested Clearwire and Sprint's WiMAX network and Metro PCS' LTE network in my area, both in terms of coverage and download speeds.
What does this mean in the real world? Web pages open in a flash on the G2. I tried downloading some MP3 albums from Amazon's music store and also some large games from the Android market. I downloaded the new Die Antwoord album in less than six minutes. Downloading a 25MB game file, the phone was about as fast over HSPA+ as it was over my home 802.11n Wi-Fi network.
I never had a problem with calls going through, even when I couldn't find a proper HSPA connection. Sometimes, in dead spots, the phone would drop to EDGE networking or even GPRS. Data would slow to a determined crawl, or sometimes it stopped altogether. But phone calls rarely failed. Maybe a couple times in more than a week of testing did calls not go through to my recipient or find their way to my phone.
Battery
Battery life on the HSPA+ T-Mobile G2 is not as bad as battery life on WiMAX phones, and it's even comparable to some basic HSPA phones. But in a long day of intense use, the phone didn't last until dinner time. I never got through a full day without charging the phone.
Touch
The capacitive screen on the T-Mobile G2 was perfectly responsive to my touch. The phone feels zippy and fleet. Menus and long lists seem to rush by, and there was no lag panning across multiple home screens. The touch sensitive buttons beneath the screen also gave me no trouble.
Basics
Menus
For the most part, the T-Mobile G2 uses a stock Android interface with almost no intervention from T-Mobile. There are a few apps that cannot be removed, but they are all Google apps, not carrier-sponsored junk. Otherwise, the homescreen panels and buttons, the application drawer, and all the system menus that lie beneath are basic Android, like you'll find on the Google Nexus One or the original Motorola Droid.
While some users may clamor for a pure Google interface, I don't count myself among that lot. Other Android phones have much better social networking integration, for instance. The phones running HTC Sense, like the HTC Droid Incredible, offer deep integration in the contact list, as well as extra apps and widgets to keep up with your social feeds. Motorola's newer Motoblur phones, like the Motorola Charm or Motorola Droid 2, offer a selection of adaptable widgets to bring social features up front in a manageable way. The T-Mobile G2, on the other hand, lets you sync your social networks to your address book, but it doesn't offer many integrated features, like photo galleries or a unified inbox to collect all my incoming messages.
The stock Android interface is solid, but it isn't easy for newcomers. There are spots where the length of time to tap on the screen makes a huge difference in actions. Do you want to start an app, move around the icons on screen or open a settings menu? The differences between those actions might seem subtle and confusing to newcomers. Also, the list of shortcuts and widgets grows longer as you add more apps, and all of those options might get confusing after a while. In the end, Android uses a highly customizable and rewarding interface, but it may take a lot of learning and some practice before you have the phone set exactly to your liking.
The G2 uses Swype for a virtual keyboard in both portrait and landscape mode, if you don't want to slide it open. Swype is fantastic. Instead of typing each letter for a word, Swype lets you trace your finger from letter to letter. It may sound counterintuitive, but once you've tried it, you'll see why it's so useful. It isn't perfect, but it's fast and fun. Swype was already a superior alternative to most virtual keyboards, so the combination of Swype and the QWERTY keyboard on the G2 make this the perfect phone for iPhone-keyboard haters.
Calls / Contacts
Calling
Making calls from the T-Mobile G2 couldn't be easier. There is a calling shortcut that persists at the bottom of every homescreen panel. Press that button and you are taken to the last calling function you viewed, so if you were browsing the call log, that's what you'll see first. Then you can press the Phone tab up top to see the dialpad, or the Favorites or Contacts tabs for those respective options. If you'd like a more direct path, there are apps called "Phone" and "Contacts" that you can place on the homescreen.
The phone also comes with Google Voice features preloaded. Google Voice works well on this phone, and the new widgets let you easily toggle Voice on or off, so you can use it all the time, or just for making international calls, for instance. You can also check your voicemail or incoming text messages from Google Voice. Message handling wasn't great, as multimedia picture messaging doesn't work on Google Voice. Also, when the network data signal is faltering, some Google Voice calls won't go through, but the phone will then prompt you to make the call without Google Voice active.
Once you're in a call, you get a nice selection of options on screen. It's easy to mute the call, activate the speakerphone or send the call to a connected Bluetooth headset. Conference calls were also a breeze to manage, and I had no trouble swapping or splitting three-way conversations.
There are a few nice HTC bonus features I wish made their way to the T-Mobile G2. On HTC Sense phones, when you pick up a phone, the ringtone stops. Turning a phone face down during a call activates the speaker. The phone rings louder in a pocket than on a desk. There are a lot of great HTC innovations missing from this stock Android build.
Some future T-Mobile Android phones will offer calling over Wi-Fi networks, in case your Wi-Fi signal is much better than your cellular reception. T-Mobile has already stated it is trying to bring this feature to the T-Mobile G2, but has made no solid announcements or commitments yet.
Contacts
The T-Mobile G2 did a fine job synchronizing my contacts. The phone can sync with Google contacts, Exchange servers, Facebook and Twitter. When you add a new app, like Skype, the phone can synchronize with those contacts as well. The phone doesn't offer as much information from these services as you'll find on the competition. You get email addresses and avatar photos, but not birthdays or other profile information. Tapping on a contact shows you their last status update, but to see more you'll have to jump to their complete profile in the Facebook or Twitter app or on the Web.
Still, it is very easy to get in touch using the T-Mobile G2. From your contact list, tapping a picture brings up a small row of icons so you can quickly make a call, send a message or email, or even start a navigation trip, if you have a postal address listed.
Messaging
The messaging options on the T-Mobile G2 are standard Android fare, with Google Voice along for the ride. You get text messaging, and Android uses a powerful, if not very pretty, Messaging app. Messages are displayed in a conversational, threaded format. It's easy to attach media and information to your messages, including pics and videos, as well as navigation coordinates and contact info. You can also send messages from the separate Google Voice app (if you use Google Voice), but not picture messages, as I mentioned. Having two separate apps that both send SMS messages could be very confusing, for both me and my recipients, who see a different caller ID number attached depending on which app I use. I'd like to see Google Voice integrated more tightly into the stock Android features.
For instant messaging, the G2 comes with Google Talk. Like most Android phones, there are no other IM apps on board, but there are good, even free, options available from the App Market. I'm still waiting for an app that can handle Facebook instant messaging, though you'll find in the Market adequate solutions for AIM, Yahoo, Windows Live and even MySpace, among the more obscure options.
For email, there is Gmail and then there is everything else. Everything else can include Exchange accounts, with support for multiple Exchange servers, as well as POP3 and IMAP4 mail accounts. The Gmail app is superior, with more features for managing, organizing and labeling messages. I had trouble with email attachments, though. The phone downloaded attachments properly, but would not open them automatically. I had to search through my photo gallery for image downloads, or use a file browser for Office documents. Hopefully, this is a bug that will be fixed in future updates.
Social Networking
Besides the built-in contact sync support, the T-Mobile G2 also includes apps for Twitter and Facebook. These apps come with widgets, so you can read status updates or post new updates yourself directly from the homescreen, without opening an app. But there's no reason to avoid the official apps. The Facebook and Twitter apps get better and better. There are few features that are unavailable from the Android apps for these services.
Again, this is a good start, but I'd like to see much more, especially from an Android phone. I'd like to see more information, photos and updates available from the contact listing. I'd like to see birthdays and events integrated with the calendar. I'd like a unified inbox that gathers all my incoming email, as well as my Facebook messages and Twitter DMs. I'd also like to see chat services that support Facebook and MySpace. There are other phones that perform most of these tasks, so it's a pity that T-Mobile's flagship Android can't keep up, and the available third party apps just don't make up the difference.
Extras
Music
The T-Mobile G2, like most Android phones, is not a great choice for music and multimedia playback. The music player has hardly been changed at all since the original T-Mobile G1, and even then I knew the experience was pathetic. It has some great features, like easy search options from the Now Playing screen to find more music in the Amazon MP3 Store or on YouTube. But it lacks advanced playback options, like the fine-tuned controls you'll find on an iPhone, or in the Android Audible audiobooks app. For instance, in the Audible app (and the iPod player on the iPhone), you can skim through long audiobooks at different speeds depending on where you hold your finger on the screen. The G2 also lacks music equalizer options.
The phone comes with an 8GB microSD card preloaded. T-Mobile has about another month, when 16GB Windows Phone 7 devices flood the market, before I start complaining that 8GB is not enough storage space out of the box. That microSD card comes with DoubleTwist for music sync, which I used on my Macbook Pro. It's a horrible piece of software. It's sluggish and very buggy, with poor notifications and progress alerts.
If you want a phone that's great for music, the iPhone is the king, but Microsoft is making a strong multimedia push with WinPho7. Google better step up its game, especially with a desktop-side sync option, because Android is seriously lagging.
Camera
Camera
The camera app on the T-Mobile G2 is a huge disappointment. It lacks the great features you'll find on just about every other touchscreen smartphone on the market. There is no touch focus; you can aim for the center, that's about it. There's also no macro control, so you can't get too close for a shot. There are no scene modes to help pick the right setting for the situation, and no special shooting modes, like a panorama stitching mode. The camera does offer some exposure controls, including white balance settings, but these did not help produce much better images.
The camera could also be a bit sluggish to respond, which is odd, because every other feature on this phone seems to spring to life at the slightest inclination. But when you press the camera button, expect to wait 3-4 seconds before the app is active. Then, the camera could take another three seconds to focus your shot. That's a long time from seeing something worth shooting to taking the picture. In between shots there was very little delay, no more than a second to jump back into the action.
Image Gallery
The Gallery app on the T-Mobile G2 is the stock, 3-D gallery for Android 2.2, or Froyo, phones. It looks cool, and the small piles of photos on screen move and change perspective slightly as you rotate the phone. Tap a pile with two fingers and then spread your fingers apart and the pictures fly past from beginning to end, offering a quick preview of each batch.
There are plenty of ways to send your pictures along from the Gallery, but very few editing options. You can upload or send your images any number of ways, to almost any service you can imagine. You can send files over Bluetooth or scan images using the Google Goggles image search. If you'd like more options than Picasa and Photobucket for uploading, there are plenty of apps available from the app market to add capabilities to the Gallery. That is one of the best features of Android, that it's so extensible, so new apps can add new capabilities to other features on the phone.
For editing, you can crop or rotate pics, and that's about it. This isn't a real concern, though, as their are many photo editing tools available from the App Market. Adobe offers a free Photoshop.com app that provides myriad photo editing tools, for instance.
Image Quality
Photos
I found image quality from the 5 megapixel camera on the T-Mobile G2 to be inconsistent. Images could be great or awful, depending on a combination of light, colors and focal lengths. Indoor shots in places that had plenty of windows and natural light still seemed washed out and a bit lifeless. Outside on a bright sunny day, I got a range of results. One closeup seemed ruined by the sensor's inability to handle the deep red hues of my flower bush. Another handled a more subtle pink just fine, with plenty of detail and even a nice bokeh effect, blurring the background slightly. A self-portrait outside, though, seemed faded, giving me a zombie-like pallor.
Unexpectedly, the camera performed very well with its own flash. My shot of R2-D2 and Krusty was taken indoors with a ceiling light and close-up flash, and the photo seems balanced with accurate colors and just the right texture on the hard plastic figures.
At best, a few of my shots would look great as desktop wallpapers on a big monitor, but I wouldn't print any to hang on my wall. This cameraphone could replace a cheap point-and-shoot, even in dimly lit bars or parties where the flash is key. But the image quality was still unimpressive, and the camera remains all around the biggest disappointment on the T-Mobile G2.
Video
The video camcorder on the T-Mobile G2 can shoot at resolutions up to 720p, but the videos were not very good. The camera had trouble shooting accurate colors, even outside on a bright, sunny day. Mixed lighting caused problems switching from bright to dim or dark areas. But worst of all, videos simply had a fuzzy, unappealing look that belied their hi-def bona fides. Sound quality was also poor. The microphone on the G2 made me sound distant, like I was talking through a sheet of drywall.
Check out a video I took with the G2 below. Be sure to change the resolution to 720p and watch the video full screen to see the best representation of video quality:
Browse / Customize
Browse
The Web browser on the T-Mobile G2 is top notch. It's the standard Android browser with no frills or additions, but that's good enough. All the pages I browsed, including our own PhoneScoop.com homepage, looked perfect, or very close to their desktop counterpart. With Flash 10.1 on board, even Flash animations and advertisements came through intact. Flash is not quite perfect, and movie windows could be difficult to move around and resize. But videos played fairly smoothly, and in most cases, like on the CNN homepage, I found Flash content to be watchable and even enjoyable.
Web pages loaded very quickly. The T-Mobile G2 handily defeated every other phone I have on hand in head-to-head browsing tests over the data network. HSPA+ does wonders for Web browsing, and even at its least impressive speeds, the new network provided a great, improved experience.
Customize
Android is a great platform for customization, especially as you dig deeper into the App Market for various theme apps and widgets hidden amongst the Family Guy soundboards. Out of the box, the G2 offers plenty of customization options, though as I've mentioned, I prefer the more extensive selection of widgets available on Motorola Motoblur or HTC Sense phones. Still, you can customize the 7 different homescreen panels with widgets and shortcuts, and the phone comes with an assortment of still images and live wallpapers, or you can add your own.
One of the best customization features on this phone is the set of programmable buttons on the keyboard. There are so many ways you can customize actions and shortcuts for these buttons, I can't list them all. But they go far beyond simply opening an app or starting a new text message.
Extras
Bluetooth
Bluetooth worked well with the T-Mobile G2. I was able to pair all of my Bluetooth devices with no trouble. The phone connected quickly to my Bluetooth headset, and sound quality was better than I expected from the device. I had few signal problems, though sound did occasionally crackle or drop out (as it always does). You can even use the voice dialing features over Bluetooth, which is a rarity among Android devices. I was also able to play music through my stereo speakers and send a photo from the image gallery to my laptop.
Clock
The T-Mobile G2 does a fine job as a watch replacement, though it lacks some style. The lock screen offers a big digital clock, and the screen is bright enough that you can read it on the go, even on a sunny day. You can use the included widget to place analog clocks on any (and every) homescreen, though the phone lacks the dozen or so clock choices you'll find on an HTC Sense handset. There are obviously more clocks available from the App Market, though. The phone also keeps the time in the notification bar, which remains up top through most apps. Tap that bar to see the current date.
GPS
GPS performance on the T-Mobile G2 was impressive. The phone found me quickly and tracked me accurately on my walking trips around the neighborhood or driving in and out of the city. The G2 uses Google Maps for navigation, and Maps works very well. I had significant trouble using the highways around Nashville, TN, with bad directions and poor routing, but I noticed other phones using other apps had similar trouble, so I'll chalk that up to recent traffic pattern changes.
The T-Mobile G2 comes with a wealth of extra apps on board, and many of these rely on GPS. The coolest might be the Google Sky Map app, which uses your GPS position and compass heading to show you a map of the stars overhead. There is also My Tracks, a sort of breadcrumbs app that follows you on a trip and gives you travel data, and Latitude, a sort of proto-social network based on location. In all of these, the G2 performed exceptionally well. One warning, though: no feature I used with the G2 drained the battery faster than GPS features.
Other Extras
One feature missing from the T-Mobile G2 is Wi-Fi hotspot support. Many other high-end Android phones let you create a Wi-Fi network for other devices around you. So, you can connect your laptop to T-Mobile's 3G network using a Google Nexus One as a hotspot, for instance. Like with Wi-Fi calling, T-Mobile has acknowledged user interest in this feature, but has not guaranteed that it will officially come to the T-Mobile G2.
Though I don't usually think of Android phones as gaming devices, I was pleasantly surprised by the gaming performance of the T-Mobile G2. I tried to find the most processor-intensive, 3D games available on the App Market, for free or for cash. The G2 tore through the best of them, performing better than my Google Nexus One or the Samsung Fascinate Galaxy S phone I have on hand. The framerate seemed faster on the G2, and the phone was at least as responsive to tilting and tapping action as any of the other phones. It seems like the Android gaming hardware has arrived, and now the App Market needs to catch up.
The T-Mobile G2 is unique among Android phones in all of the extra software that Google loads on the phone, and won't let you remove. Usually, it's Verizon or AT&T software that I'm complaining about, not Google. On the G2, however, you won't be able to get rid of Google Finance or Google Shopper, even if you never use these apps. Some of the apps, like Google Goggles, are cool, if not entirely useful. But some are neither cool nor useful, though they are permanent. Fortunately, even when the app drawer gets crowded, you can ignore these apps because there is so much space to customize on the homescreen. The phone comes with almost 2GB of space available to the user to store apps, and that doesn't count apps that are capable of storing data on the microSD card, instead of the internal memory.
Video Tour
Wrap-Up
The T-Mobile G2 is an awesome phone with some superlative features, but HTC and T-Mobile didn't quite push this phone far enough ahead of the Android pack. The phone is insanely fast in every way. In terms of interface performance, there was never a lag or delay in any action, and even the most intense features, like gaming or graphically rich apps, ran swimmingly on the G2. Network performance was equally impressive, and this phone claimed the crown of fastest Web browser among all the 4G-speed devices I have currently in my stable.
The hardware is great. I love the design, even though it's a bit heavy. Though there may be better keyboards around, the T-Mobile G2 has a QWERTY that is thoughtful with plenty of useful shortcuts and design choices. The phone even nails the basics. Battery life could be better, but it wasn't shockingly bad. Call quality on the other hand was great, with crisp, clear sound on both ends of my calls. Messaging options are robust, and even the missing features can be found easily in the Android App Market.
The problem is that too many problems have stuck around since the original T-Mobile G1. The camera is still sluggish, with few features and controls and images that look lousy. I managed a few lucky shots, but with macro control or touch focus, I could have taken more worthwhile pictures. Music and multimedia features have not improved at all in two years, while other phones retain their multimedia lead or start to pull ahead. Finally, even if you don't care about fragmentation among Android phones, you should at least know that there are other versions of Android from HTC and Motorola, among others, that offer more features and better social networking integration.
The T-Mobile G2 has enough going for it in hardware design and features to make it easy to recommend. But even with its great performance, it won't be long before the competition takes the same great features and offers more on top.
Real World Speeds
Are you sure you just weren't on HSDPA 7.2? 5.6 Mbps is a cakewalk for my iPhone 4 on AT&T's network in Charlotte, and getting 2.8-3Mbps is pretty much the norm
Yup, positive. I compare against a Nexus One on T-Mo. The G2 was consistently faster. You must have great HSDPA coverage in Charlotte.