Review: Samsung Intensity II
Form Basics Extras Video Tour Wrap-Up Comments 1
Is It Your Type Body The Three S's
Oct 3, 2010, 9:39 PM by Philip Berne
The Samsung Intensity II is a simple messaging phone with a familiar design on Verizon Wireless. Will this satisfy more than your messaging needs?
AD article continues below...
Is It Your Type?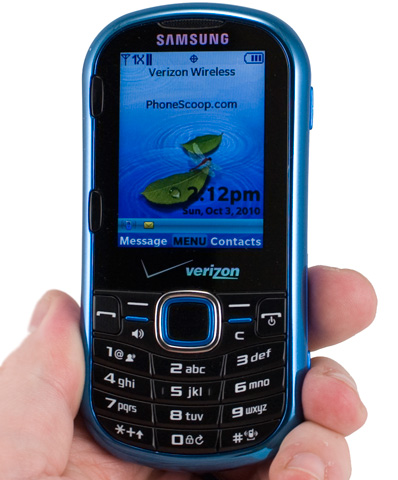 The Samsung Intensity II is a compact messaging phone that combines a number pad up front with a full QWERTY hidden beneath. With social networking taking off, can this form factor provide a simpler alternative to all the smartphones on the market?
LG Cosmos vs. Samsung Intensity II
I am a Verizon user and trying to replace an old Razor lip phone. I appreciate the in depth review of the Samsung Intensity II and Pantech Jest (which I have eliminated based upon your review) but found very little on your site for the LG Cosmos.

I am a basic phone and texting user looking for good calling qualities (connection, voice, etc,, )good battery life, 1000 contacts (with multiple #'s, ect.)along with apps for alarms, calendering, stop watch, to do list, and note pad.

Considering these features can you offer a review of the LG Cosmos and a comparison of these 2 feature phones?

Thanks in advance for your assitance.