Samsung Announces the Mondi Mobile Internet Device
Article Comments 7
Mar 31, 2009, 7:30 PM by Eric M. Zeman @phonescooper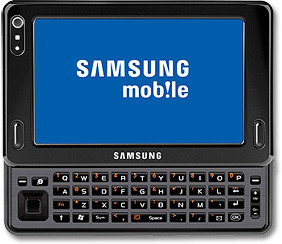 Today Samsung officially unveiled its Wimax-equipped Mondi mobile internet device. The Mondi runs Windows Mobile 6.1 and has a 4.3-inch touch screen. Aside from running Wimax for mobile wireless Internet, the Mondi also has GPS, Bluetooth 2.1+EDR and Wi-Fi. It has a slide-out full QWERTY keyboard, 3 megapixel camera with video capture, HDMI out, 4GB of internal memory and access to direct push email, SMS, MMS and IM. The Mondi will come loaded with the Opera Mobile browser version 9.5 and other entertainment and media software. The Mondi will be available later this year.
from Samsung
Confused...
I don't get how do you pay for the internet... Can I purchase a data plan add on with Att? Lol, is it even coming out for Att?
its wimax.... att does not have wimax, only company that has wimax is sprint.