Pantech Announces Matrix Pro
Article Comments 12
Feb 18, 2009, 9:05 AM by Rich Brome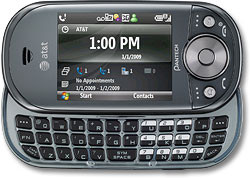 Pantech today announced the Matrix Pro, the follow-up to the Duo. This dual-slide Windows Mobile device sports a number of improvements over the Duo, including a sleeker design, a larger display, and an upgraded 2 megapixel camera, plus GPS navigation, video sharing, and global 3G roaming. Other specs remain similar. The Matrix Pro will be available Feb. 24 for $179.99 after rebate and with contract.
source: Pantech
It's a Pantech
Once a Pantech always a Pantech.....junk
Yeah just look at the Matrix more ATT junk.
4 words
its still a pantech...



NokiaGoth 😈
Who knows? Maybe they actually did something good, solved the slider problem. AT&T could benefit from a inexpensive WM phone. Not everyone needs or wants TouchFlo.
Tsk tsk...
Pantech needs to learn that their Slider phones are junk. The Duo and the Matrix have product advisories for the sliders breaking. And I wouldn't wish the Duo on to my worst enemy.
Is it wrong that I sold my worst enemey the Duo? HAHAHAHA Doom on him. Best of luck with the Pro 🤣