Review: Pantech Matrix Pro
Form Basics Extras Wrap Up Comments
Is It Your Type? Body The Three S's
Mar 6, 2009, 5:15 PM by Eric M. Zeman
Pantech updates the Duo and calls it the Matrix Pro. This dual-slider touts Windows Mobile, a full QWERTY and 3G. Find out where it excels and where it falls short in Phone Scoop's full review.
Advertisements article continues below...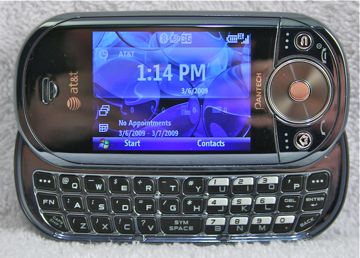 If Windows Mobile is your thing and you're not the touch-screen type, the Matrix Pro from Pantech — an update of the Duo — may be what you're looking for. It offers dual-slide action complete with QWERTY keyboard and standard dialpad. All is not rosy, though. Some major weaknesses threaten the Matrix Pro's power.
No messages